'The Amazing Race' Exit Interview: Rachel & Brendon
The 'Big Brother' crossover team discuss how they lost one million dollars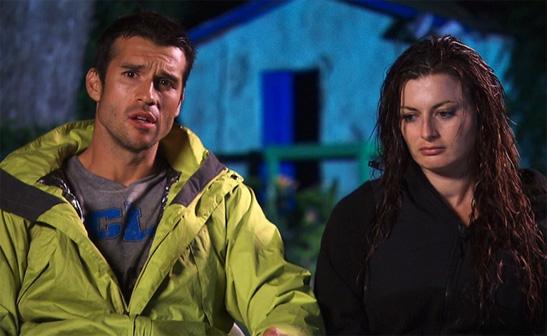 By Diane Vadino
Special to MSN TV
Though they fought some of the worst battles on this season's "Amazing Race," former "Big Brother" contestants and "The Amazing Race 20" third-place finishers Brendon Villegas and Rachel Reilly are actually both completely engaging and engaged. Here are their thoughts on the nail-biter of a season finale, which saw them make what Rachel termed "a million-dollar mistake." 
Bing: More about 'The Amazing Race' | Photos: Meet the teams
What was it like going straight from the Big Brother house to "The Amazing Race"?  
Rachel: That was the craziest part. We only had a month between the two shows. And after you finish "Big Brother," you need a year-long vacation. But I was coming in from the house -- which I was in for 76 days -- on such a high [after winning]. 
Brendon: It's just such a different ball game. "Big Brother" is a mentally challenging game, even when you're not [directly] competing with somebody else. "Amazing Race" is really just about your partner and how well you communicate. 
Rachel: That's the biggest thing. On the "Race," you are your own biggest enemy. 
Brendon: We learned a lot about each other. You see how you act, and sometimes you're proud, and sometimes you're not so proud. 
And are you still together? 
Rachel: Oh, of course. We're going to get married soon. We're going from "The Amazing Race" to planning a wedding. We're shooting for September. We're house hunting right now. 
Where did the fights with Vanessa start? 
Brendon: I had animosity toward both of them the whole race. But it was really stuff Vanessa was saying. It wasn't really Ralph. She was just not a nice girl. Vanessa's very attractive, but she's threatened by other girls who are pretty. 
Do you regret not taking advantage of the Fast Forward that would have meant shaving your head? 
Rachel: I don't really have any regrets about the race. If I'd known the prize [for winning the leg] was $10,000 each, maybe! But I'm getting married. 
Brendon: It was going to be up to her. As a guy, I can't know what it would be like to shave her head. I understood it when she said, "The wedding" -- and I thought, "Let's move on." 
And what about that final error last night, when you guys misread a clue leading to the helicopters? 
Rachel: That one is so hard. You guys saw our reaction, when you realize you just made a million-dollar mistake that ultimately cost us the race. We were neck and neck with Dave and Rachel. And if we'd continued racing the way we had been ... they had made a mistake. I completely lost it. I was mad at Brendon; I was mad at myself. It was my fault. It wasn't like a taxi driver. That was the worst. 
Will we see you back on another reality TV show? 
Rachel: I guess never say never. But I think Brendon and I are really focused on our wedding and buying a home. 
Brendon: I'm doing my Ph.D., so I'm focused on that. But if Rachel wanted to, I wouldn't get in her way. 
So what's better:"The Amazing Race" or "Big Brother"? 
Rachel: They're so different!
Brendon: You're asking us to choose between our children.