Exclusive Interview: 'Breaking Pointe' Star Rex Tilton
The ballet hunk confesses to an emotional ending to the dance drama's six-week season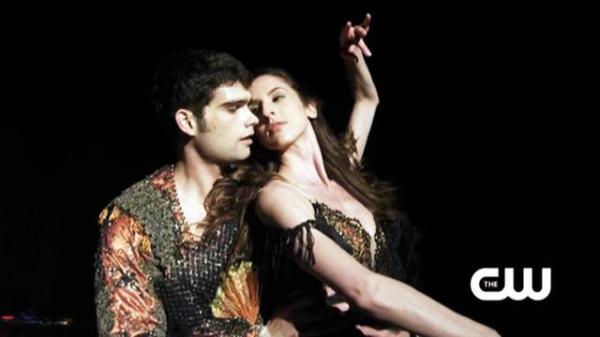 Blink and you've missed the CW's six-week dance docu-drama, "Breaking Pointe," which ends it's short run tonight. 

But one of the show's stars, Rex Tilton -- who's pretty much recovered from the traumatic somersault he made during last week's performance episode -- promises a strong finish for those who have been tuning into life behind-the-scenes at Utah's esteemed Ballet West company. 
"There's going to be a lot more of the romantic drama, of course," says the 24-year-old San Diego-native, who's been dancing since he was 15. "Tonight's definitely going to be the climax. Allison and I are still figuring things out, and it all comes to a head." 
And while Allison's apparently mixed feelings towards Rex have been making her look like the baddie, Tilton says, "I hope they aren't too harsh on either of us tonight. I do care for Allison a lot, and it's been really hard watching the reaction, especially on Twitter. With reality TV, they definitely know how to cut to the root of the issue. The cameras came at the perfect time for the company but the worst time for Allison and me. We weren't really able to hide much."
But whether we'll get to see them live happily ever after remains to be seen. For one, the show has yet to be picked up for a second season. And, Tilton notes, dancing takes precedence over any relationship in their world. "I understand what Allison is going through," he says of his maybe-girlfriend. "Nobody gets it unless they're a dancer, too. But at this level, you follow the work and it can be hard to maintain a relationship. You think you're making the right choices, but there are no guarantee about the way things are going to pan out in a relationship. But there are no guarantees in ballet, either. It's really hard to have a normal life." 
Lucky for Tilton, his brother Ronald is currently in the same company. "It definitely helps to have family to lean on," he says. "I like having him around to talk to. But I know he's torn between staying here with me and following [his girlfriend] Katie. I wouldn't force him, either way. You have to do what's right for you."
In any case, whether or not the show's picked up for season two, Tilton hopes the show will bring audiences back to the ballet. "We've developed a pretty loyal fan following, but with the economy the way it is, we've really taken a hit," he says, "so even though these are tough times, I'm hoping people will be inspired to still find the money to do something special like that."
The season finale of "Breaking Pointe" airs tonight at 8 p.m. on the CW.