Rivers exploring sexuality on 'Joan Knows Best?'
Comedy legend says she has nothing to lose by turning attention to females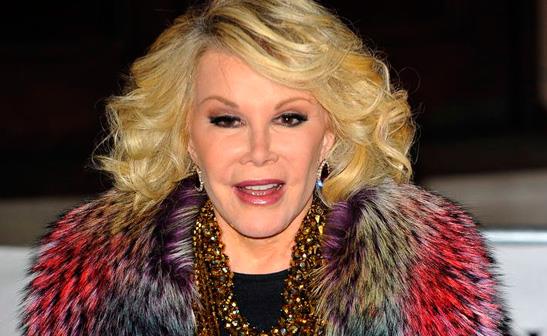 WENN
"Celebrity Apprentice" winner Joan Rivers has resorted to looking for love with a woman after meeting and kissing a mystery female at a dinner party hosted by pals Lily Tomlin and Jane Lynch. The veteran comedian, who has been married twice before, makes the revelation about locking lips with a woman only known as "Shirl" during the Season 3 premiere of her reality TV show, "Joan & Melissa: Joan Knows Best?"
Bing: More about Joan Rivers | 'Joan Knows Best'
In a clip from the upcoming episode, the "Fashion Police" critic is shown discussing the incident with her daughter Melissa, saying, "It's like the Katy Perry song: I kissed a girl and ... I don't know if I liked it or didn't like it." Rivers, 79, was forthcoming about exploring her new dating opportunities during an appearance on "Today" on Tuesday, insisting she has nothing to lose by turning her attentions to her fellow females. She said, "Lily Tomlin, who is my very good friend, she and Jane Lynch had a dinner party, and I met this lovely woman. At this point, all the men I go out with remind me of my father - dead ... I figured I might as well try it at this point. Maybe I've been missing something."
Plus: Fantasy 'Real Housewives' cast | Celebrating Black History Month | Breakout stars of the season
"Joan & Melissa: Joan Knows Best" airs Saturdays at 9 p.m. ET/PT on WEtv.