'Survivor: Nicaragua' Exit Interview: Winner Jud 'Fabio' Birza
After winning three straight immunity challenges, the dark horse takes the title of sole 'Survivor'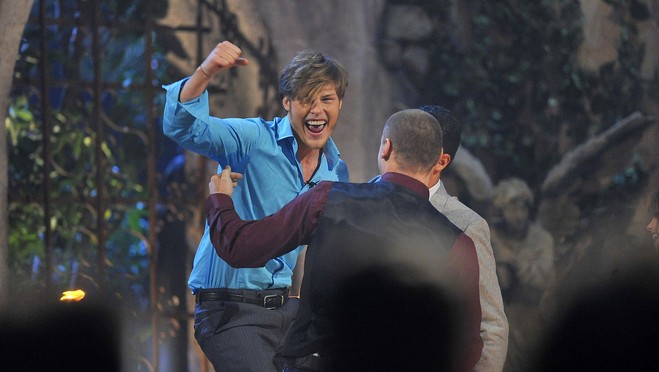 Things were looking bleak this week on
"Survivor: Nicaragua"
for everyone's favorite "dumb blond,"
Judson "Fabio" Birza
. He made it to the final five, sure, but he was facing off against a strong alliance of three -- and they wanted him out bad. So they did everything in their power to trip him up this week. But in the final hours, the dark horse raced ahead, winning three straight immunity challenges to make to the final three. From there, it was a no-brainer for the jury. After all, says Birza, "I managed to play the game by being friends with everyone and back-stabbing no one. Not an easy thing to do."
We caught up with Fabio to chat about his last minute hot streak, playing dumb and that close call in the final three. MSN TV: First things first, you cut your hair!
Fabio: Oh man, I just had to do it. But that's what everyone's talking about. Going into the final three, I had to give them my big-boy hair. So I decided to get it cut Friday. I've had long hair for so long, it's weird. It's a lot shorter than I planned. But no worries, it'll grow back.
MSN TV: Going into the final three, most would agree that jury picking you was a no-brainer. But then suddenly Chase had four and you had two. Were you worried?
Fabio: Of course I was worried. That wasn't what I was expecting at all. I was pretty confident I'd get votes, and that maybe Chase would get one or two sympathy ones. Like, Alina told me she'd vote for Chase so he didn't get no votes, then Brenda I think ended up doing the same thing. And a few others. And then, it became accidentally really close. Which, of course, freaked me out -- one too many of those sympathy votes, and they would have given Chase the title. In the end, I think I got Marty, Benry, Dan, Purple Kelly and NaOnka. And who would have thought NaOnka's would vote for me?
MSN TV: But you took it. Did you go into the game thinking you could win?
Absolutely, yes. People underestimated me the whole way though -- right from the start, really -- but I never underestimated myself. I wish they would have showed this on TV, but last night, Shannon came up to me and said, "Man, you went from being the guy who would go home in the second episode to the guy who not only made it to the end, but took the title." I knew what I was doing in this game, I had a strategy. Let them think I'm dumb, let them think I'm not a threat, get along with everyone -- and in the end, be the guy who has enough friends on the jury to win. That was my plan, and it worked. It wasn't so much playing dumb as being dumb, not getting caught up in all the back-stabbing, all the politics. Being open to everyone and anyone. To me, that was the only game I could play.
MSN TV: You really had a fire in you to win those three immunity challenges in a row. What happened?
Fabio: Part of it is strategy, saving your all for the end. But at that point, having just seen my family, my mom, who I get to see maybe twice a year, I really wanted to do it for them. I really needed to win it. There's so much I want to do with it. I want to take care of my family, travel with them a bit. I think I'll go to Paris early next year, take them along.
MSN TV: What else will you do with it? You mentioned producing.
Fabio: Yeah, I'm on my way. I sent the papers in already, for Judson John Entertainment. I want to make short films, not necessarily feature films but maybe like 45-minute shorts with like really colorful, crazy, artistic, really symbolic messages. I like to call it "creative warfare." Something to connect all the dots in people's heads and get the message out there. Just a bunch of sick videos and then ask for a return from places around the world, to just be like, "What do you got?" It's going to be awesome.
MSN TV: If you hadn't made the final three, who would you have voted for?
Fabio: Probably Chase, despite the whole reward thing, because I connect with him really well on music and I know his family's story. And he's not a mean guy. I know his history. He just lost his head in the game sometimes and didn't make the best decisions. But he's a good guy in the end. I liked Holly, too, but I don't know that she really needs the million. But Sash, I didn't want to give Sash a million dollars. And I knew he wouldn't get any votes, that's why I brought him to the final three. I figured if he did, he would take votes from Chase and I'd split the difference.
MSN TV: Were you surprised how vengeful people were toward Sash?
Fabio: Oh yeah, they just went for it. I was like, damn! It's a game. And he was playing it as a game. But people got hurt. In the end, it's a very social game. Sash underestimated that part of it, he's all strategy. That never works.
MSN TV: One last question: So are you Jud now, or sticking with Fabio?
Fabio: Oh, I think the name Fabio is going to stick for a while. And it helped me win a million dollars, so I don't mind one bit.
Are you sure you want to delete this comment?