'The Bachelorette' Recap: Farewell, Fantasy Suites
It's an emotional goodbye to the bachelor who just couldn't open up
By 
MSN TV
 Jul 10, 2012 10:15AM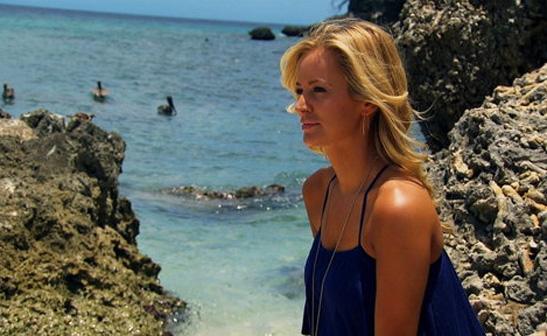 By Diane Vadino
Special to MSN TV
Can you believe we're almost at the end? Or, indeed, that we're here in Curacao with three guys? Oh, you forget? No problem: We're about to spend the next ten minutes going over how we got here -- because hey, we're all immortal, and have time to burn. We begin with strong yet sensitive Sean, the guy who provides both "love at first sight" and "gives butterflies in my heart." Next we have skinny hipster Jeff, who on one hand seems like he belong in a different show ("Real World: Salt Lake City"?) but in other ways makes total sense here. As for Emily: "I love his style. He is so his own person, and he doesn't care what anybody thinks. My life with Jef would be full of adventure and excitement -- he can make anything fun." Oh, and then there's Arie: "Our connection was literally almost immediate. When I think about what my life would be with Arie, I know that I would be with someone who would adore me forever. I just know he would be my best friend."
Bing: More about Emily Maynard | 'The Bachelorette'
However much Arie might seem like an (unspoiled) lock at this point, the night's first date is with Sean. At long last, we're in a helicopter. Haven't we missed helicopters this season? Helicopters and sexual desperation? Shouldn't they have blown the entire helicopter budget in this segment and got one that sets off fireworks? Anyway, back to Sean, who has some serious distance to cover. Isn't he in love with Emily yet? Can't he be -- now, now, now? The answer is sort of. First, we need to explore Sean's past relationship. Hopefully his ex-girlfriend is somewhere this show doesn't broadcast, because I can't imagine what it would be like to have an ex-boyfriend do this on television. "There came a point," Sean says, "when I loved [my ex-girlfriend], but I wasn't in love with her -- I didn't do the sweet things a boyfriend should do. She brought up marriage all the time and I'd always deviate from the conversation. The love that I'm experiencing with Emily is so different from what I've experienced in the past." Of course, it's all different with Emily: "I couldn't stop holding your hand or kissing you," Sean says. Man, I hope Sean's ex-girlfriend is so busy making out with her new boyfriend that she doesn't even know he's on the show. "You don't hide your feelings from me, and I don't hide my feelings from you," Sean says. But Emily's like, um, you sure about that? She eventually gets him to say that he loves her, and then they mess around in the fantasy suite a bit -- but he doesn't stay over! Is this a first for the franchise? And unbelievably, Sean actually gets the most fantasy-suite action of any of the three of them. "I would love nothing more than to stay up with him all night," Emily says. "But I'm a mom. It just doesn't line up with what I believe in and the example I want to set with my daughter." Personal integrity on this show? I know, it's confusing.
Photos: 'Bachelorette' stars: Where are they now? | This season's contestants
Next up is Jef, who "told [Emily] he loves [her] the night [she] met his family -- and [she] just got chills." Jef and Emily's date involves a beach on Curacao and minus the helicopter looks completely interchangeable with Sean's. "I've fallen in love with the girl, and I haven't met someone who's part of her life forever," Jef says. He's sort of weirdly downbeat and asks Emily a bunch of hard, non-romantic questions about where they would live. (Not Charlotte, not Salt Lake City.) "I really love the idea of starting a whole new life -- the three of us," Jef says. He is just so hugely agreeable. In fact, he keeps getting to where Emily's going slightly ahead of her -- which is what makes what happens next so great. Has a guy ever turned down a fantasy suite on this show before? It's a night of firsts. "I plan on spending every night with you in our own little fantasy suite," Jef says, after issuing a whole speech about her daughter, her family, his family, God, ABC, and millions of viewers. Emily is clearly deflated by this: "I wanted to turn him down, but he kind of turned me down," she says. Good for Jef for blowing up her expectations: "There's a time and a place for everything, and now is a time for us to bridle those passions." Somewhere in the Carolinas, Jef's parents are super-duper proud of him.
Finally, we have Arie's and Emily's date. It involves dolphins: "I know nothing about dolphins," Arie says. "I know that they're friendly, and that's good." Emily and Arie start making out: "It's no secret -- I just love kissing Arie," Emily says. They keep making out and occasionally having a conversation. "I don't know what you do on a Tuesday morning," Emily says. This seems to be a really good question. Arie's answer involves going out with his friends every night. Doesn't that seem like a bit of a disconnect? Arie says he'll apply the same easy-does-it approach to befriending Ricky: "It should be easy and fun and lighthearted," he says, before making out with her a bit more. "Arie just doesn't tell me he likes me -- he shows me that," Emily says. You hear that, Sean? Emily doesn't even bring out the fantasy suite card -- because she doesn't trust herself, she says. They make out a bit more -- but fairly chastely, and in public. A season of "The Bachelorette" without a single fantasy suite date? Honestly, I vote for having only single moms on the show from this point forward: It seems like every decision Emily makes is somehow informed by having a kid (and plenty of old-school "The Rules"), and it puts her in such an improved position. I've never felt like this show offered lessons of any sort, for anyone, and there are a million ways to poke holes into the "reality" of this show on any level -- but Emily has also comported herself with more steeliness, and just out-and-out dignity, than any previous bachelorette, and I bet she'll have the best results, too. Er, we'll see, I guess, at "After the Final Rose."
Back in Curacao, we're done. Emily tells Chris she hasn't experienced any further clarity about her three perfect dates -- but really, don't we know which way the winds are blowing at this point? Jef is a lock (for second place ultimately, I'm betting). I did think, for a millisecond, that maybe she'd give Sean a chance and decide that Arie was just about chemistry and nothing else -- but no: It's Sean who's going home. Guess that video appeal didn't help any?
Next week: The men tell all.
"The Bachelor" airs Mondays at 8 p.m. ET/PT on ABC.

I really don't think it's going to work out for her with who she chooses on the Bachelor's behave.I really think she's going to end up with Cris Harrison when it's all said and done. Whenever they talk or he escorts her u can see how  they both just beam at eachother of Caring and Falling in "LOVE" with one anothe.They would make a "Beautiful Couple' together.

I was a single mom of four children and I think sometimes we want a guy who is on the edge of being good and bad. I always dated younger men and I realized i liked the little bad boy types.I was entirely wrong.I think Emily is doing the same thing.I think Sean was the most sincere of all the men and I think she should have picked him.It is very rare when a grown man talks the way he did about his dad.A father plays such an important part in a child's life.You could see the values he was taught and brought into his adult life.I can't believe she ignored that beautiful letter he wrote to Ricki.My God,That would have done it for me. She in my opinion,she is making a big mistake especially with Arie.He seems like a player to me,There may be excitement in the beginning but I don't see it lasting and I don't think he will be a great dad for Ricki. Sean would have made a wonderful dad and father. I wish I had met a man like him.I never remarried and my children are grown and I have grandchildren now.I have met a wonderful man and he is older than me and he reminds me a lot os Sean.He is 65 and I am 60. It took me 27 years to find the right man.Good luck to Emily and I hope whoever she picks, will be dedicated to her and Ricki
Honestly, I don't think Emily has been totally honest with these guys. She says the same things to all of them. Like "trust what we have". I don't think she is' fair that she wants the guys to poor their hearts out and say "I love you". Actually I don't think she is ready to commit to anyone. I dont think she is going to be pick any of the guys. I think she will be leaving alone.
Are you sure you want to delete this comment?