Call Him the 'Great Communicator'
Two-time DWTS champion Cheryl Burke blogs weekly for MSN TV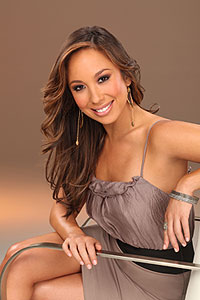 What you might not see on TV when it comes to my partnership with Rick is that he and I have really long chats. He's really a great communicator. He loves to talk things out. You don't get to see that on the show, really, but he likes to analyze things and talk out the process of learning the dances and the moves and of our partnership.
You saw Carrie-Ann calling out Max on his "harsh" training style with Brandy this week. I think all of the pros on "Dancing with the Stars" are demanding in our own styles. We know what it takes to get results from our students and we know what motivates them and we learn what doesn't--and what causes them to shut down.
As I mentioned, Rick and I really communicate with each other. I'm not sure that I've figured out yet just how hard I can push him, how many hours a day would be too many for him, but I know that he'd tell me if he couldn't handle it.
Rick did such a great job this week. The Samba isn't an easy dance, and it's a very sexy dance. There is lots of hip shaking! At the last minute about 15 minutes before the live show, I made an executive decision regarding a wardrobe change. The original costume had Rick wearing a basketball jersey underneath his top shirt, but during our dress rehearsal, it really just wasn't reading very well on camera. I decided that Rick should really just be shirtless underneath instead. I wanted him to show off that athletic body of his for the ladies in the audience! I don't think he really wanted to, but he went with it, and the results and audience reaction were so much better than if we had left the basketball jersey on.
Last week, Rick and I were lucky enough to have the judges highlight us--and this week, it was Audrina and Tony. They had a very moving story to their dance. Every week a new couple emerges as a contender!
We're working on the Argentine Tango this week. I'm really passionate about this dance,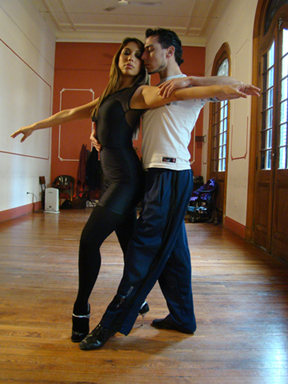 and I spent three weeks living and training in Buenos Aires with the cast of "Forever Tango" right before the start of this season of "Dancing with the Stars." I'm also joining them on tour and performing with them when this season of DWTS is over. It's such an honor and I'm really looking forward to performing with them in my home town of San Francisco.
I'm heading to Atlanta, and that is really going to throw a wrench into our training schedule as I'm not sure we'll be able to manage more than a few hours while I'm away--but that just means we're going to have to work harder than ever before to make sure we nail this dance!
Are you sure you want to delete this comment?