Reality stars spoof 'We Are the World'
New York, Sanjaya and others parody the end of days in 'Soup' vid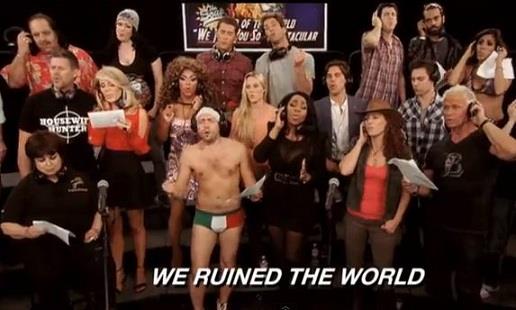 As we've all been hearing, the end of days is supposedly nigh. This, according to Mayan legend. Just in case that prophecy is fulfilled, a smattering of infamous reality stars gathered around
Joel McHale
in the "Soup" studio seeking some karmic forgiveness for having, as they sing it, "ruined the world."
All your favorite D-list, self-professed non-talents are there:
"American Idol"
eccentric Sanjaya; Miss "New York" herself, Tiffany Pollard;
"Surreal Life"
vet/iconic porn god Ron Jeremy and more than a dozen others. Even
"Gigolos"
elder escort Brace pops up to apologize for flashing his uncensored testicles. 
Plus: Best & worst shows of 2012 | Holiday viewing guide | Memorable moments of 2012
All the while, McHale plays the role of conductor inside a
"Breaking Bad"
-style Hazmat suit, just hoping whatever they infected our televisions with isn't contagious. It may not be, but "We Ruined the World" is surely destined to go viral.
"The Soup" airs Wednesdays at 10 p.m. ET/PT on E!