Nigel Lythgoe Heads Back to 'American Idol'
'So You Think' judge and longtime 'AI' producer plans to set show back on track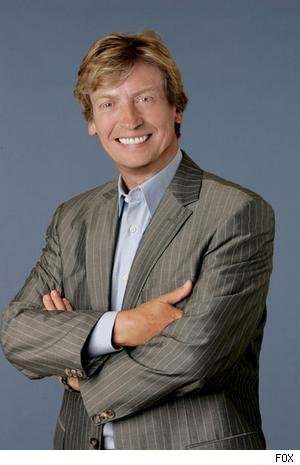 You couldn't blame Nigel Lythgoe if he didn't want to resume his duties as executive producer of "American Idol." After all, he's got his hands full already as on-screen
judge/behind-the-sce​nes
overseer for
"So You Think You Can Dance."
And if you haven't heard, "American Idol" is in a mild state of chaos these days.
Alas,
E! reports
via unnamed sources that Lythgoe and "Idol" have finally put a bow on months of negotiations for the enterprising Brit to return as executive producer for the 12th season of "AI."
The show itself has yet to confirm the news, but E!'s source alleges that Lythgoe is eager to put the suddenly fledgling talent competition back on schedule, particularly when it comes to finalizing judges to go alongside
Mariah Carey.
If the gossip proves to be true, Lythgoe certainly has his work cut out for him. Though, if we can make a suggestion to Nigel:
Keith Urban
or
Enrique Iglesias
would probably make for a more qualified panel, but a pairing of Mariah and
Nicki Minaj
would be much more disastrously entertaining.
"American Idol" Season 12 premieres in January 2013 on FOX.

Is that all you can say? A four year old decked out like a cheap whore and you don't consider this child abuse? the parents of this girl need to be charged and prosecuted and the girl needs to go to people who won't exploit her.
It says something about our society when children are exploited like this... but then, the child is lucky to be alive considering the fact that it is so easy to torture and murder a child in the womb.
American Idol is "old news." The show is burned out. There is too much back story and pity parties about the various contestants. There is too much air time spent on the judges and host. What we want to see is interesting a great performers. The performers are all the same style. And it's old and boring. Unless there is something new other than paying a judge millions of dollars to look pretty, promote their upcoming work and coddle talentless morons, why should we the American public waste our time watching the show?
There are so many qualified artists and  AI seems to get the worst of the pack.  Just because Randy Jackson is Mariah's manager does not make her a good judge.  We don't need divas.  Keith Urban might be OK.  What about one of The Eagles. All of them are talented artists and don't just sing.  And just for fun, try throwing in a young talent. 
Are you sure you want to delete this comment?