'Dancing With the Stars' Recap: Sometimes It Takes Three
Trio round leaves William Levy and Roshon Fegan ahead of the pack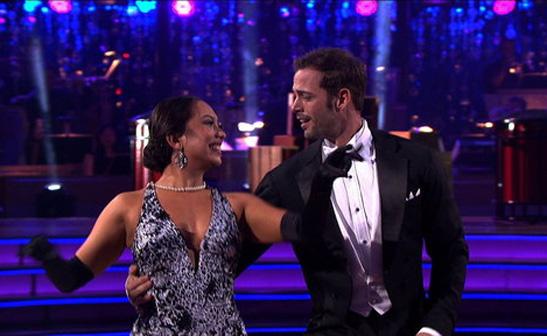 One round to go until the semifinals, and that means our stars are now dancing two full routines. This week saw the debut of the Trio Round, where they were paired with an additional professional dancer for the Latin dances. This was ... about as weird as Classical Week for me, but it produced some pretty amazing dances as well as a leaderboard upset.
Bing: More about 'Dancing With the Stars' | Photos: See the dancers in action


Maria, Derek and Henry Byalikov from the "DWTS" troupe really got creative and it cost them big time when the scores came out. Roshon, on the other hand, absolutely nailed the Trio Round and is second on the leaderboard just a week after he was almost sent home. Oh, how the new rules have messed with the scoring this season. There will be two eliminations this week, so it's really anyone's guess to whom we'll be saying goodbye.
Last Night on TV: Watch recaps | Video: Watch clips and more

Here's a quick look at how the stars did this week:
Donald Driver
Donald's aggressive tango was a hit with the crowd – the whole audience seemed to be clapping along to the music. He and Peta moved beautifully together both in and out of hold, and Donald really had fun with the dance. Len called the routine a "knockout" and Carrie Ann praised his focus and dynamic shapes, though wished Donald would bring more drama along with his intensity.
Donald's jive with Peta and Karina was a lot of fun, but there was a definite creep factor in seeing a dude flanked by two ladies in short skirts. Donald quickly evened the score by ripping off his jacket to reveal his arms? The lighthearted, fast-moving dance highlighted his perfect timing, and a literal leap over the ladies at the end was nothing short of amazing. Len called it "fun, fun, fun," and Bruno praised him for keeping up with his partners.
Tango: 27/30
Jive: 28/30
Score: 55/60
Maria Menounos
Maria's Viennese waltz was simply gorgeous. She and Derek had amazing body contact in hold – that sounds so dirty, but this was a chaste waltz, believe me – and Maria pulled off some breathtaking turns and spins. Bruno praised her seamless transitions and emotional involvement, and Carrie Ann commented on the connection between Maria and Derek. Len thought the choreography of the routine didn't allow for enough time in hold, which immediately set the other judges off. He grouched and then he stood in the way of another perfect score.
Maria's harem-themed samba with Derek and Henry Byalikov from the "DWTS" troupe really seemed to poke fun at the "dance trio" concept. Kudos to Derek for thinking outside the box, because this thing was really different, but a ton of fun. His choreography really took advantage of an extra set of hands and Maria did all sorts of inventive spins and falls. Bruno was a fan, but Len felt the routine lacked samba content. When he gave the routine a 7 there was an actual gasp ... both in the studio and in my living room.
Viennese waltz: 28/30
Samba: 25/30
Score: 53/60
Melissa Gilbert
I had high hopes for Melissa in this round if only because the foxtrot and samba are slower dances and the judges were so critical of the frenetic pace of last week's Argentine tango. Unfortunately, this foxtrot started out choppy – the ending was better, but we're approaching the semifinals and there's no room for error. Carrie Ann called this Melissa's best dance ever, mistakes aside. Bruno thought her lines were better and her presentation downright excellent, again allowing for the fact that the first 30 seconds of the dance were chaotic. Not a great dance for Melissa overall.
I can't even bring myself to narrow it down to just one Chmerkovskiy brothers sandwich joke, so we'll skip it. Melissa was right at her limit, but not frenzied. Len and Carrie Ann both agreed that it was Melissa's best dance and Bruno compared her to Rita Hayworth! I guess it takes three to make a thing go right?
Foxtrot: 24/30
Samba: 27/30
Score: 51/60
Katherine Jenkins
Katherine's Viennese waltz was sweet and lyrical. The routine never let up on thrilling choreography – lots of spins. One at the end went a little out-of-bounds however. Len liked the content of the routine but thought the ill-fated twirl 'n spin at the end was unnecessary. Bruno called Katherine's technique superb but wanted to see more focus in this particular routine. Carrie Ann pointed out that Katherine lost her footing, only to rouse both Len and Bruno's ire. A difficult routine for Katherine.
Katherine's Victor/Victoria cha-cha showed us her fun side. The routine was classy and comical – like when Katherine got her discarded slacks stuck to her stiletto pump. Her timing was excellent, her lines were gorgeous and she really sold the routine. Len called the routine "clean and clear," and he really summed it up. A gorgeous performance from Katherine, Derek and Tristan.


Viennese waltz: 26/30
Cha-cha 29/30
Score: 55/60
Roshon Fegan
Roshon's happy-go-lucky foxtrot really showed off his personality and great sense of rhythm. He and Chelsie moved well together in hold and Roshon's footwork was top-notch. His knees were still a tiny bit wobbly, but Bruno raved about the improvement to his lines.
His futuristic paso doble was intense. As usual, Roshon's rhythm was excellent, and he, Sasha and Chelsie moved well together. Roshon was as good as he's ever been in this routine, and Bruno praised his artistry and lines. He did point out that Roshon and Sasha weren't in sync a few times, and Carrie Ann agreed that there were problems. Len ... praised Roshon's buttocks and said the routine was "two skinny fries chasing the ketchup." Yes, that happened.
Foxtrot: 29/30
Paso doble: 27/30
Score: 56/60
William Levy
William's foxtrot had true 1940s glamor. He and Cheryl were stunning together – the routine had a perfect balance of sexiness and dueling. The applause didn't stop until halfway through Carrie Ann's critique. All I could hear above the din was "hot" and "sexy." Len praised William's technique and the flair in his movement. Bruno called him a heartbreaker, and praised him as a debonair, suave dancer. The perfect score was no surprise at all.
The paso doble William danced with Cheryl and Tony absolutely sizzled. He was commanding, both in hold and when dancing with Tony, and the choreography really made good use of a third dancer. This routine was flawless aside from some timing errors. Carrie Ann called William's lines incredible, but pointed out that he fell out of sync once. Len thought the routine held together perfectly and Bruno said he "couldn't ask for more" in terms of performance value.
Foxtrot: 30/30
Paso doble: 27/30
Score: 57/60
Who won over the judges: William and Roshon
Who won over the crowd: William and Maria
Who needs to step it up: Melissa and Maria
"Dancing With the Stars" airs Mondays at 8 p.m. ET/PT and Tuesdays at 9 p.m. ET/PT on ABC.