OWN Don't Let Us Down
A quick look at Oprah's new network on week two
By 
MSN TV
 Jan 12, 2011 11:49AM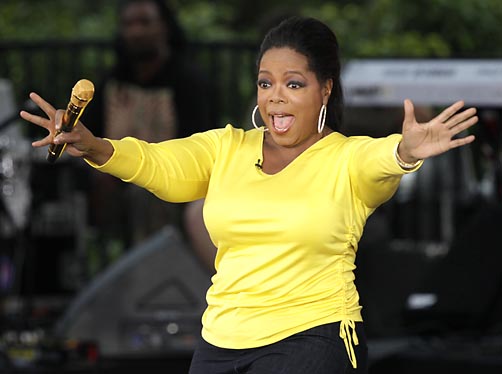 I've been a fan of Oprah for a long time. I think I love her. No, I know I do. She is the epitome of Cinderella who made it on her own and didn't need Prince Charming to save her.  Although, over the past few years, the "Oprah Winfrey Show" has grown a bit tired and stagnant. Then, in January of 2009 Oprah took to her own show to admit to the world that she was suffering from depression.  I thought OMG… I love her again. Who comes clean on national TV besides Oprah?  How incredible for someone of her stature to go on television and admit to being depressed. That entire week, I remember watching her show religiously as she showed people how to put that spark back in their eyes while she was attempting the same thing for herself.  That rush of excitement and energy in the show soon seemed to fall back into that run it was in before that admission. I understand that after 25 years, it's hard to keep things absolutely fresh and am positive it gets harder and harder with each show.


Now, with the launch of OWN, I trust Oprah to bring only the best to her channel.  I waited with anticipation for OWN to launch and knew she would bring the joy, the love, the happiness to the Oprah Winfrey Network which she has always tried to do.  We are now in week two of a world with OWN, and here's the top things I'm already a fan of or looking forward to in the years to come:
      
Oprah's All Stars:  Dr. Oz, Suze Orman and Dr. Phil all on stage at the same time? You got it. They have amazing chemistry as a team (who would have thought?) and paired together with Gayle King as the host makes for a great show.  They talk about everything. Literally everything.  From  bowel movements to  passing gas (Suze accuses Dr. Phil of doing so in the past hour).  The Shopaholic gets expert advice from all three; discussing their financial problems (Suze) to  emotional (Dr. Phil) admissions to Dr. Oz describing the physical endorphins you receive while going after their next high. Anyone can find something of interest with this show.

Oprah's Master Class:  A class to learn life lessons from the rich, successful and famous.  Diane Sawyer, Jay Z and Simon Cowell are some of the early guests that are featured on this show.  Diane Sawyer's Master Class showed the top-notched wisdom, passion, strength and humility she has maintained throughout her life.   She advises on the show, "Whenever you are blue or lonely or stricken by some humiliating thing you did, the cure and the hope is in caring about other people."   Watching the show wanted me to go out and change the world… and become an even better person.
In the Bedroom with Dr. Laura Berman: A bit of a disappointment Dr. Laura spends a whole hour helping one couple revive their relationship. They get couples counseling and one-on-one with Dr. Laura.  along with doing some kind of obstacle course on a rope where they have to depend on each other.  I was hoping to get some tips from Dr. Laura on relationships but being a single (never married) thirty something gal, I couldn't relate to these people.  It ended unsatisfactorily, yet realistically, as the couple stayed together, having more bad days than good.  I thought OWN would be empowering more people to lead better lives, not suffocate them into staying in an unhappy relationship.
Oprah's Search for the Next TV Star: Everyone wants a shot to be Oprah, right? I was really hoping for great things with this show… but was immediately disappointed by the contestants themselves.  Being a YouTube fan, I saw people shamelessly promoting themselves to be a part of this show. Even hosts Nancy O'Dell and Carson Kressley (a botoxed duo) had trouble controlling the contestants and while Dr. Phil was the first guest on the show he had to advise the contestants to pay him (the guest and subsequent guests) more attention because he would not show up again if he was treated that way. I am an eternal optimist so will be tuning in again to see Dr. Oz, Suze Orman and Gayle King as guests. Let's hope it improves! 
The Gayle King Show:  I love Gayle almost as much as I love Oprah.  We are on a first name basis in my head.  I knew Oprah and Gayle are food lovers, truthful and supportive best friends.   Gayle's show is her radio show on television and is the only one that's live on OWN.   She asks questions such as the study in Men's Health Magazine that revealed women in their 40s are more likely to 'give it up sooner' than women in their 20s if there's chemistry involved.  You will also witness her singing and slightly dancing before commercial breaks.  Go Gayle!  Love you and will be tuning in.
Enough Already! With Peter Walsh: I do like Peter Walsh and his Australian accent but I think he needs to limit cleaning to half an hour per family instead of the full hour.   My attention span can handle only so much organization.   On the plus side, he offers zen-like advice …"Your home's a reflection of your life. It is impossible to make choices in a cluttered, messy, disorganized space."

Season 25 - Behind the Scenes:  Oprah always tells it how it is.  That's one of the reasons I love her.  I have a feeling this show is the closest I will ever get to her Royal Highness.  Oprah admits to having a colonoscopy, being drugged out on valium and percocet and showing up to a meeting at work. And then there's this little gem:
http://www.oprah.com​/oprahshow/No-Rules-​OWN-Season-25-Video
Carson Nation:  Carson  Kressley … I watched you when you were on "Queer Eye for the Straight Guy" and "How to Look Good Naked."  I loved it when your pursed your lips before you were about to say something bad about a way a person looked.   I felt bad for you when you were looking for a date on the Wendy Williams show and the guy never called.   I will be tuning in to your show and even thought about submitting my fashion challenged mother.
Why Not? With Shania Twain: The beautiful, kind, unselfish Shania Twain had waited to pursue her singing career so she could take care of her orphaned siblings.   She is a five time Grammy winner that gets cheated on by her husband, Mutt Lange, with a woman whose looks are in the same category as Camilla Bowles.  She ended up marrying that woman's husband.  Happiness is the happiest revenge!
The commercials even give you a warm, fuzzy feeling.   If you're feeling a little sad and don't have time to tune into an OWN show… you'll be inspired by the commercials by "The Foundation For a Better Life."  Positive messages such as "Reaching out,"  "Pass it on,"  "Live life," and "Love life" remind me of Hallmark commercials… but even better since they just want you to have a better life… not sell cards. 

Oprah,
I was excited to hear about your new network last year. However, I'm somewhat
dissappointed to see that it's not broadcasted in High Definition... at least not on
Direct TV.  When you invest as much money in establishing a whole new network
why isn't it in the latest technology?  Hope to hear your reasons or is it still in the
works?
Best of Luck,  Daryle Wegter  
Are you sure you want to delete this comment?