'The Amazing Race' Exit Interview: Ron and Bill
Domestic partners Ron and Bill seemed to run a successful race -- except for missing a single clue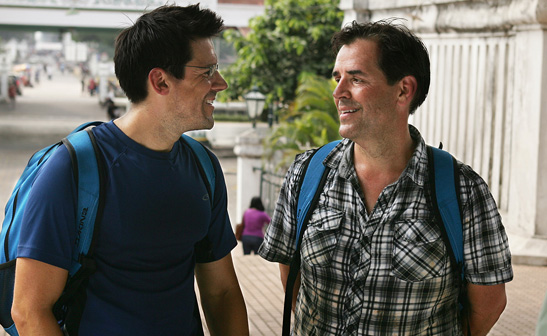 By Diane Vadino
Special to MSN TV
Domestic partners Ron Zeitz and Bill Smith were eliminated from "The Amazing Race" last night after -- who knows? While this show has seen its share of mid-leg debacles, Ron and Bill seemed to run a successful race -- except for missing a single clue. (Seven other teams overlooked it as well, so that wasn't the deciding moment.)
Photos: See the teams | Video: Watch clips and more
We couldn't figure out from the episode why Bill and Ron came in last, so we asked the flight attendants -- who, as travel industry insiders, seemed like they'd have some serious advantages -- for details on what went wrong. For the record, the pair, who exited the show arm-in-arm, is still together: "We're in this forever," Ron says. 
Bing: More about "The Amazing Race"
MSN TV: I have no idea why you guys are off the show. 
Ron: Neither do we! We don't know why we finished last, either. I don't want it to sound like an excuse -- and none of this was on camera -- but we really had...I don't want to call it a meltdown. We just had the worst luck with cabs -- like "How did we get here" bad. It's like one o'clock in the morning, and we're driving through this deserted resort town, and the car just ... stops. I'm like, "He's lost." And then in the second cab, the driver was just frozen. He couldn't back out. 
Bill: He was so panicked. 
So explain this to me: You had two cab drivers. The first driver got lost, the second panicked. But when did you switch cabs? 
Bill: You didn't see it on the show. There was an [interchange] with a Route Marker. And our [new] driver just wouldn't move -- he was terrified to pull out. There were other cabs everywhere. Some of the cab drivers just took off -- they were crazy. 
Ron: Once he got on the road, he was fine. But at that point, it was impossible to overtake the other cars. 
Bill: If you were sixth in line, you were going to be sixth in line for a while. 
Ron: We just hoped that whatever the next challenge is going to be, hopefully it would play to our strengths and we'd be able to recover some time. 
Were you freaking out the whole time? 
Bill: We decided it was really silly to scream -- it wasn't like it was going to accomplish anything. But internally, we were dying. 
Ron: We've watched the show for so many seasons -- we were, like, "It's the fatal cab ride -- no!" 
You might have had a chance if you'd noticed that tricky clue at the orphanage ...
Ron: We were just so excited to be there. We finished the dance task really quickly, so when we went to the orphanage, we were just feeling the excitement of being with the kids, and they were all cheering us on. You're caught up in the moment. We didn't even think about looking for additional instructions. 
Bill: When we arrived, we saw Ernie and Cindy, who'd been on the other [motorbike parking] task -- so we thought that maybe they'd had a really hard time with theirs. We really thought our job was just to hand over the money -- it wasn't like there was any dancing to do there. It was actually a really great moment -- that was our spirit throughout, to really enjoy every moment and see it as special. Of course, had we not been so excited -- had we been in some boring little room -- maybe we would have looked around for other clues. 
"The Amazing Race" airs Sundays at 8 p.m. ET/PT on CBS.
Are you sure you want to delete this comment?