'X Factor' Reject 'Bullied' Into Coming Out
Britney Spears' former duet partner speaking out about his audition experience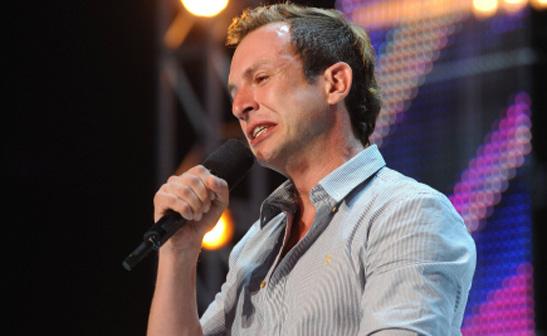 WENN
Britney Spears' former duet partner, whom she rejected when he tried out for a spot on "The X Factor" in June, has accused producers of bullying him into 'coming out' as a gay man at the auditions. Don Philip broke down onstage at the Cow Palace in San Francisco as he revealed the secret he had kept from Britney when they worked together a decade ago. But the much-publicized moment was edited from the show when it debuted Wednesday.
Bing: 'The X Factor' | Video: Watch clips & more | Photos: See the hopefuls
Producers insisted it wasn't "relevant" to his audition and all viewers saw was Philip coming face to face with his old pal, who immediately recognized him and offered him compassion when he revealed he'd had a tough decade and burst into tears. His emotions got the better of him as he sang a cover of Beyoncé's "Halo," and Spears and her fellow judges decided Philip would not be going any further on the show. Now, three months after his big reveal and following reports he leaked an unheard demo of a song he recorded with Spears, Philip is speaking out about his experience on the talent show, insisting he was "bullied" into opening up about his sexuality. And yet, producers cut the emotional coming out from the program. Philip tells "Access Hollywood" much of the emotion viewers saw on TV came immediately after he opened up to Spears about his gay secret -- and not from his rejection.
Plus: 10 must-see reality shows | 'The Voice' vs. 'The X Factor'
He says, "It was a very private thing that they kinda forced out of me, I would say bullied out of me ... Backstage I had talked to the producers about what was my secret and I had mentioned that my secret was that I was gay, but I really didn't want to talk about it on the show. Minutes later when I got onstage, L.A. Reid said, 'What's the secret? What's the secret ... ?' and I had to say it." In an interview with the New York Post, Philip reveals he was so upset by his experience on "The X Factor," he went home and contemplated suicide, adding, "I was so destroyed that they set me up." He tells the publication he had a magical exchange with Spears when he opened up about his sexuality to her, telling the pop star, "I didn't think you thought it was OK that I'm gay." She reportedly responded, "I think it's fine that you're gay."