Patti Stanger's 'Millionaire Matchmaker' Takes New York
Will this be an epic 'reality TV' fail?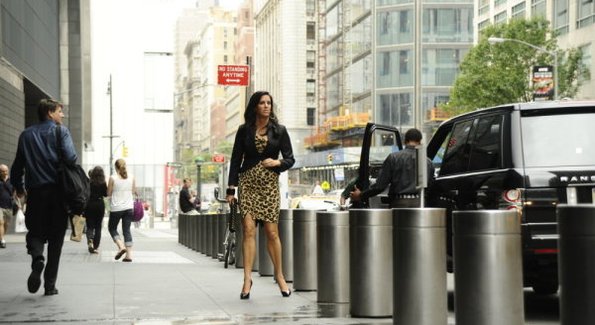 On yesterday's fourth season premiere of the Bravo hit "Millionaire Matchmaker," star Patti Stanger moved her crew to New York City after what was reenacted as a painless five-minute strategy meetings. Seems the pickins' of model and actor types who were up for a reality TV fling was getting slim in Los Angeles. Besides, says Patti, she can't wait to get to "brunette city."
But Patti didn't know what she was getting into when she dipped her toe into the Manhattan dating pool. Quickly dubbing New York mate-seekers as snobs who want perfection, she went on a mission to set up web magazine publisher/Dannon yogurt-heir Bryce, who also happens to be a mom (her much older man baby daddy split, and judging from her dry as toast personality, it's no wonder), and sports executive Derek.
Things go wrong right from the start. Patti's got a new New York casting intern, Andrea -- who seems like they picked her right out of the casting line-up -- who schedules a bunch of hot young babes for "douche-bag" Derek, a
guido-turned-wannabe​-family-man.
Which is exactly what Patti was hoping to get him away from. Patti's pick for him is Kristen, a perky 30-something blonde. But as she always says, "the penis does the picking" -- and it's picked Colby, a sassy Jersey girl who's 24. They bond over fresh mozzarella. He takes her on a date to a Yankees game, but she'd rather take him clubbing so "they can get their drink on." Uh, not so much. And faaaaaaaail.
Bryce, meanwhile, is celibate, spoiled, a "total pain in the ass." She wants a tall Jewish guy who'll understand about her kid, not care about sex and make her laugh. (As if anyone could.) When she's not interested in Patti's picks, Patti tells her, "I'm not in your vagina" (yes, she went there), essentially saying, if this doesn't work, it's because you're stiff and sexless. So naturally, Patti sets her up with a sweet schoolteacher from the Bronx. And yes, that goes wrong in every way you'd expect it to. It's truly excruciating to watch, especially when Keith, the schoolteacher, tells her he's really good at sex. Yeah, you see where this is going.
Yup, looks like Patti has her work cut out for her as she takes a bite out of the Big Apple. And with this blonde babe of an intern, whose no doubt been set up to cause trouble, she's got a bit of a mess to clean up in her own house before she starts cleaning up after others. But at least the New York attitude fits Patti's own
put-'em-on-the-table​
vibe. Maybe, just maybe, there's something to this fresh start.