Honey Boo Boo Breakout
'Toddlers & Tiaras' girl gets her own series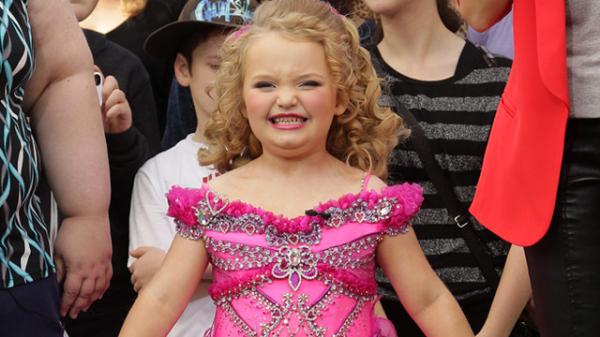 In the surest sign yet that the world will come to an end this year, Honey Boo Boo Child is getting her own spinoff.


According to US Weekly, six-year-old Alana Thompson -- introduced to TLC viewers via "Toddlers & Tiaras" in January -- is confirmed to star in "Here Comes Honey Boo Boo."
Bing: More about Honey Boo Boo Child | More on 'Toddlers & Tiaras'


The new reality series -- so far consisting of six half-hour episodes -- will intersperse glimpses of the toddler's professional life with her tiara-less personal life among the mudpits of rural Georgia.

Viewers will get to see plenty of their favorite star along with her belching mom, June; her chalk-mining dad, Sugar Bear; and sisters Lauryn "Pumpkin," 12; Jessica "Chubbs," 15; and Anna "Chickadee," who is 17 and pregnant.
A statement from the apparently proud network calls Ms. Boo Boo Child "more than just a Go-Go Juice-drinking beauty queen."


In other words, the Mayan calendar is correct.
More: Must See Reality TV

Tell us what you think about Honey Boo Boo Child on MSN TV Facebook and MSN TV Twitter.
"Toddlers & Tiaras" airs Wednesdays at 10 p.m. ET/PT on TLC.