'American Idol' Ratings Down
What can they do to fix it?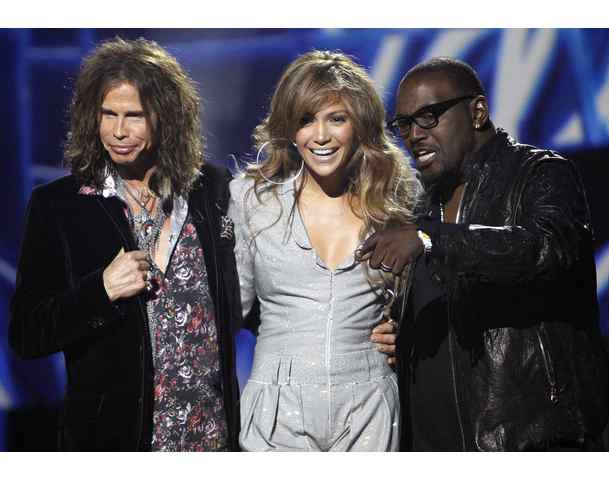 The expectations for yesterday's season 10
"American Idol"
premiere were sky high, so it's no surprise that the long-running reality hit had trouble meeting them. 
And while it still pulled a respectable 26.2 million viewers, ratings for the show, which debuted with a two-hour New Jersey-based casting call, plummeted a substantial 11 percent from last year's premiere, according to
Media Week ratings
scans. Those numbers continue the show's yearly downward trend, but it still managed to "beat the four competing networks combined" (by an astounding 47 percent), according to "Programming Insider" Marc Berman. He notes that the initial strong showing might be audience curiosity, given new judges
Steven Tyler
and
Jennifer Lopez
, and expect that while the show will maintain its top spot, it might show ratings of up to 20 percent lower than last year's.
So what can "Idol" producers do to put Randy Jackson and the gang back to top dawg status? 
Well, let's start by teaching J.Lo to say "N-O." Honey, we're not there to watch you hem and haw as you let down people easy. If you wanted to suddenly earn an America's Sweetheart deal, the judging panel vacated by one Simon Cowell is not the place to do it. 
We were also surprised by Steven Tyler's pushover status -- although not particularly by the fact that he licked those fat lips when he saw some of the younger, uh, talent. Come on, Steven. Give it to them straight. Not every kid with a sweet voice and a cute face can cut it in Hollywood. 
The sad thing is, Randy Jackson wimped out in response to his co-panelists over-eager ways. He passed more than a few unworthies on to Hollywood by simply playing nice with Jen and Steven. Randy, someone's gotta be the bad guy. You've been around long enough -- and built up enough cred as a panelist -- to step into Simon's shoes. 
Also, can someone please give Ryan Seacrest something to do? Yesterday, it was like he was merely a prop, there to let us know when a contestant's storyline was hanky-worthy and when we should be mocking them. We can figure that much out for ourselves. Perhaps he can pre-screen some of the talent so we can start upping the caliber of contestants who make it to L.A.
What do you think can be done to improve this season's "American Idol"? Will you still be tuning in?