'The Amazing Race' exit interview: James and Jaymes
The best brand ambassadors the Chippendales have ever known fill us on on their second-place finish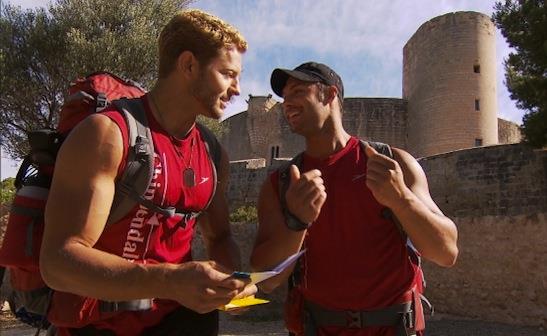 Fan favorites Jaymes Vaughan and James Davis went down swinging in the last leg of "The Amazing Race" last night, only to be bested in the final challenge by goat farmers Brent and Josh. We talked to the Chippendales about selling out Vegas and staying put as they plan fundraisers to support Jaymes's dad's medical treatment. 
MSN: I'm so sad you guys lost! 
Jaymes: We were sad we lost, too! I think we're going to raise the money for my dad in another way. 
You guys had to be the most polite racers the show has ever seen. 
Jaymes: We thought people were going to make fun of us for it. 

No way. 
Jaymes: We did! But the way we were raised, you say "please." You say "thank you." 
James: You'd be amazed at the power of please and thank you when you make an effort to say it in their language. 
Jaymes: We've traveled a little bit, and knowing "please" and "thank you"—that's why we learned that. Unfortunately, we didn't learn "hello" and "goodbye." 
I'm sure you've gotten a hugely positive response from your showing. 
Jaymes: We had eight-, nine-, 10-year-olds cheering for us, and their parents writing us, saying, "Thank you for being an outstanding example on the race." If we can inspire a younger generation ... we had a party here, and a lot of them were middle school kids! That's been the crazy thing. It's been great
Well, you guys were definitely the best branding the Chippendales have ever heard. 
Jaymes: They were amazing to us. We didn't have the money to go get the gear, the backpacks—they got it for us. That's why everything we had had a "Chippendales" name on it—we weren't trying to do any type of sponsorship. They held our jobs for us. They were really supportive. We got them back as soon as we were back. And now we have sold-out shows, with lines outside the door! And we have our own billboard! There's like 20 of them—it's nuts. I remember going to Vegas six years ago, and I never thought we'd have our own billboard. It's such a blessing.
What happened at the Navy Yard? Where'd your cab go? 
Jaymes: We couldn't hang on to a taxi for nothing—our biggest drama in New York City was that we couldn't get a cab driver to stay with us. I think we just annoyed the hell out of them. Even at Lombardi's, the cab took off, and I was sitting there, trying to call the taxi company, to try to pay him, so we could stay within race rules. We couldn't keep a taxi for anything. I wish [the clue] had said "Make your way by bicycle." We had at least three bad taxi experiences. 
You managed to put a happy face on it. 
James: People were happy when they came in first. We were psyched just to stay in the race and getting to do all this cool stuff—we were just elated. 

And you guys never bickered or fought. 
Jaymes: That's what a friendship should be. We call ourselves yin and yang all the time. I'm very loud. He calls me "Tigger."
James: I'm more of a calm energy. I'm more like Eeyore. 
Jaymes: But we balance each other out. If I'd been there on my own [in Shanghai], looking for the woman with the abacus [on the Bund], I would have run all the way down to Japan. A fight is going to do nothing but slow you down. 
James: That's why I was so excited to do the race with him—we're not going to fight our way through stuff; we're going to solve a problem. 
I'm just happy because you guys are a shoo-in for All-Stars. 
James: Send a tweet to Phil to let him know. 

Jaymes: Obviously right now, we're supposed to be home. Josh and Brent were supposed to win. I want to stay home and be with my dad. We have fundraisers lined up all week—his prescription is $2500. We made a promise to our family, and we're going to keep it.