Behind the Scenes: 'Dancing With the Stars' Latin Week
What we saw and heard during the commercial breaks at the show
By 
MSN TV
 Apr 17, 2012 11:41AM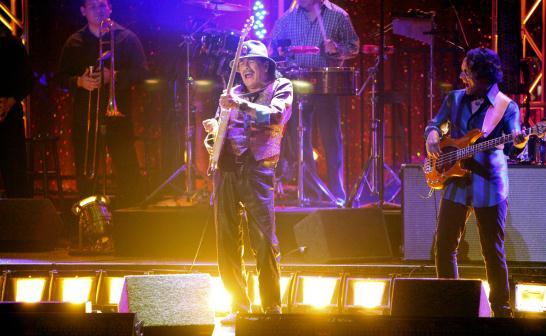 By Minh Nguyen
Special to MSN TV
Last night the "Dancing With the Stars" ballroom heated up as the dancers and stars became muy caliente for Latin Week. Legendary global music icon, Santana, performed throughout the show which also spiced up the atmosphere. The "stars" in the audience included Jack Wagner, Rick Fox, Romeo, JR Martinez, Dr. Drew, Melissa Rycroft, Martina Navratilova, Florence Henderson, Jon Huertas (from "Castle") and Mekhi Phifer. While there were a whole lot of them, we wish ABC would bring some real stars (with the exception of Mekhi Phifer and Dr. Drew) to the ballroom for once.
Bing: More about 'Dancing With the Stars' | Photos: See the cast in action
Next week is Motown Week with performances by Smokey Robinson and the Temptations. We're hoping Gladys Knight will be saved from elimination and around for that. Motown week wouldn't be as fun without her. We predict Gavin's time is up but then again, this season has been full of surprises.
Last Night on TV: Watch recaps | Video: Watch clips and more
Top 10 Things Seen and Heard at "Dancing With the Stars":
1. When they showed the clip of Sherri Shepherd, there was a collective and sad "awww" from the audience plus sporadic clapping for the potential latest victim. The dancers and stars didn't have the same fun-factor without her presence.
2. Cheryl Burke and William Levy looked a lot cozier than the other couples, holding hands and rubbing each other's backs after the show. We heard a rumor that there might be some hanky-panky going on, and honestly we wouldn't be too surprised.
3. When Jaleel White said he would shake his booty (before his performance) for Carrie Ann, Len and Bruno, Bruno turned around and looked at the audience behind his left and right shoulder, then proceeded to put his hands together like Dr. Evil.
4. We noticed during this season that the fans have been cheering for Maks and Derek and not as much for the "stars." The only exception being William Levy, in which the women begin to shriek as if they were giving away free Spanx.
5. Maria Menounos, in full costume including her yellow Big Bird headgear, grabbed a guy (a tall, bald white guy who was a tad overweight) and danced with him during Maks and Melissa's dance. Derek was more reserved and stayed back to get ready for their dance.
6. During the break, six people came out with mops and a garbage can to clean up the graffiti from Maria and Derek's dance.
7. When the canoe, hammock and palm trees came out, someone in the crowd said, "Gavin's next because he needs all the props he can get." She was right, Gavin was next.
8. The Warm-Up Guy told the audience, "Please clap for our house band. They are available for a little price." We wonder what and how much he meant by "a little price"?
9. Mark Ballas walked through the row in front of us after his dance to say hello to some people. He stepped on a woman's foot and didn't apologize. She screamed "Ooww!"  
10. Bruno was making cougar actions to Carrie Ann after her "Disney sexy" comment to Roshon Fegan.
Check out our Bonus Moment of the Night on Facebook.
"Dancing With the Stars" airs Mondays at 8 p.m. ET/PT and Tuesdays at 9 p.m. ET/PT on ABC.
Are you sure you want to delete this comment?