'Dancing With the Stars: All-Stars': Comeback queen
Melissa Rycroft and Tony Dovolani take home the Mirrorball Trophy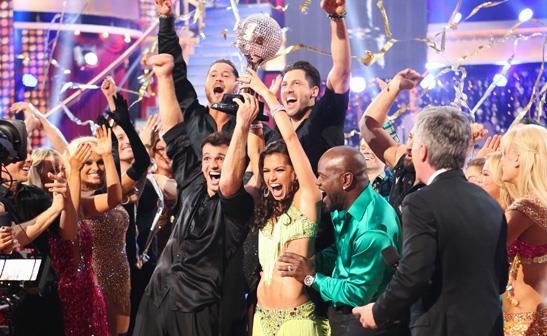 We have our champions: Melissa and Tony! There was so much bleeping after Tom announced their names! I don't even know who it was shouting obscenities -- maybe Joey Fatone? -- but he was shouting with joy. Everyone onstage went absolutely insane: Melissa was actually crowd surfing. It was so great to see her take home the Mirrorball Trophy after missing so narrowly a few seasons back.

Bing: More about 'Dancing With the Stars: All-Stars' | Videos: Watch clips and more
Shawn Johnson and Derek Hough were the runners-up. Derek talked about how much Shawn had inspired him over the season and how she'd even made him believe in himself again.
Kelly Monaco and Val Chmerkovskiy came in third. Kelly called Val "the most incredible man and dancer out there." Tom pointed out that the crowd was on its feet for Kelly.
Photos: See season highlights | Memorable moments from this season


In the final round, Kelly danced a jive that was nearly flawless. Carrie Ann quipped, "There was one little slip, and I think that was due to body oil" (Score: 28.5/30). Melissa performed a samba that somehow made booty-shaking look tasteful, but had some trouble with the song. This dance wasn't actually bad, it was just the first sour note Melissa has hit in weeks (Score: 28.5/30). Shawn danced a jaunty cha-cha that brought down the house. Bruno told Shawn she was going out with a bang (Score: 30/30)
"Dancing With the Stars" will return in the spring.