'The Voice' Recap: The Quarterfinals Begin
Jesse Campbell and Jordis Unga are instantly eliminated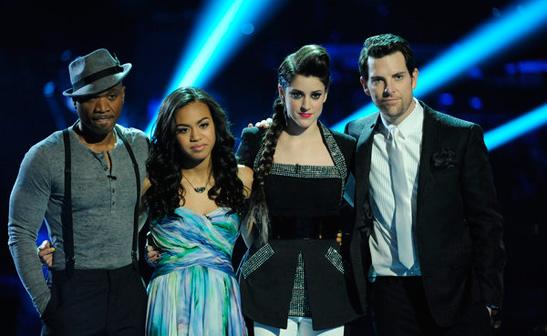 "For the first time ever," Carson kept saying during the opening of this latest episode. "Ever," he stressed. It's...um...the second season, dude.
 Bing: More about 'The Voice' | Photos: Meet the contestants
Anyway, the "first time" he was referring to at this quarterfinals point was "instant eliminations": One person from each team being bounced by their respective coaches, as opposed to by America, over the next 24 hours. "If I knew who to kick tonight I'd kick 'em" was Blake's response to this development. Christina, who had the same chore as Shelton (and looked a bit Snooki-esque early on until she later took the stage with her team and rocked out with hit "Fighter"), was nonplused. 
Last Night on TV: Watch recaps | Video: Watch full episodes and clips
Shelton's tiny tornado, RaeLynn, came out first, taking a Jason Aldean ditty to the next level and effortlessly winning the crowd over, particularly every time she snarled "countryyyy!"
Next was Christina's Jesse Campbell, trying Beyonce's "Halo" on for size. I think he got a bit desperate during the performance ... vocally, that is. Not the pictures of his daughter hung in the background. (Although, in retrospect, that is a bit desperate in and of itself.)
Jordis Unga, told to tap into the songwriter inside by coach Shelton, got understated with "A Little Bit Stronger."
Ashley De La Rosa was handed an inspired version of Jewel's "Foolish Games" by Christina, here an Alanis-style rocker. But, did the arrangement exceed the performance?
Erin Willett got the requisite Adele number (seriously, will we get one episode without an Adele song?). C'mon Blake! 
Lindsay Pavao did a song no one seemed to know (even her coach, Christina) and, frankly, the way she conducts herself during the critiques borders on unwatchable. (Not that several of the critiques weren't delivered awkwardly, especially by Adam.)
Jermaine Paul did the timeless (yes, I wrote that) Phil Collins ballad "Against All Odds," and did it justice, too.  
Classically-trained Chris Mann capped the night's performances with Coldplay's "Viva La Vida." How this guy is still around is beyond me, but the song was a nice choice, even if the ending belonged on Broadway.
As for the episode's ending ... bye-bye, Jesse Campbell (which I suspected), and bye-bye, Jordis Unga (which I didn't suspect). Who I did suspect? Well, we'll see if America agrees, very soon.
What did you think of this episode? Tell us on Facebook
"The Voice" airs Mondays at 8 p.m. ET/PT and Tuesdays at 9 p.m. ET/PT on NBC.