'The Bachelor' Recap: Bickering Sends Home Two
Ashley H. and Jackie earn the first one-on-ones, featuring a roller coaster and a befuddled raccoon
By 
MSN TV
 Jan 10, 2011 11:03PM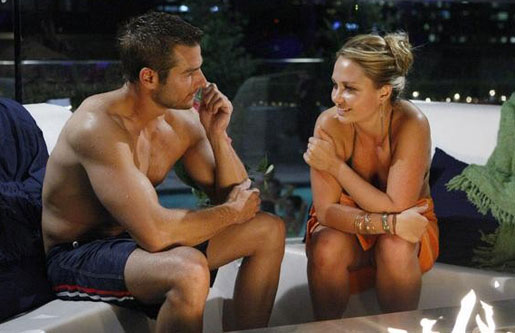 It's week two of "The Bachelor," which means it's early enough in the game that it's still impossible to tell any of these women apart -- except for maybe race driver widow Emily and succubus-in-the-maki​ng Michelle. In "Bachelor" logic, this means that whichever bachelorette starts going on about "the journey" and how much she's given up to be here is a goner. (You know, like how Melissa "spent a fortune on clothes and dresses and gowns" -- the gown/dress distinction being a crucial one in "The Bachelor" universe.) We're skipping ahead, though: We still have two one-on-one dates, a date/fieldtrip of 15, and an intervention with Roberto and Ali to make it through. Let's get to it.
Photos: See the 'Bachelor' cast | Bing: Brad Womack
Dentist Ashley H. gets this season's first one-on-one date, amidst a huge number (because there are still 50 billion women in the running at this point) of woeful reaction shots that span a spectrum of "I'm sad but I'm trying not to show it" to "But it's my birthday tomorrow." The date kicks off, Ashley says, "on a deserted dark road, in the pitch black." (Helpfully, there's a reaction shot from a baffled raccoon, who was presumably enjoying his evening when the world exploded into carnival terror.) Oddly enough, this date reads more like a week five date than a week two: There is much oohing and ahhing and trading of sad family secrets (absentee fathers, homelessness, substance abuse.) Good for Ashley H.! "I like this girl ... I like this girl a lot," Brad says. "A lot, a lot," he does not add, but perhaps thinks.
Next up is the nightmarish group date, featuring ... everyone but Jackie and Ashley H. Seriously. It's like a sorority mixer with one dude. "[This date] is going to drive me crazy --guaranteed," says birthday girl Melissa, speaking, perhaps, for all of us. "This is not the way I thought I'd be spending my 30th birthday." Michelle just has that vibe where she expected, on day one, for Brad to say: "Forget this -- Michelle, it's all you, all the way." The women have ostensibly been gathered to perform a series of public service announcements advocating blood donation. It's not as good as Jake-era Michelle performing at a comedy club, but it is rife with the irony, like when Britt proclaims herself a "big ol' prude" seemingly moments before leading a girl-on-girl-on-guy smush. Honestly: It's almost raunchier than "Jersey Shore," which is saying something. Also spotted: Poor Keltie dressed as a lumberjack in a neck brace, and Madison geared up like a dominatrix. Honestly, who did Keltie aggravate to get that costume? "Brad's going to be looking at me all day, like, 'That girl is the grossest girl I've seen in my whole life,'" says Keltie, and she is about 100% correct. It's unjust!
Nominal public service concluded, the group retreats to a rooftop lounge for the evening's social event. Gave-up-everything-f​or-Brad Melissa makes a play for some one-on-one time, which Brad spends metaphorically looking at his watch and literally looking everywhere but at Melissa. Brad repeats the word "drama" about a half-dozen times. Thus inspired, Raichel and Melissa start squabbling about -- honestly, I have no idea. "I'm a 32-year-old talking to a 21-year-old," Melissa says, which seems more of a statement of fact than an insult. "I'm generally the one who's the be-yotch. Lucky for me, there's girls like you," Raichel retorts. This is actually a perfect dramatization of how "an eye for an eye makes the whole world blind," or at least, makes you look exceptionally unattractive. Michelle, who's here to tell us again that it's her birthday, gets the rose.
Jackie is the other lucky one-on-one, and for her date, Brad announces that "this is Jackie's very own 'Pretty Woman' experience." Besides the part about the actual prostitution, we're sure. Jackie does, in fact, get a load of material goods for going on a date with Brad, including (the use of?) a gown and (the loan of?) some fancy jewelry. Jackie tells him that she didn't date anyone in college, Brad freaks out, and Train appears, out of nowhere, more or less like they did on "CSI: New York." Brad's worried about Jackie's ability to put herself out there. "That was me three years ago," he says, which is a "Bachelor" equation for "three years ago when I made a perfectly rational decision that was somehow twisted into a mental disorder by the producing staff." Anyway, Jackie has a rose.
It feels like we should be going into the rose ceremony, but before we do, we have more, bizarre bickering between Raichel and Melissa, as well as a drop-by visit from Ali and Roberto. Melissa thinks, apparently mistakenly, that she's found an ally in Ali: "I am [also] that girl in the house who's just been targeted," Melissa says. The implication is that Ali was targeted by her housemates. Is she thinking of Vienna? Has Melissa seen this show?
Perhaps yes, perhaps no. If she'd seen it before, she would have known not to admit/brag that she burned her ships before entering the "Bachelor" mansion, because they're not going to use that footage unless for the purposes of dramatic irony, and who wants to play into that? Anyway, everyone stays in the running except Melissa, Raichel, and poor Keltie, who'll forever be living down that horrendous costume they stuffed her into for the PSA. She's so tragic: "Honestly, I don't know if love is in the cards for me," she cries. "This is my last-ditch effort. I've done the regular dating, the dating people at work -- that never works out well -- the being-set-up-by-peop​le-that-I-know, the online dating...." Between "online dating" and "The Bachelor," there's some room to move, as exploited by the literally billions of people who've found a life partner without Chris Harrison at her side. You can do it, too.
Are you sure you want to delete this comment?