'The Amazing Race' exit interview: Natalie and Nadiya
One-time contenders, the Sri Lankan 'twinnies' settle for fourth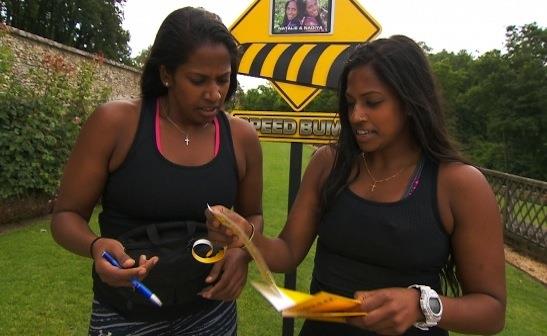 Epic "twinnies" Natalie and Nadiya Anderson were "The Amazing Race"'s most polarizing characters this season—either you loved them for their take-no-prisoners brio or you cringed each time they shrieked at each other. We talked to them about their surprise fourth-place finish, blending in in Bangladesh, and getting called "bitches" by the Beekmans. 
MSN: What was it like watching the final leg of the race happen last night without being in it?  
Natalie: It was so frustrating [being in it]—and watching it was even worse. We watched it with the Beekmans last night. 
So no bad blood, I guess? There seemed to be some tension between you in that next-to-last leg. 
Natalie: We understand the difference between the racing aspect and the real-life aspect—we can't blame anybody else [for our loss] but ourselves. We told them yesterday, "You guys kicked ass." 
Was it weird at all, considering all the trash talk between you guys? 
Nadiya: We talked about this with the Beekmans—the only thing I can say is that we lay it all out right in front of you. There's nothing we have to clarify with them. It was obvious—the Beekmans were laughing. It was all in good fun. We told them we know it got a little intense, but they were amazing. Apologies were not necessary. 
Natalie: We got some tweets from people who were, like, I can't believe the Beekmans called you guys "bitches." We were, like, no hard feelings. It's called joking around. You're racing for a million dollars—how much fun would it be if everyone was nice to each other the whole time? 
It did seem like the tension with Abbie and Ryan wasn't quite as good-natured. 
Natalie: From the start Nadiya and I rubbed them the wrong way. We realized they were our biggest competition. They were so much more focused than we were, so methodical—we thought they would outshine us. 
You did seem to have a big advantage in places like Bangladesh and Indonesia—place not too unlike Sri Lanka. 
Nadiya: Traveling to our part of the world—the east side of the world—was awesome. We got the VIP treatment in Indonesia and Bangladesh. People were drawn to us because we looked just like them. In the restaurant in Indonesia, I looked like I worked there. We weren't scared of anything in Bangladesh and Indonesia—people [on the show] would come up to us and be, like, Is the water okay? 
Natalie: [That's] when we found out that Trey had never traveled. We told them not to tell anybody—we didn't want them to think they were weak.
As someone with a sister, I felt like you guys argued just like my sister and I would have—often and viciously. 
Natalie: Amen. We got so much shit from people, being like, How could you be so mean to each other? And then we'll talk to sisters, who are like, You remind us of us. And that's the edited version. In the unedited version, we are like 10000 times worse. Nadiya's the only person I'd ever think of doing it with.
What do you think was your best moment? 
Natalie: The bamboo challenge. It was extremely fatiguing and difficult and hot and hard and heavy. And we just owned it. We got in there first. Monster truck is a beast, the Chippendales are a beast, Lexi can't stop talking about Trey's muscles—as the only girl-girl team there, we were first in and out. 
Has the reaction to you guys—with as much hate as love—been hard to bear? 
Natalie: We are totally ourselves on camera. It's like watching a cartoon version of yourself. We had softer moments, but they're not as good TV. When everyone's being nice, all our out -of-control moments are going to make the cut. 
Are you sure you want to delete this comment?