'Teen Mom' Touches a Nerve
The season finale serves up reality TV at its most realistic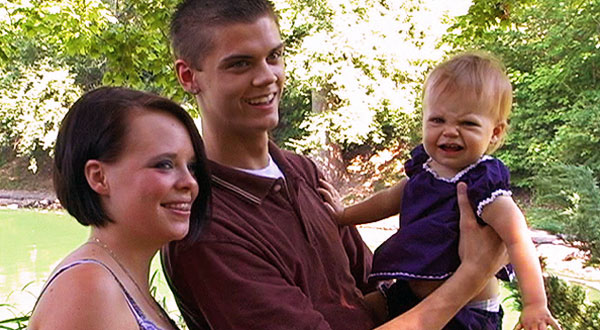 I've said it before, and I'll say it again. You don't have to be a teenager to really understand the mama drama that MTV's hit "Teen Mom" is serving up. The sleepless nights, the daycare dilemmas, the baby daddy trauma. It's all a slice of life for these teens -- and for countless women like them (teenaged or otherwise) across the nation.
But yesterday's season finale went even deeper than usual. Last night, after more than a year, we witnessed teen parents Catelynn and Tyler visiting with the daughter they gave up for adoption. And it was touching, as bittersweet and as excruciatingly beautiful as one might expect.
We watched as Catelynn and Tyler put the finishing touches on the baby book they made. We watched as Tyler and Catelynn drove from Michigan to West Virginia, talking about all that has happened in the year since they gave their child up. How they now have dreams and goals and want to make her proud. They talked about what it would be like to finally hold her -- did they even have that right?
And we watched, riveted, as they finally got to meet the little girl that looks so startlingly like them, all big blue eyes and soft blonde curls.
What a gift they gave adoptive parents Brandon and Teresa -- and what a gift those adoptive parents gave little Carly. The moment when she and her birth mom Catelynn sat at that picnic table making funny faces at each other while the conversation continued around them, that moment was both priceless and heartbreaking. One of the realest moments I've seen on television perhaps ever.
But perhaps the most important moment in this journey was the one that came after it ended. The one where Tyler and Catelynn realize, now more than ever, that they made the right decision. For that little girl. And for themselves. They've got such a bright future ahead of them, despite where they've been and where they come from. One day they'll make little Carly proud.

Reality TV -- and especially that dished out MTV, home of "Jersey Shore" and "Tila Tequila," amongst other trash television -- often gets a horrible rap. But with "Teen Mom," the network managed to redeem itself and the genre. At least temporarily.


You give up a bad habit, you don't "give up" a child.  They placed their child with a family and/or made an adoption plan.  It might seem trivial, but correct wording is so important.  As any one can see, they didn't "give up" anyone or anything. They made a decision that was difficult but was a loving choice for all involved.
Are you sure you want to delete this comment?