'South Park' Set to Tackle 'Honey Boo Boo'
Latest episode pits Cartman against TLC's pageant princess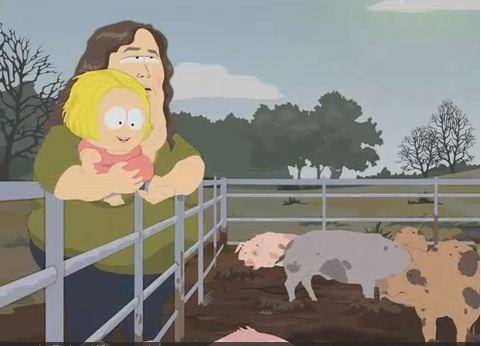 It was only a matter of time until Trey Parker and Matt Stone clamped their satirical teeth down on a hunk of Honey Boo Boo Child. (Yep, that sentence just happened.) On Wednesday night's episode of "South Park," titled "Raising the Bar," Cartman decides he's tired of being harangued about his body image and is going to be a proud advocate for obesity. But the portly elementary schooler soon discovers he's not alone in wanting to hog the spotlight. Literally.
In one of a few "Raising the Bar" scenes made available via
Comedy Central's website
, none other than "Here Comes Honey Boo" starlet Alana Thomspon herself makes an appearance. Aided by Mama June and "Sugar Bear" Mike, HBB parses through a neighborhood sty, looking for a swine with "pizzazz," as she's now entering "pageants with a pig heart." We're not sure what that really entails (or entrails), but are positive we'll find out when the episode airs at 10 p.m. Meanwhile, enjoy the below clip, and to quote Parker and Stone's caricature of Sugar Bear, "Work it Girl."
"South Park" airs Wednesdays at 10 p.m. ET/PT on Comedy Central.