'Top Chef All-Stars' Recap: Marcel makes a mess of Restaurant Wars
Richard, Dale and Fabio take their team to a whimsical, bodega-inspired victory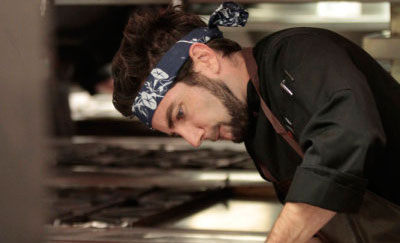 I always knew Marcel Vigneron was a brat, but I didn't realize he also was a megalomaniac. That's the only way to explain his  claim after getting booted off "Top Chef All-stars" that he is the "most notorious, diabolical contestant in 'Top Chef' history." That, or he is totally humiliated by his elimination during Restaurant Wars.
Yes, kids, Restaurant Wars is back. This may be the "Top Chef" season to trump all seasons, bestowing us with some of the best challenges ever — I was the happiest viewer in the world watching the chefs try to best head judge Tom Colicchio in the kitchen — but Restaurant Wars is the classic challenge that always, always takes down a chef you're not expecting to go. Marcel's exit was less shocking than others — both Dale Talde and Tre Wilcox lost during Restaurant Wars in their respective seasons — but Marcel went out kicking and screaming. We would expect nothing less.
But first, filleting fish. Not Richard Blais-style, aka cooking up filet-o-fish in McDonalds for his first cooking job (we are not making this up.) We are talking about real-deal fish butchery. For the Quickfire challenge, the chefs met the fish butcher to rule them all — Justo Thomas. Justo is the master of fish at Le Bernadin, Eric Ripert's 3-Michelin-star restaurant, who butchers up to 1,000 pounds of fish by noon every day. His butchering demonstration left Fabio Viviani flabbergasted. He declared, "See Justo clean fish give me tears. Very clean, very perfect, very fast."
Unfortunately, Fabio fell flat when he tried to butcher, and his fillet knife was bested by Marcel, Dale, Mike Isabella and Richard. The four of them then had to compose a dish using fish guts, heads and bones, and they scrambled to come up with the most creative one. I heart Richard, who I think is very likely to win the whole shebang on the strength of dishes like cod belly shnitzel with a collar ragout and fried skin. But Dale, whose obnoxious tirades during Season 4 were more memorable than his food, has turned into my dark-horse favorite. He proved himself again during this challenge, winning over judge Anthony Bourdain by using liver sauce with his sashimi fluke to beat out the other three. He also served up a salt-roasted cod collar with bacon and dashi.
Dale earned immunity for Restaurant Wars, and was made a captain for one of the restaurants, and as another bonus, picked the opposing team's leader. His choice of Marcel as the other captain far more diabolical than anything Marcel could dream up. He merely had to watch Marcel self-destruct. It was priceless watching Blais try to hide during the selection so he wouldn't get picked by Marcel, who chose Angelo Sosa first, setting Dale up for the one-two deadly punch of Dale/Richard Blais.
Dale's team came up with a concept for a high-end "Bodega," serving whimsical street-style food for their "pop-up" restaurant, a temporary restaurant created on the fly. Marcel wanted to name his restaurant "Medi," short for Mediterranean; even I knew that was lame. Luckily, he was overruled for the name "Etch."
The bickering started almost immediately in Etch's kitchen. Marcel quickly lost control of the discussion to Mike and Angelo, and it was clear there would be chaos during service. Marcel shouted at Mike, Mike shouted at Marcel, Tiffany got very pissed off over some eggs, and dishes got sent back to the kitchen. Angelo and Antonia Lofaso spent a lot of time looking fed-up. Tiffany fumbled front-of-the-house hosting duties, laughing loudly and shmoozing with diners instead of spending enough time making sure food was getting to the tables. The judges loathed Marcel's sweet and unripened peaches with coconut foam and powder and his mushy monkfish, and also disliked Tiffany's flavorless frisee, asparagus and egg dish. At the end of service Antonia said Marcel kept congratulating everyone on a great job. Her response? "You. Are. On. Drugs."
Let's move on to more pleasant thoughts, like Bodega's food. Dale, Richard, Tre, Carla Hall and Fabio got along so well it was almost a relief when Dale snapped at the servers, though I shuddered, briefly worried the old temperamental Dale was back. He calmed down under Fabio's soothing influence, and all was right in the world again. And Tre's braised pork shoulder with cheddar grits and Corona and lime sauce, Richard's sashimi tuna with fried chicken skin and Fabio's amaretto cake with candied lemon peel and cappuccino mousse had the judges swooning. Plus, for the first time ever in "Top Chef" history, the diners chose the winner. Eh, who cares. But they almost all agreed with the judges that Bodega was the clear winner and Richard was lauded as the best chef of the night.
The judges laid into all of the Etch chefs, criticizing Antonia's ragout for being too salty, Mike for not doing more to help the team, Tiffany for mismanaging the front of the house and serving a bad egg dish, and Angelo for not stepping up. Marcel "just let this whole thing fall apart," said Tom Colicchio.
Marcel countered that his only mistake was how he selected his team. We don't buy it. Why don't we let Anthony Bourdain have the final word? "It was every cook out for themselves. Prison breaks are organized with more efficiency and teamwork."

What's bizarre is that Marcel still claims that he is a nice guy. His friends post replies on message boards saying, "If you only knew him...".  Well, the people on this show must know him since they've worked with him and shared living quarters with him and they don't like him. He even got under Harold's skin on that special competition between chefs from seasons one and two.  Harold is probably the most mature and least confrontational TC contestant ever and he was driven to snap, "Stop acting likt a f***ing child!" Or something like that.
So glad he is gone.
Are you sure you want to delete this comment?