'American Idol' Recap: Lucky Seven
Judges decline to use Save as Deandre Brackensick departs the contest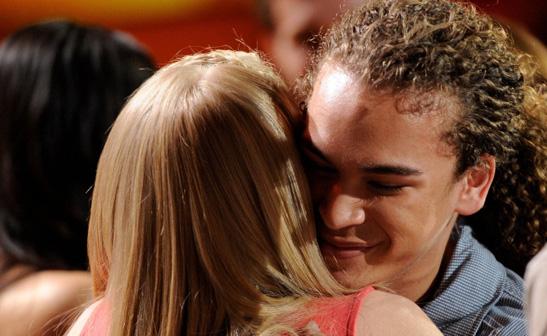 By Carla Patton
This week, the top 8 performed songs from the 1980s. And, unlike in weeks past, there was a clear division of talent. Some people were amazing. Some failed to live up to ghosts of performances past. And some contestants sounded just too much like previous performances. Phillip Phillips is becoming a notable offender of sounds-the-same syndrome. The big question on this night is: Who will go home? Or will the judges use the Save? I think the real problem at hand is that no one sang a Hall and Oates song. Maybe they're saving that for an entire Hall and Oates-themed week! In my dreams.
Bing: More about 'American Idol' | Photos: See the top 8 singers
Oddly, I think Deandre bought himself a ticket into next week with his DeBarge performance. Even though he went first, Jennifer made sure to continue mentioning his performance and how good he's getting. Now that Heejun is gone, she has to focus on preserving Deandre for as long as possible.
More: 'American Idol' on BuddyTV | Video: Watch 'American Idol' clips and more
Hollie was in the bottom two last week, and her performance of the song from "Flashdance" was arguably one of the worst this week. It seems like the viewers aren't sure what to make of Elise yet, and her off-kilter performance of "I Want to Know What Love Is" by Foreigner may not help. I arbitrarily chose Joshua in my predictions to round out the bottom three. But after further consideration, I think Phillip Phillips could spend a little time in the bottom, just to get a quick feel for it. We'll see what the all-knowing, all-seeing Jimmy Iovine has to say.
Ryan stops the show mid-filler to ask Joshua how he's feeling. He's lightheaded and sick! Joshua, you can't pass out on us! "Live TV -- anything can happen!" Ryan would say. But before anything happens, a world-premiere Jennifer Lopez video. She describes it as "fun" and "dancy." Ryan asks Jennifer about chemistry with any of the dancers, and she giggles like a little girl. It was actually quite endearing. Then she tells us the song has a "great message" -- one that I will be searching for among the shots of a diamond dust-covered J. Lo. The video preview ends with a "to be continued," as though it had any plot whatsoever.

Oh, the contestants "went on a little scavenger hunt," only to find a terrible Ford Music Video premise! They look tired and bored in the video. These are not the attitudes that sell cars, kids.

To make Joshua feel better (how?), Ryan shows a Twitvid of some preschoolers in Vietnam wishing him luck. They're delivering results in pairs on this night -- a great move. Jessica and Joshua move to the center first. I can only assume they're both safe. Jimmy says Joshua seemed a little over-affected but has reined it in and found his sweet spot. "Tens all around," Jimmy says, bored by this whole thing already. Jimmy says Jessica was great but needs bigger, more powerful songs. Joshua picked a better song than Jessica this week, in Jimmy's opinion. Oh, phooey. Joshua is safe, so he can go back to feeling sick on the couch. Jessica is also safe. Well, isn't that nice!

The Wanted are here to sing "Glad You Came," which sounds like something Jennifer Lopez would like to sample. If only it featured Pitbull. Tommy Hilfiger clearly wasn't around to intervene with the Wanted and all that gray in their wardrobe. These guys look bored, too. One of them tiredly ground against Jennifer. Then they sauntered back to the mainstage. Bring back Lauren Alaina!
"Did you go to first base with Jen?" Ryan asks that one guy, once he mistakenly thought his microphone was off. Such a creep.
Next up: Skylar and Colton. I'm guessing they are both safe, too? Jimmy is glad Skylar didn't sing "9 to 5" and is convinced that Skylar, too, is a power singer. Jimmy says Colton was good but not great. Well, whatever. I'm sure Colton's fine. Ryan brings up Hollie and Deandre to the center of the stage, probably because they are both in the bottom three? We revisit Hollie's performance first, which Jimmy says "wasn't even a great high school performance." Jimmy thinks Hollie will be "fighting with Deandre for who's packing." Jimmy does not give a %*#&. Jimmy insists that, "No! ... Deandre was not great! ... Deandre is growing marginally." Oh, I just love Jimmy.

Dim the lights. Deandre is in the bottom three. Colton is safe. Skylar is safe, and Hollie is in the bottom three. Jimmy is at the top of his game!
Next, Kellie Pickler sings her new country hit, "Where's Tammy Wynette?" She looks less bored than everyone else on this night, myself included. In a classic, returning country "Idol" move, Kellie sits herself between two boys on the results couch. She didn't linger like Lauren Alaina did, because she's a bit more seasoned. She knows when her time on the couch is up. After her performance, Kellie declares that "everyone on this season gon' get a record deal!" If you say so, Pollyanna!


Phillip and Elise are up next. Jimmy says there are three versions of yourself, and this was Phillip's "good version" of himself. It was safe and not great. He can't stop progressing in this competition or he'll stall out. As for Elise, she was "not incredible" on stage. It's "an old-fashioned choke," Jimmy declares. OK. Ryan asks Phillip if he's worried about complacency and Phillip says, "Naw, man. I'm just bein' myself." He's adorable.

Elise is in the bottom three. Phillip is safe. That's a lot of pleats on that skirt. Ryan reveals that Hollie is safe and can go back to the couches. So it will be Elise or Deandre. I hope it's Deandre, and then we don't have to think about the Save.

Jennifer and Randy feel "half and half" that America got one person right in the bottom. And the journey could end for ... Deandre. Deandre's family just loses it, and someone in the audience shrieks, "What!?" Oh, don't be so surprised, little girl. Deandre tells his sister to stop crying then launches into a performance of "Master Blaster." A poor choice for his final song, but maybe he knows he isn't worth the Save.

It was good for a performance under duress -- outstanding, really, given his family's emotional state. The audience is chanting, "Save! Save! Save!" But they'll get over it. Jennifer says Deandre is an amazing performer who has a lot to show the world, but she only gets one vote so Deandre is eliminated. "What!?" the person in the audience goes again. Oh, my god. Someone is going to start a riot.

Jam on, Deandre!
What do you think of Thursday night's results? Did American and the judges get it right?
"American Idol" airs Wednesdays and Thursdays at 8 p.m. ET/PT on FOX.