FEATURED POST
Viewer votes send a pair of singers packing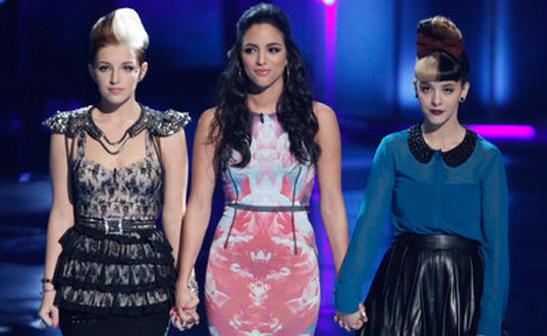 By John Kubicek
We're a little over a month away from the Season 3 finale of "The Voice," so every performance counts. The top 12 took the stage Monday with everything from Pink and Boston to that song from "Titanic" and that song from "Back to the Future." Now it's time for two to get eliminated, and the coaches are completely without power.
Bing: 'The Voice' | Photos: See more of the action from Season 3 | LNOTV: Watch recaps

Tonight we also get a performance from Christina Aguilera featuring Cee Lo Green, and a song from country artist Jason Aldean. Try not to flirt with any of the ladies on the show, Aldean. From what I've read on TMZ, he has a fondness for reality singing-competition contestants.
More: 'The Voice' on Buddy TV | Video: Watch clips and more
But the results are what really matter. I'm predicting Adriana Louise and Nicholas David to go home, so let's see if I understand America.
Blake Shelton decided to dress up for the results show in a nice vest. That's much better than the raggedy jacket he had on Monday night.

Carson Daly tells us that there were more votes last night than in the finale last season. That's what happens when you allow voting on about 75 different platforms.
"Make the World Move" by Christina Aguilera featuring Cee Lo Green
Now this is a spectacle. Xtina is dressed like a crazy queen, and she even has trumpeters herald her entrance. This is the vocal equivalent of marking your territory. The stage belongs to Xtina, and everyone else can eat her dust. Cee Lo Green just kind of wanders around, dressed all in white, which gives me a fantastic casting idea: Cee Lo should play Humpty Dumpty on "Once Upon a Time"! That would be awesome.

Adam Levine, the control freak, thinks it "sucks" that America has all of the power. He's half joking, but not really. Cee Lo Green says his favorites are Terry, Dez, Trevin and Nicholas. So no Cody?

The contestants talk about how their lives have changed. A group called Cody's Cougars has formed, and Trevin Hunte has an 80-year-old who wants to adopt him. Also, Dez Duron is single.
Want more TV? Like us on Facebook and follow us on Twitter.
Results, Part 1
Bryan Keith is ... safe!
Sylvia Yacoub is ... safe!

I guess singing "My Heart Will Go On" wasn't the total disaster I thought it would be for Sylvia. Hopefully she will avoid songs like that in the future, though I'm not sure there are any other songs like that.
"The Only Way I Know" by Jason Aldean with Dez Duron and Bryan Keith
I guess it kinds of rocks, but this whole country thing is not my vibe. I always enjoy seeing Dez, so that was nice.
Results, Part 2
Nicholas David is ... safe!
Dez Duron is ... safe!

What the heck is wrong with you, America? Why do you keep saving Nicholas, when all I want is for him not to be on this show anymore?
Team Cee Lo: "Stayin' Alive" by the Bee Gees
Imagine if a train wreck and a plane crash happened at the same time, in the same place. Then multiply it by about a million. Seriously, FEMA should be called in after this performance. Cee Lo's falsetto is awful, as is Cody's. Even Trevin can't stay alive. Nicholas wins simply by refusing to try to do a falsetto.
Results, Part 3
Trevin Hunte is ... safe!
Cassadee Pope is ... safe!

No surprises there at all. Now, you'll notice that, of the six singers left, all four of the contestants saved by the coaches last week are awaiting their fates. Clearly that was a big indicator, and I wouldn't be shocked if all four of them are the first four to go.
Team Blake: "Life Is a Highway" by Tom Cochrane
Well, this is a whole lot better than Team Cee Lo's giant turd of a performance. Michaela has a mini-mohawk once again, and Terry still has a face that reminds me of a baby in Mad magazine. More importantly, they all sound good. As a whole, I think Blake has the best team. There are no real weak links.
Results, Part 4
Terry McDermott is ... safe!
Amanda Brown is ... safe!

And just like that, the final four left standing are the four singers the coaches saved last week, one from each team.
Final Results
Cody makes a joke about Xtina, then quickly explains that it was a joke in order to avoid being murdered in his sleep tonight.

Cody Belew is ... safe!
Melanie Martinez is ... safe!
Adriana Louise and Michaela Paige are eliminated!
This isn't all that surprising. Adriana should never have made it to this week. De'borah totally would've been safe. I also think Blake made a bad decision, picking Michaela over Liz Davis when he already had Cassadee, who is basically a more polished Michaela.

Oh well, I'm sure Cody and Melanie will be going home next week anyway.

BuddyTV: Check out our predictions for Tuesday and see how we did
BuddyTV: Don't miss another episode! Keep up with your favorite shows, like "The Voice," using the BuddyTV Guide app!
"The Voice" airs Mondays and Tuesdays at 8 p.m. ET/PT on NBC.