FEATURED POST
Voters make the right and the obvious choices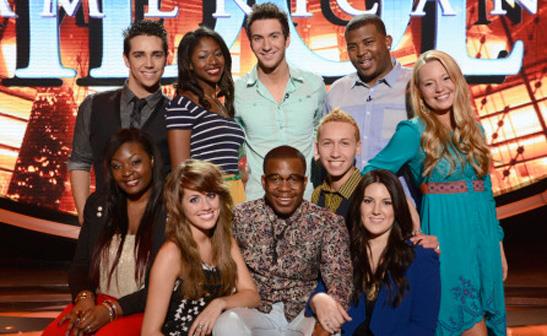 The one to beat? Candice Glover (bottom left) is a front-runner for this year's 'Idol' championship, but other top 10 contenders have a strong shot at the title.
Your top 10 singers: still showing questionable taste. The "American Idol" electorate: nice job. After 90 minutes Thursday, we came away with a representative set of finalists and no embittering regrets about great singers left out. That's progress.
Bing: More about 'American Idol' | Video: Watch clips | Photos: See highlights
I was wondering how the 90 minutes would be consumed, fearing filler on the order of multiple group songs and recaps. Luckily, I was only half right, as the opening segment consisted of setup, fond looks back, and the introduction of the irrelevant (for this night) judges. The only notable moment was Mariah setting the bar at a new low for neckline-plunging.
Judges and studio audience were kept in ignorance of the results. The contestants were penned in holding cells, waiting for Ryan Seacrest to announce the name of a winner, parade him or her to a spot behind the curtains, and lead the happy singer out to bask in delirious applause from family, friends and fans, before delivering a "victory" song.
The guys came first. Just before the telecast, I did a bit of forecasting, concluding that there were only two sure winners, Curtis and Lazaro. I also figured Charlie and Cortez had in all likelihood doomed themselves the night before, so that left six guys vying for the other three finals spots.
Ryan tossed a curveball by announcing Paul Jolley as the first winner – I'd thought he had a chance but ranked it below those of Vincent, Nick and Elijah. Paul's song was, predictably given the tone of the season so far, a ballad: Heart's often-sung "Alone," which he sang OK, not that it mattered. Or maybe it did – Keith told him he sounded "way better than last night," having "channeled theatricality into passion."
Next up: Burnell Taylor, not a huge surprise but a bad sign for Vincent, assuming that three R&B singers were not going to make it. Burnell's ascension, again with the assumption that Curtis and Lazaro were bound to go through, left just one spot open for everyone else, with Devin seeming most likely to succeed. Burnell sang a ballad, but it was one of the more interesting selections: India.Arie's "I Am Ready for Love," and I finally got a clue about his appeal from his rough-hewn but accomplished vocal. Mariah labeled it "impeccable," and added, "I hope everyone heard the intricacies of what you did vocally."
Any remaining suspense was delayed temporarily by the call-up of Curtis Finch Jr. He chose to limber up his falsetto, appropriately on John Legend's "So High." Randy, summoning his usual eloquence, called him "one of the best singers in this whole thing."
Then came the turn of Devin Velez, which doubtless left five guys in the cell beyond depressed, knowing Lazaro was a lock for the last spot. Devin turned to the gospel songbook of Israel Houghton for "The Power of One," in English exclusively. (In case you're keeping track, yes, it was more or less a ballad, albeit with a degree of tempo. You could call it either way.)
To his credit, Ryan didn't drag out the moment, calling Lazaro Arbos to the stage (with a slight delay for last-minute lighting instructions from the singer). He sang a very famous ballad, Simon & Garfunkel's "Bridge Over Troubled Water," starting in one of the lower registers the song has ever been treated to. Mariah liked the "richness of the lower part of your voice."
The five also-rans had a mass assembly onstage and were quickly disposed of (I'll give 'em -- along with their five female counterparts -- their final MSN TV recap props below). And we were on to the gals. This field was tougher for me to handicap. Candice and Angie were the no-brainers, while Zoanette was certain to be toast. I also thought Tenna would not survive. That left six possibles, four of whom I thought  deserved a shot to varying degrees, ranked from top to bottom as Kree, Amber, Breanna and Aubrey. I didn't think Adriana or Janelle merited a spot, but felt they might sneak in thanks to their theoretical voting blocs.
So I began fearing the worst when Janelle Arthur was the first one named. The "Idol" tradition of bubbly blonde country singers (Carrie, Kellie, Kristy Lee, Lauren) was still in force, but if Candice and Angela had two spots sewn up, my deserving foursome, plus Adriana, were vying for just two berths. Janelle upped the evening's tempo slightly with Dierks Bentley's estimable "Home," and Nicki told her that she "came alive," looked and sounded her best and would become a "humongous country star."
The predictable ensued, as Candice Glover received her due, to virtually no one's surprise except, possibly, her own. (She seemed most overcome of all.) Her song was a ballad, but a fine one, Rose Royce's "I'm Going Down" (also done by Mary J. Blige), and her vocal skills were on full display.
More predictability next, with Angie Miller taking the spotlight and singing the Beyoncé ballad "I Was Here." It dawned on me that she looks a little like Kelly Clarkson. Could I be the last person in the viewing audience to notice this? Keith told her she was "absolutely ready" and that "all she needed was a break," which the show was happy to provide.
The final two spots, as doubtless intended, were suspense-fests, but the first of the two turned out fine as Amber Holcomb got the nod – a nice result both for her talent and because she's a rare contestant who wasn't preordained by the producers from the early season on. She celebrated with the up-tempo Chaka Khan hit "I'm Every Woman," and the break from ballads was enough to forgive the song's history with Whitney Houston. Mariah said, "I can't even know what to say," which seems obvious.
And the last spot in the finals went to Kree Harrison, which really surprised me – because I didn't think voters would move two female country singers into the top 10 – and delighted me, because she's my favorite singer in the group. She reached into the relatively obscure basket for Susan Tedeschi's gritty "Evidence," another welcome up-tempo oasis in the ballad desert. No time remained for a judge to comment: just a perfunctory nod to the five exiting singers.
In lieu of the usual picks and cautions, here's an annotated honor roll of eliminated contestants:
Charlie Askew: His unpredictability and interesting song choices will be missed, but I think he kind of freaked the voters out Wednesday.
Nick Boddington: And there went the last "white guy with instrument" contender of the season. I suspect he would have been more interesting than some of the singers who beat him.
Aubrey Cleland: Sophisticated and cool but not as strong a singer as several others.
Zoanette Johnson: She had her time in the spotlight, and made the most of it. Now she leaves before she could become a Sanjaya-like distraction.
Adriana Latonio: The semifinals exposed her relative vocal weakness.
Elijah Liu: Similarly, just too thin a voice to compete this season.
Vincent Powell: Similar to Curtis, and definitely more likable, he didn't have vocal chops as showy. Arguably as good as Lazaro or Burnell but without the compelling back stories.
Cortez Shaw: Not a bad singer, and earned our gratitude for not singing a ballad in his finale, but he didn't quite measure up.
Breanna Steer: Possibly the most regrettable loss. Breanna was stylish and smooth, had interesting taste and probably would have been a more valuable member of  the top 10 than Janelle.
Tenna Torres: It would have been no disgrace if she'd made the top 10, but her voice wasn't up to the front-runners' standards.
But all is not completely lost – next week one guy and one girl from among the departed will compete for an 11th spot on the summer tour, with a public vote deciding. No wild cards were revealed, so with 10 weeks to go and just nine finals episodes, someone will most likely be saved by the judges, and there won't be a double elimination in the next show, as in previous years. Or maybe there's another surprise cooked up.


Did America get it right? Connect and sound off on Facebook and Twitter
"American Idol" airs Wednesdays and Thursdays at 8 p.m. ET/PT on FOX.