FEATURED POST
Christina Aguilera ups her strategy as the competition tightens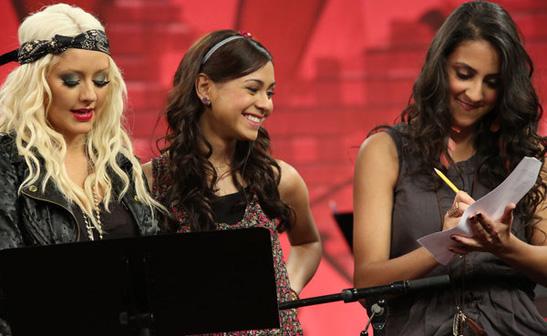 By John Kubicek
The third night of battles on "The Voice" was a very unusual one because a lot of the wrong people won. Out of the six battles we saw, four of the singers I would've chosen to win were actually the losers. And, sadly, only one of those four was stolen.
Bing: 'The Voice' | Photos: See more of the action from Season 3 | LNOTV: Watch recaps
 
Speaking of The Steal, two more were used as Cee Lo Green and Adam Levine picked up their second stolen artists. So, with 15 battles to go, Christina Aguilera still has both of her steals left, while Cee Lo and Adam can't steal anyone. I think Xtina might be playing the most strategic game right now because she will have free rein to steal whomever she wants with little to no competition in these later battles.
More: 'The Voice' on Buddy TV | Video: Watch clips and more
Team Blake: Julio Cesar Castillo vs. Terisa Griffin ("Conga" by Gloria Estefan)

It's a Latino mariachi singer vs. a big-voiced soul queen. Gloria Estefan might be the only singer in the cross-section of these two wildly different performers. Terisa thinks the song choice benefits Julio, and that this matchup is designed to get rid of her since she's more of a ballad singer. I appreciate her direct honesty and I don't think she's entirely wrong, despite Blake Shelton's protestations.

The Performance: This is a true battle because it's two wildly different styles competing against each other. Julio seems terrified of Terisa, and I'm not wild about his nasally voice. The song doesn't fit Terisa at all, but she tries to beat it into submission and does her big, soul thing as often as possible.

The winner is ... JULIO CESAR CASTILLO!

The Steal: Cee Lo pushes his button. Cee Lo steals Terisa. Thank god, because Blake made a bad decision, in my opinion. But Cee Lo Green has now used up both of his steals, so he's out of the stealing game with a whole lot of singers left to go. I feel like Xtina's strategy of letting the guys use up their steals early is going to pay off at the end of the Battle Rounds.
Want more TV? Like us on Facebook and follow us on Twitter.
Team Xtina: Dez Duron vs. Paulina ("Just the Way You Are" by Bruno Mars)
It's the hot guy vs. a 16-year-old girl. Dez is nervous because the song is a little too high for him, and Paulina tries to do a little too much experimenting.

The Performance: Dez is just OK, but he's very pretty. Paulina is a hot mess, doing all of these weird, quirky vocal tricks that just sound awful. She doesn't know how to just sing a song in a straightforward manner.

The winner is ... DEZ DURON!

The Steal: No one steals Paulina. All the other coaches agree that Dez won, or more specifically, that Paulina lost. I'm sure Dez will get his butt kicked in the Knockout Round, but at least we'll get to see more of his pretty face.
Team Adam: Benji vs. Sam James ("You Give Love a Bad Name" by Bon Jovi)
It's the screamer vs. some random dude who reminds me of a poor man's Bryan Keith. They're both pretty evenly matched, and the song choice is just plain awesome. Sam struggles to hit a few notes, and the fact that he considers this "a big song" bodes poorly for his chances. Adam Levine wants Benji to limit his screams.

The Performance: It's a great performance and this is a tough one. I think Sam might be the better singer, but I prefer Benji as a performer. They both sound good, but for me, the edge goes to the singer with the "wow" factor, and Benji certainly wins that battle with his screams.

The winner is ... SAM JAMES!

The Steal: No one steals Benji. What!? All of the other coaches agreed that Benji won, so  Adam Levine just made a stupid move because Sam is total cannon fodder for the Knockout Round. And I can't believe Blake and Xtina passed over on Benji. What the heck is Christina Aguilera waiting for?
Team Cee Lo: Nicholas David vs. Todd Kessler ("She's Gone" by Hall and Oates)
If I got to pick the song for these two, it would've been Ben Folds Five's "Battle of Who Could Care Less." Instead it's a beard battle of two polite family men who seem genuinely nice and don't really want to see the other lose.

The Performance: They're both really good in their own ways. It's just a nice, pleasant battle. I give the slight edge to Todd, because I think he has a better voice, and Nicholas reminds me of what would happen if film critic Harry Knowles had lap-band surgery, which weirds me out.

The winner is ... NICHOLAS DAVID!

The Steal: No one steals Todd. Wow, what the heck is going on tonight? That's the third battle where the person I preferred lost.
Team Blake: Lelia Broussard vs. Suzanna Choffel ("Dog Days Are Over" by Florence + the Machine)
Blake Shelton paired these two because they're both "gypsy souls" and indie chicks with guitars. Suzanna really reminds me of Laura Dern from HBO's "Enlightened."

The Performance: It's basically the Lilith Fair version of the song. It's way too hippie-dippy for me, like I was gonna be force-fed granola halfway through. I think Lelia is better, which means Suzanna will probably win.

The winner is ... SUZANNA CHOFFEL!

The Steal: No one steals Lelia. And I'm now one for five on predictions for the night.
Team Xtina: Joselyn Rivera vs. Sylvia Yacoub ("Best Thing I Never Had" by Beyoncé)
These are two teenagers, including one whose roots stretch back to Egypt. Sylvia has boatloads of power, while Joselyn has a higher tone but less confidence. Only two years separate these two, but the difference between 17 and 19 is a whole lot bigger than that.

The Performance: Wow, these two are both great in the exact same way. Seriously, I can't even distinguish them from one another. I guess I'd give Sylvia the advantage because I'm a sucker for a power vocalist.

The winner is ... SYLVIA YACOUB!

The Steal: Adam Levine and Blake Shelton both push their buttons. We've got another steal, and once again these two guys target each other. Adam Levine steals Joselyn. So now Adam and Cee Lo are both all out of steals.
"The Voice" airs Mondays and Tuesdays at 8 p.m. ET/PT on NBC.