FEATURED POST
Season 12 kicks off in New York with plenty of Mariah-Nicki discord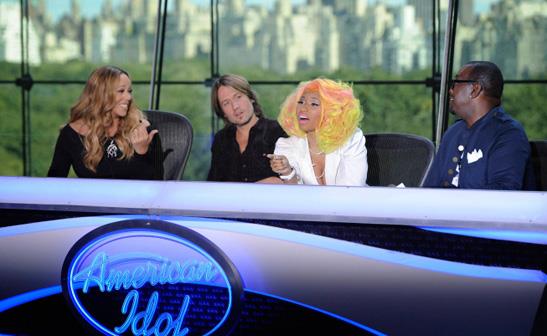 I think everyone's got their priorities straight. The "American Idol" auditions are a routine by now, though some might use the word "rut." You'll see some decent singers, a couple of promising prospects to whet your appetite and a few contrived disasters (many by trained performance artists, to keep the number of naïve delusionals who get crushed to a tolerable minimum). There will be two or three heart-tugging back stories, and Ryan Seacrest will offer hugs to disappointed families. None of this is new or, after 11 years, particularly gripping.
Bing: More about 'American Idol' | Video: Watch clips | Photos: See the judges
No, what we're watching for, as Season 12 unfolds, is the judges' interactions -- specifically, the Mariah Carey/Nicki Minaj dynamic. Will the producers show them squabbling, as reports have chronicled? Will Nicki unleash her inner Cowell on the contestants? (You can bet no one else will.) Will Randy Jackson say something intelligible? Will Mariah say something intelligent? Will Keith Urban look extremely uncomfortable? Will Nikki and Keith form an alliance to balance the natural partnership of Mariah and her manager, Randy?
They wasted no time in jumping right into the judges' compatibility issues … well, they did waste a little time, starting with Phillip Phillips playing "Home" unplugged, which segued into Ryan talking about how huge a hit "Home" is, then how huge a hit the other "Idol" winners have been, and how revolutionary the show has been -- all of it sounding a little defensive for the 800-pound gorilla of televised music contests.
Eventually, the judges were introduced, in order of least significance, I presume: Randy, Keith, Nicki and, "last but not least" (so you couldn't possibly miss the point), Mariah. They took their seats,  and Mariah and Nicki were shown engaging in a little semi-amiable badinage before the first contestant appeared.
Interestingly, the producers started with a joker (one of five, or about one-third of the contestants who got full audition slots). Michael Buonopane customized a "We Will Rock You"-based rap, namedropping the judges, then displayed a fetching falsetto on the oldie "See You in September," all of which earned him a quick "no" vote. Exiting, he mentioned what a great holiday tune Mariah's "All I Want for Christmas Is You" is. Nicki agreed, which roused Mariah, who adopted a posh pseudo-English accent (that contrasted glaringly with her unmistakably Gotham-esque normal speaking voice), to brag about the song's continuing vitality. Nicki mouthed "She's a bitch," and Mariah retorted, "If she called me something that starts with a 'B' and ends with an 'itch,' I rebuke it," earning vocabulary points right away.
A brief montage of discord between the two followed, highlighted by a pointless discussion of "Mean Girls" and another workout for Mariah's Briticisms. But redemption was in store for Mariah in the form of a fervent fan, Tenna (pronounced "Tina") Torres, who had attended the singer's Camp Mariah for "career awareness" in her early teens (Tenna is 28 now) and revealed her true fandom by using the "Mimi" nickname. Tenna eventually sang Carole King's "You've Got a Friend" in the overwrought style typical of a cappella auditions (the main reason why the music-accompanied auditions on "X Factor" and "The Voice" are far more enjoyable: Subtlety and restraint have no place when you're singing sans instruments).  She got four yeses.
Is "Idol" actively searching for the next William Hung? The, um, legendary contestant not only got a name check, but two highly dubious Asian singers were showcased: James Bae, who butchered Justin Bieber's "One Less Lonely Girl," and, in the second hour, Albert Chang, whose rooster-like screech enlivened "Phantom of the Opera." Seems a bit dubious …
Back to the chronology: Christina "Isabelle" (quotes included) discussed her weight problems of the past, mentioned attending the Berklee College of Music, sang "Summertime" with all the right histrionics and said she listened to Mariah growing up, prompting a set of odd responses from the judge, starting with her declaration that "I want to bring that great music back." (Whose? Hers?) Then, instead of simply voting "yes" like her fellow panelists, Mariah drawled, "Absolument," earning French vocabulary points. Finally, when Randy called Berklee a "great school," Mariah seemed to take offense, growling in her toughest NYC tones, "I didn't go to no school. I went to the school of (effing) life!"
Displaying a bit of collective cruelty, the judges rejected Evan Ruggiero, a cancer survivor whose leg had been amputated, despite his passable renditions of Jason Mraz's "I'm Yours" and (with guitar) Bon Jovi's "Wanted Dead or Alive." Jessica Kartalis, the first contestant to be hand delivered an invitation to audition by a judge (similar to Carson Daly's crashing-the-workpla​ce deliveries on "The Voice"), sang an original with guitar, which proved to be a big mistake as she bollixed the chords and lost the plot, receiving a "no" vote for her pains.
Not so for Israeli pop singer Shira Gavrielov, who after a "shalom" from Mariah (earning Hebrew vocabulary points) sang the Zutons' (via Amy Winehouse) "Valerie" and captivated the judges. So did subway singer Frankie Ford, who disappointed musical scholars and fans over 70 by not singing "Sea Cruise," instead performing the Eurythmics' "Sweet Dreams."
Benjamin Gaisey, sporting a Buddy Miles afro wig (look it up), moved Keith to hide under the desk, even though Gaisey aimed his atrocious, extemporized love song medley at Nicki and Mariah. He was a goner, as was Rozanna Shindelman, who deserves a trophy for most fascinating song choice, the Teddy Bears' (featuring Phil Spector) "To Know Him Is to Love Him," from 1958 (which is even older than "Sea Cruise"). 
It was left to Sarah Restuccio to wrench things back to the realm of the positive. She professed her love of country music, was depicted like the next Skylar Laine and sang Carrie Underwood's "Mama's Song" competently. But when asked for a second song by Randy, she spit a nimble version of Nicki's own "Super Bass," dazzling the song's author, who browbeat the panel into unanimously sending Sarah to Hollywood. A short montage of Nicki employing her familiar (to those who've heard her records, which by now should be most of the populace) faux U.K. accent followed, complete with a shot of Mariah rolling her eyes, as if she hadn't already exercised her own faux U.K. accent.
Partially deaf Angela Miller was equally impressive, singing Jessie J's "Mamma Knows Best" with fire and skill. Brett Holt sang the standard "When I Fall in Love" with neither fire nor skill, but did display a decent knowledge of "American Idol" trivia. Gurpreet Singh Sarin, self-dubbed "The Turbanator" (he claims to own 40 or 50 turbans), seemed like yet another novelty time waster, but his performance, which included a run through the Indian scale, plus a rendition of Maroon 5's "Sunday Morning," got him a split-decision "yes."
And the evening concluded on a heartwarming note with Ashlee Feliciano, whose family has adopted four kids with medical problems, adding to the three children they already had. She did a fairly good job on Corinne Bailey Rae's "Put Your Records On," and the whole family was brought in to hear her get a "yes" vote.
Wrapping up, Nicki observed of the new judge lineup, "I think we jell well," to which Mariah replied, "I agree." On her way out, Nicki then said she has to "strangle one of the divas on the panel, but I won't tell you who," and the previews for Thursday's Chicago auditions promised more judicial fireworks. May the hours until then fly by at warp speed!
As a last order of  business, please allow me to introduce myself. You may have caught me writing about "Idol" (and "The Voice" and "X Factor") over at MSN Music's Scene & Heard blog. Before that, I wrote about "Idol" for years at USA Today, founding the "Idol Chatter" blog, now handled with consummate skill by Brian Mansfield. And before that … well, that's irrelevant. See you back here for Thursday night's recap.
Excited for the return of "Idol" ? Connect and sound off on Facebook and Twitter
"American Idol" airs Wednesdays and Thursdays at 8 p.m. ET/PT on FOX.