FEATURED POST
The guys make a ragged debut as the Hollywood Rounds kick off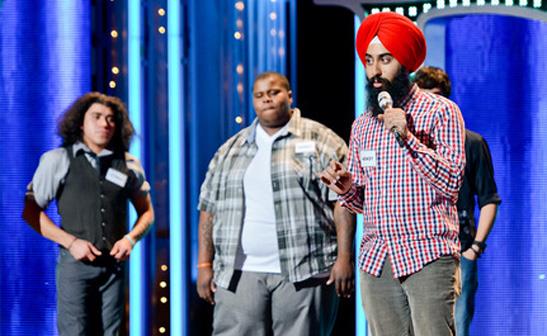 B-Side themselves: Impromptu group B-Side performed a truly disturbing version of 'Payphone' during the torture ritual known as 'American Idol' Group Day, but got a greatly undeserved pass from the inconsistent judges.
It's always a relief to make it past the manipulative back stories and pointless stunts of the "American Idol" auditions. But Hollywood week, with its under-rehearsed, sloppy performances of stale songs and painfully contrived melodrama, isn't the ideal replacement. At best you can hope for the emergence of a few standouts that the producers want to spoonfeed us … and we did get some of those, at the expense of too many casually dismissed losers (and winners).
Bing: More about 'American Idol' | Video: Watch clips | Photos: See highlights
Contestants were separated along gender lines this season, with the guys kicking things off. Round one was sudden-death solo a cappella (or "auditions, part 2"), and about 15 were fairly quickly run through,  mostly positive. Micah Johnson of the botched tonsillectomy was first up and first through, followed by Nate Tao, burly rocker and inexplicable producers' favorite Gabe Brown, and turbaned Gurpreet Singh Sarin, also winners.
Blue-eyed soulster Carl Skinner was the first casualty, although his "Ain't Too Proud to Beg" wasn't too bad to approve. Dustin Watts and Dr. Calvin Peters were also dispatched, while Cortez Shaw's deafening "I Will Always Love You" nearly cost him his shot, an appalled Nicki failing to carry the day against the approving Mariah – who looked, on the first day at least, alarmingly like Mae West.
Then it was a quick succession of successes: Curtis Finch (whose reported arrest for stealing a laptop hasn't had any "Idol" repercussions to date), street singer Frankie Ford, stutterer Lazaro Arbos, and (even more quickly depicted) soldier Trevor Blakney, Bryant Tadeo and Charles Allen. Tadeo was cruelly faked out by Nicki after he admitted he was tired; she told him there would be plenty of time to rest now that he's been sent home, before confessing he'd been voted through. Mariah shook her head (rightfully) at this hoary bit of typical judges' wit. Finally, Brian Rittenberry, whose wife had miraculously survived cancer, was rejected and the stage was set for the horror that is Group Day.
Getting through Hollywood's group round is really a matter of luck – and it was tougher this year because instead of contestants lining up their own teammates, the groups were assembled by the producers, in some cases to emphasize obvious incompatibilities. Choosing the right song (from a ludicrously limited list of 20 – at least no one chose the Neon Trees number, but there were a lot of overexposed or just plain lousy songs) is also a key, as is the performance of your fellow group members and the whims of the judges – which were exceptionally whimsical in certain instances.
The first group featured Gabe Brown, diminutive Matheus Fernandes, plus Mathenee Treco and Nick Boddington singing Queen's hideous "Somebody to Love" quite skillfully, and all four made it. Returning contestant Johnny Keyser chose the Four Tops' "Reach Out (I'll Be There)" for his quartet, and proceeded to botch the words completely, helping to throw off teammate Kareem Clark. Yet it was Clark who was booted, while Keyser got a mercy pass.
Socially awkward Charlie Askew was thrown into a trio with gospel belters Curtis Finch and Charles Mathis, and compounded his difficulties by getting sick the morning of their performance.  But all three handled Bruno Mars' "The Lazy Song" admirably and advanced. So did Micah Johnson and compatriots Vincent Powell, Marvin Calderon and David Willis on a rousing "Hold On, I'm Coming."
Singing the Soul Brothers Six's "Some Kind of Wonderful" (some may know it better by Grand Funk; many more may not know it at all), Zach Birnbaum, Nate Tao, Cortez Shaw and Elijah Liu also aced it. But only two of the next, generally atrocious group, Paul Jolly and Will White, survived. Possibly even worse were Gurpreet Singh Sarin and his three bandmates, who forgot lyrics, keys, melodies and everything this side of their room numbers on Maroon 5's "Payphone." You would not have been out of line to expect a unanimous dismissal, but the judges drastically lowered their standards to slide all four through.
Too much of that sort of leniency would have been disastrous, so they followed by turfing Jason Jones, Dan Wood, Jessie Lawrence and their unnamed fourth member (the producers being a little lax with identifying chyrons) for massacring One Direction's "What Makes You Beautiful."
Ryan Conner-Smith convinced his group (Devan Jones, Devin Velez and Adrien Madison) to sing "Payphone" without the band. They weren't bad, but in a devastating turn of fate, Conner-Smith was the only one sent home. In another split decision, Bernell Taylor and Tony Foster Jr. got yesses for their part in another "Some Kind of Wonderful," while Darien Moses and Mario Jose (who sounded good to me) were rejected.
The splits continued, as Josh Stephens, Scott Fleenor and Christian Lopez prevailed upon Lazaro Arbos to sing the Beach Boys' "Wouldn't It Be Nice" (by far the most interesting, and possibly most challenging, song of the night) despite his complete unfamiliarity with song and group. Two got through: Lopez and … Arbos.
Then in a victory of sorts for gay power, Joel Wayman and the singer known as "Jda" got the nod while their teammates, country types Trevor Blakney and Lee Prtichard, departed. Their excruciating version of Extreme's excruciating "More Than Words" could easily have dispatched the lot of them. A foursome of teenage performers, returnee David Leathers Jr., cystic fibrosis sufferer Kaylen Stephenson, plus Sanni M'mairura and Kevin Quinn also earned no better than a split on an uneven performance of Billy Joel's "The Longest Time." Leathers and M'mairura moved onward; somewhat surprisingly, Stephenson joined Quinn on the outward-bound plane.
Griffin Peterson and Clifton Duffin were quickly disposed of without any airtime to speak of, setting up the grand finale, a melodrama featuring Frankie Ford's tearful breakdown just before his group (Adam Sanders, Charles Allen and Papa Peachez) ventured onstage to sing, for reasons unexplained, Estelle's "American Boy." Ford hadn't meshed with his groupmates, and forgot the words in a classic flame-out; the others overcame that obstacle to go through, although the peachy one was admonished for complacency. A seeming eternity of Ford sobbing that he'd be back next year brought the painful proceedings to an appropriate end.
Sleeper: Elijah Liu hasn't gotten any solo airtime, but usually there's at least one contender who seemingly comes out of nowhere.
Snoozers: The herd of gospel belters, including Charles Allen, Curtis Finch, Micah Johnson and Charles Mathis, is bound to thin out soon. They're all good, but too stylistically similar.
The guys are narrowed to 20 Thursday, then next week the girls take over.
What did you think of Wednesday's episode? Connect and sound off on Facebook and Twitter
"American Idol" airs Wednesdays and Thursdays at 8 p.m. ET/PT on FOX.