FEATURED POST
An intense last challenge sets up an incredible race to the finish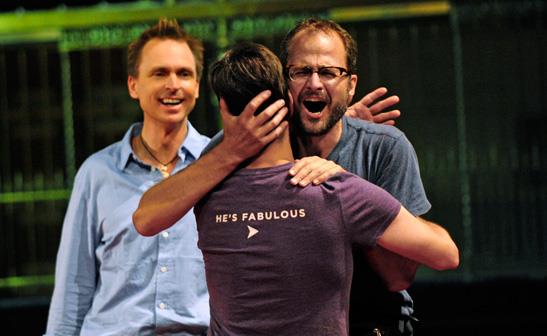 Previously: Everything. Most recently, the twins swapped their Express Pass-enabled first-place finish for last -- giving up third to the Beekman boys and on this night facing a Speed Bump they'll need to navigate if they're to snag a spot in the final three. 
We're still in Mallorca as the 11th leg opens, beginning, as all final episodes do, with a status report on each of the remaining teams from Phil. Goat farmers Josh and Brent "seemed destined" for elimination -- not once but many, many times. Trey and Lexie earned three first-place finishes, discovered everything they need to know about "customs," and grew stronger as they went, even if Lexie won't stop bringing up the fact that Trey better put a ring on it, and soon. Natalie and Nadiya raced "loud and proud, gaining friends and foes." And Jaymes and James were mainly adorable throughout the season, and they're hoping to win the big prize to give their parents -- including Jaymes's dad, who has cancer -- a break. "I really want to come in and save the day," says Jaymes. "It's time for someone to take care of [my mom]," says James. 
Trey and Lexie are first to leave the Pitstop at a 14th-century castle overlooking Mallorca's biggest city, Palma, at 9:32 a.m. They're instructed to fly to Barcelona and then take a train to the Loire Valley in France, ultimately driving to their next destination in a brand-new Ford Escape. The Ford placement is about as subtle as each team leaning into the camera and saying, "Thank you, Ford, for subsidizing this television program." But, hey, thank you, Ford, for subsidizing this television program. (Someone has to do it.) The Texans mention that they still have an alliance James and Jaymes and the twins, while the Chippendales, leaving just a few minutes later, focus on the fact that they have $520 for the leg. ("We're rich!" says Jaymes.) The Beekmans, in third, are thrilled that we're headed to France ("I speak French!" Josh says), and they're beginning to come to grips with the fact that they might actually make the final three. "I think for us to make the final three would blow our minds as much as everyone else's," Josh says. Truer words never spoken. 
Natalie and Nadiya, at the start of saying a number of slightly grating things, suggest that "we want it more than [the Beekmans]" and host "a little secret powwow" with their allies, the Texans and the Chippendales on the train to the Loire Valley. At some point, Jaymes spots the Beekmans, huddling alone in a separate compartment. "Come join our group," says Jaymes. Honestly, he might be the most emotionally generous contestant ever seen on this show. Brent and Josh have every reason to sulk: "When we overheard there's an official alliance that we're not a part of, it was really demoralizing," Josh says. "It was really like high school all over again." 
The teams arrive at the Ford Escapes in France, where this year's promotion involves showcasing a "kick lift" -- a mechanism for opening the car's trunk by kicking a spot beneath it. It's a shameless plug for Ford, but ... the kick lift actually looks totally awesome. "I want one. Get me one," says Josh. ("If we win the million dollars," Brent replies.) From there, everyone drives to a chateau, which is home to the world's largest ornamental garden as well as to a particular stone dog. While the three allies swarm around the nearest available French person and quiz him for directions to the chateau, the Beekmans settle into their car seats and prepare to follow the pack. This, given their previous inability to successfully perform a challenge, seems like an entirely reasonable plan of attack. "We might as well just stay in a pack and follow the leader," says Brent reasonably.
En route to the chateau, the Chippendales realize that there will probably be two free cars at the end of the challenge. "My mom's kind of needed a car for a while," James says. 
The twins are struggling to keep up, and they have no room for errors, since they still have an Express Pass task coming up. Their anxiety level is sky-high, and they are really fairly annoying. "The Beekman boys are trying to sneak up from behind. That's what they like to do," one of them says, in some very purposeful phrasing. "We never thought the gays would be a threat to us." We're betting it's at this point that some of the twins' fans might have considered changing their allegiance and started to root for "the gays."  
Tasked with finding the stone dog, the teams run madly around the chateau, at one point saying "Woof! Woof!" to visitors while holding up their paws. Josh and his French arrive to offer up a request for "le chien," but's not clear whether it's that or the woof-ing that gets them the directions they need. In any case, the teams soon find the next clue -- which sends Natalie and Nadiya to their Express Pass and everyone else to "the site of Leonardo da Vinci's final resting place." The twins' Speed Bump is straightforward: assist a woman dressing in an 18th-century costume. It doesn't even look all that time-consuming as the twins bind up her corset, and soon enough, it's "properly fitted" and they're off to join the other teams. "They should have waited for us," one of them grumbles, unrealistically, as they realize everyone else has taken off. 
On the other hand, the leading three teams quickly adjust to the new situation and together quiz the townspeople on the da Vinci location. "It was [interesting] how quickly the alliance broke down," Josh says. Jaymes explains it all: "If you want to bring your French skills on down ... Bonjour!" All the teams race to Amboise, where they track down da Vinci's tomb and find clues for the Detour: Plow or Chow. Plow involves plowing a French field; Chow, dicing up meat and preparing a meal for a pack of hungry hunting dogs. As it turns out, Plow looks physically harder (James maintains a string of complaints about its effect on his forearms) but also faster, especially as it takes advantage of Tex and Lexie's preference for "country people doing the country Detour." They leave first, followed by the Chippendales. 
At the Chow section, Josh and Brent are only slightly ahead of the twins, and the Beekmans unleash what they hope is a
counter-intelligence​
attack against the twins. "We're totally the weakest team in the race," Josh says, seemingly trying to convince them to target one of the other teams. "Who do you have a better shot against? Don't you think you can beat us better than you can beat them?" The twins reply: "We can't cut [meat] and talk at the same time." In a separate interview, Josh nods sagely: "That was part of our strategy," he says. At least they finally have a strategy, which seems like a plus. The Beekmans keep their extremely narrow lead on the twins, squandered nearly as soon as they head off for the next challenge at La Cave des Roches. 
That's where they find the Roadblock: "Who is a fun-guy?" Phil explains that the region's castles were built from limestone mined from underground caverns. And those dark, damp caverns turned out to be the perfect incubators for growing mushrooms. One person from each team has to memorize three different types of mushrooms and collect 10 of each kind in crates stored in the back of their Ford Escapes (accessible chiefly by lift gate, wouldn't you know.) Lexie is the first one into the caves: "Please, Lord, get me out of this freaking cave," she says. Jaymes is just a few minutes behind her, and he's the first one to collect the mushrooms and race back out to have them checked by the judge. "Don't get it excited. It's really confusing down there," he warns James, and indeed: "Ça n'est pas bon." Jaymes is sent back underground, but Lexie has better luck and gets through on her first try. 
She and Trey are sent on to the Pitstop (where one team "will" be eliminated) at the "castle of the ladies, " Chateau Chenonceau. There's a bemused "No" greeting them at the first castle they visit—they've gone to the wrong one, which tells you something about the density of castles in the Loire Valley. This gives Jaymes enough time for a second try at the mushrooms, and he makes it through ("Parfait!") on his second attempt. Without Trey and Lexie's navigation problems, they're free to scoot through. And it's the Chippendales who take first place, as well as the two Ford Escapes. James's mom must be delighted. Trey and Lexie are second. 
Back at the caves, the twins and Josh and Brent have arrived nearly on top of each other—and it's Natalie who finishes the challenge first; they whoop and holler as they speed away in their Ford Escape. "I hope they go the wrong way," says Josh, who appears to be in physical pain as he waits for Brent to emerge from the cave. "Are we the last team?" Brent asks as he finally emerges. Yes, Josh tells him, by about 10 minutes. It seems clear, though, from the footage, that the twins get seriously lost. They're seen driving through a heavily wooded area that neither of the leading two teams seemed to pass through. And indeed, a passerby finally explains that they've gone in exactly the wrong direction. They basically want to die, knowing that a simple navigation error might have cost them their chance at a million dollars ... and that's exactly how it turns out. Josh and Brent take advantage of the twins' mistake, and sneak into third. "We're certainly gaining momentum and confidence just when we need it most," says Josh. For the record, they still came in next-to-last. That means, of course, that the twins are out. "If we can take anything from this race, we need to harness the potential we have into a more positive reaction instead of just ... crazy," Natalie says. "We have each other, and that's more important than a million dollars at the end of the day. But we suck." 
We move right into the final leg of the race. James and Jaymes are first out of the Pitstop, at 1:33 a.m., and as a clue, they're given directions to travel to New York and a postcard showing amusement park rides -- including the famous Cyclone. That means they're going to Coney Island. 
How do we know the race is almost over? The teams are ditching their bags. It's weird to see them walking onto the plane without their backpacks. Eleven minutes behind them, Trey and Lexie follow, and they're well aware that both of the two trailing teams --whether it's the Beekman or the twins -- will have hometown advantage. A solid 75 minutes later, Josh and Brent get their clue—and are delighted to see that they're heading to New York. "Never underestimate a Beekman," Jaymes says, when the three teams finally get a look at each other at the airport. "This next one will be our first and only win," Brent says, with some outsized confidence. 
The next we see them, the teams are sprinting through J.F.K. to the taxi line. "Right to where all the rides are," Jaymes tells their driver. It's James's first time in New York, while Josh says that "flying in we could see our apartment building." The Chippendales are the first to the vantage point shown in the postcard. They look up, down, and around, but can't pick out a yellow poster advertising "the Amazing Houdini," with instructions to travel to the Brooklyn Navy Yard. Trey and Lexie burn time searching for the clue as well, until Lexie spots the sign, and Tex and Lex dash off to their cab. Brent and Josh seem to spend the least time here, quickly following in the Texans' wake. James and Jaymes are left behind, with the queasy feeling that the other two teams have figured out the clue when they haven't. Fifteen minutes later, they figure it out, having lost their advantage. 
En route to the Navy Yard, Trey fills in Lexie on who Houdini is, while the Beekmans strategize: "They're probably going to handcuff us [and] dunk us in a big tank of water," Brent says. He's basically right -- except that there's also a straitjacket and 15-story drop on a bungee cord. Trey makes a lot of noise about being scared of heights, but he is (as Phil tweets during the broadcast) faster than Houdini. He's in and out of his straitjacket in a flash, even if he does lose his bandana in the process. Neither Brent nor James seem to have much trouble with this task either. But James and Jaymes burn even more time as they have a gas station call them a cab on the way to the oldest pizza shop in New York: Lombardi's. 
Trey and Lexie are the first to Lombardi's, and to John, the owner. Their task: to deliver 10 pizzas to three addresses around NoLIta. Half the challenge involves packing up the right type of pizza for each delivery -- a job that Brent and Josh fail on their first attempt, falling further behind Trey and Lexie, who are flawless. The pizza selection was a job reserved for Josh, and the error is not something Brent seems able to let go of at any speed: "I know the addresses. That was my job," Brent says unpleasantly. "Don't make errors and expect me not to point them out." Let's be generous and say this snippiness is a result of the fact that he must be very, very tired. Trey and Lexie are finishing the pizza task when James and Jaymes show up to start it, and the Texans are the first ones to receive an image of their next destination: the emblem of the United Nations, something the passing New Yorkers are only too quick to tell them. 
Next comes perhaps the best final-leg challenge of an "Amazing Race" finale in recent memory. While these finale tasks are often too straightforward -- think of last year's, when Dave and Rachel paddled their way to success without anyone else in view -- this one goes on for hours and resets the entire competition, giving each team a chance to move up. At the U.N., each team has a little grove of flag poles. And on each pole, they're meant to hoist the local expressions for "hello" and "goodbye" from the nine countries visited on the race. You know, "hello" and "goodbye," as spoken by each of the Pitstop greeters, an event that apparently few of the teams took close note of: "I just thought they were being cordial!" Jaymes says. Each team starts with the ones they know --basically French and Spanish -- but falters when it comes to determining between "Ni Hao" and "Tot Ziens." (Chinese "hello" and Dutch "goodbye," respectively.) "I thought we had it in the bag and then...." Lexie trails off. Though she starts off with a slight advantage, Lexie falls behind, dissolving into tears -- tears, it must be said, that Trey ably handles. "When she starts crying, I want to start crying," he says. (It's actually really sweet.) Meanwhile, the other couple still alive at this point is bickering: "Every second counts now," Brent says. Josh: "Do you think I don't know that?"
As we progress, Josh begins to extend his come-from-behind lead. "I transformed this challenge from a language problem to a math problem at the end," he says, and he methodically works his way through each of the possible combinations. James holds his own -- even though, as he says, "I remember the [Pitstop greeter] clear as day and then they bowed and said ... [blah blah blah]." The sun sets, and hours tick by, until Josh (and James) each have one more country. Josh gets the order wrong, as does James, so both have to rework their flags. Ultimately, it's Josh who's allowed to raise the U.N. flag first, dropping the clue for their final destination: Gotham Hall. "Does anybody have an iPhone?" they yell on the sidewalk. Borrowed smartphone in hand, they figure out that Gotham Hall is at Broadway and 36th St. And they're off, with the Chippendales seemingly minutes behind. "Get ready to run," Jaymes says...
But it's the Beekmans! Unbelievable. Phil tells the team that they're the first to reach the final mat. "We never, ever thought you would say those words to us, ever," says Brent, in a sentiment presumably shared by literally everyone in the crowd and in audiences at home. "What I hope this proves to people -- whether they're minorities or losing their house or out of work -- at some point you will win," Josh says. James and Jaymes are second, and they congratulate Josh and Brent before taking their places on the mat. "It's been a real honor and a privilege," James says. "Hope you enjoy your new wheels, Ma." Jaymes conclude: "Maybe the world will have a different view of Chippendales now. I don't know if it's for better or for worse." (Sign them up for All-Stars, producers!) Trey and Lexie are third: "Our relationship has just become stronger," Trey says. Lexi agrees: "I think we are definitely ready for that next step. I think it's just a matter of when Trey is ready for that next step." 
In short, it's an "Amazing Race" miracle. Consider last season, when Dave and Rachel dominated so thoroughly. Now, we have perhaps the objectively worst team on the show ever to win the final prize -- a team that won "the only leg that mattered" while piling up a string of last-place and next-to-last-place finishes. "We hope that winning this proves to all the underdogs out there, you can't quit," says Josh. (He does this without mentioning that he seemed like he might have been happy to do exactly that for Abbie and Ryan just a couple episodes ago.) The worst, maybe, but also perhaps the best-hearted: the team that convinced the monster truckers to reconsider their homophobic views and stuck with Abbie and Ryan through everything. In our preview (which forecast that they'd finish in fourth), we'd said that John and Brent were winners at life, if losers at the game. They proved us thoroughly wrong.