FEATURED POST
Season 16 begins with a superb performance from Disney Channel star Zendaya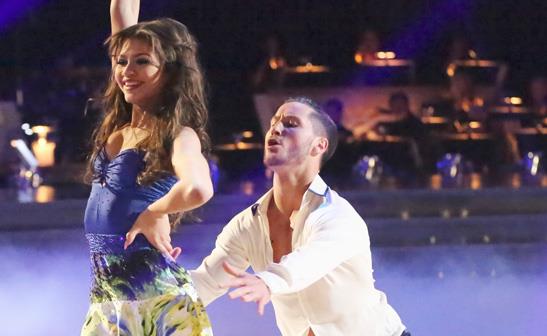 After last year's rather lackluster all-star season, it's nice to see "Dancing With the Stars" get back to normal – if by normal we mean ridiculous costumes, pre-show meltdowns, and plenty of grumbling from head judge Len Goodman, who seems to have mellowed a bit since he got married three months back. And hey, those silly half paddles are gone now!
Bing: More about 'Dancing With the Stars' | Photos: Season 16 cast
Each of the contestants danced a cha-cha, foxtrot, or a "contemporary" routine. Just what a contemporary dance entails remains to be seen. Maybe we'll all have it figured out by the end of the season. Overall, the quality of the dances was poor. Disney star Zendaya Coleman was the highlight of the premiere, turning in a gorgeous contemporary routine. Country star Kellie Pickler, gymnast Alexandra Raisman and figure skater Dorothy Hamill tied for second.
Want more TV? Like us on Facebook and follow us on Twitter.
There's no elimination this week, but boy is there an early favorite for the infamous DWTS losers' club. Read on to find out who!
Kellie Pickler
Country songbird Kellie and Derek Hough turned in a supercharged cha-cha to start off the season. It was immediately apparent that they have great chemistry, and Kellie is already an excellent dancer. Her footwork was a little sloppy, but her musicality was nothing short of amazing. Len said "yum, yum, pig's bum, that was fun!" Wow, guess the honeymoon has softened him up! Carrie Ann praised Kellie's torso movement but cautioned her to lift her ribcage more. A great start for our former American Idol!
Score: 21/30
Victor Ortiz
Boxing champion Victor made his debut with the third new castmember this season, Lindsay Arnold. Their first dance was a lilting foxtrot. The choreography was pretty basic, and Victor's movements lacked control somewhat. Bruno praised Victor's charm and "Latino passion" but cautioned him to work on his frame and foot placement. Carrie Ann praised Victor's upright posture, but neglected to say a word about his handsomeness. Doesn't this guy get punched in the face for a living? And he's getting over a broken jaw!
Score: 18/30
Ingo Rademacher
Soap star Ingo is dancing with Kym Johnson this season. For the first dance, the pair did a contemporary take on a Coldplay song. In this case, contemporary seems to mean barefoot with lifts. Ingo is certainly strong! At one point, Kym truly leapt into his arms and stayed there a good while. The crowd loved this routine, and two out of three of the judges were right there with him. Carrie Ann praised Ingo's athleticism and his connection with the music. Bruno compared Ingo to Bradley Cooper in "Silver Linings Playbook." Len ... said he didn't see dancing happening. Ouch. Ingo is still off to a good start.
Score: 20/30
Lisa Vanderpump
Real housewife Lisa is paired up with adorable newbie Gleb Savchenko this season. Their first dance was a foxtrot. Lisa's movements were gorgeous and fluid, but she didn't seem to have the choreography 100 percent down. Len called the dance "acceptable, but not exceptional." Bruno gave Lisa some tips for better posture – yes, of course he stood up and demonstrated! Not a fantastic start for Lisa, but she's not in any real danger of going home next week.
Score: 18/30
D.L. Hughley
Stand-up king D.L. started the season off with a cha cha. He and Cheryl Burke had ... really nice red costumes? Other than that, the routine was problematic. Bruno quipped that D.L. had "terminated the cha-cha-cha." Carrie Ann just stuttered and giggled through her critique. Len just went into Dean of Dance Studies mode and lectured poor D.L. Remember, there's no elimination this week!
Score: 12/30
Zendaya Coleman
Disney star Zendaya hit the floor with Val Chmerkovskiy for a contemporary routine characterized by...bare feet and tons of lifts. Val himself kept his shoes on but Zendaya was barefoot and twirling practically the whole song through. She's extremely graceful, and her timing was excellent. Carrie Ann called the routine amazing, and Len agreed – he actually uttered the words "that was great." Bruno dubbed Zendaya's performance "sweet sixteen and superb." Aw. It looks like this season's youngest contestant might also be the one to beat!
Score: 24/30
Sean Lowe
"Bachelor" star Sean just can't get enough of the spotlight! He'll be dancing with Peta Murgatroyd this season, and the pair is off to a decent start. Their foxtrot had its moments, but Sean was a bit awkward onstage. He'll need to work on his timing and presence if he wants to stay in the game. Len said the routine lacked finesse but praised Sean's posture. Bruno commented on Sean's pelvic thrust and little else. (But did not demonstrate this time.)
Score: 19/30
Alexandra Raisman
The gold medal gymnast is dancing with Mark Ballas, who famously partnered with (and dated?) gymnast Shawn Johnson. Their cha-cha was punchy and fun, and Alexandra's hip work was fantastic. Bruno called the routine inspiring, and Carrie Ann said she saw a ton of potential. Len said he loved Alexandra's vitality, but wanted her to define her legwork a bit more. A great start for our resident Olympian!
Score: 21/30
Dorothy Hamill
Figure skating legend Dorothy is partnered up with Tristan MacManus this season. Their first dance, a contemporary routine, was gorgeous. Dorothy may have won her Olympic medal before most of the other contestants were born, but she has still got it. Her lines were fantastic, her musicality was right on, and best of all, she totally sold the performance. Carrie Ann called the performance golden, and Len went with beautiful, though he did point out that Dorothy had trouble with balance a few times during the routine. Minor quibble! This was an absolute coup for Dorothy.
Score: 21/30
Wynonna Judd
Country legend Wynonna danced the cha-cha with Tony Dovolani. Her footwork was decent, but she was stiff and seemed awfully nervous. Len called the routine "a little bit careful" but didn't have anything too terrible to say. Bruno was also encouraging, telling Wynonna to "live large." Let's hope Wynonna can relax a bit more next week.
Score: 18/30
Andy Dick
Mouthy comedian Andy is paired with Sharna Burgess, who is new to the show. Their foxtrot certainly had its moments! Andy was elegant out on the floor, and made the dance his own. That said, he was flat-footed and perhaps a bit too goofy. Bruno said he felt like he was watching Woody Allen do the foxtrot. Carrie Ann said she was touched by the dance, but lamented Andy's "pancake hands and pancake feet." Len praised the choreography but said Andy's movements lacked fluidity.
Score: 17/30
Jacoby Jones
Wide receiver Jacoby comes to "DWTS" fresh off a Super Bowl victory – and knee surgery. His flashy cha-cha had the crowd on its feet. Jacoby and Karina Smirnoff have great chemistry. Even better, Jacoby has great timing, loose hips and charm to spare. Carrie Ann criticized his posture, and Len took it one further and said Jacoby's technique was terrible across the board. Bruno told Jacoby he could grind it as well as anyone, but that he ought to work on foot placement.
Score: 20/30
Who won over the judges: Zendaya
Who won over the crowd: Zendaya, Kellie, and Jacoby
Who needs to step it up: D.L. and Andy
"Dancing With the Stars" airs Mondays at 8 p.m. ET/PT and Tuesdays at 9 p.m. ET/PT on ABC.