FEATURED POST
Rayna and Juliette's tour took off, while Deacon's came to an end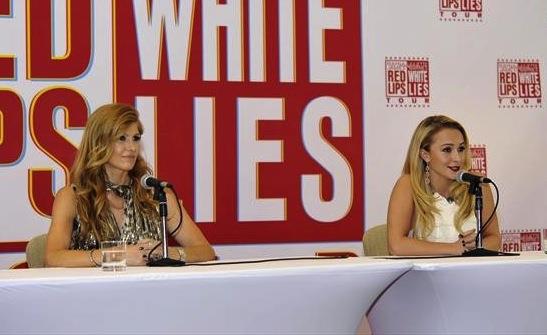 After playing a handful of small venues, Rayna and Juliette were ready for the big stadiums. The divas were even in sync for their press conference, though Juliette did sneak in one old lady jab and all the reporters wanted to hear about was Juliette leaving her man at the altar and Rayna hitting the road without Deacon.
Bing: More about 'Nashville' | Watch clips and full episodes of 'Nashville'
As it turned out, Rayna wasn't thrilled with Deacon's replacement. She tried to explain what she wanted to her new guitarist, but he got defensive. "You're impossible to please," he said and quit - just like the last one did. Before the show, she sat for a spell in the nose bleeds, a ritual she'd shared with Deacon. Liam found her and agreed to back her up for three shows, but no more, since he doesn't like her old music. When she thanked him with cowboy boots later, he almost hurled.
Juliette was anxious to get the divorce papers signed before the press realized her jilted fiancé was actually her jilted husband. During a CMT interview, she broke her silence on the wedding to rave about what a good guy Sean was and talk about learning from her mistakes, hoping he'd get the message. As she made her way past fans screaming for her autograph, one of them served her an annulment summons. Hurt, she went all diva during rehearsal and announced she'd never play "Love Like Mine" again. Then she refused to get off stage when her sound check went late. Liam gave her a hard time, accusing her of never taking responsibility for her actions or handling her own problems. Then he laid down in the middle of the stage, refusing to leave. She stormed off to her jet, prompting an amused Rayna to beg Liam to stick around. Instead, he called Rayna out on being afraid of being onstage without Deacon.
Juliette flew to see Sean, who accused her of fraud, not to mention hurting his family. He was the kind of guy who only got married once, so he was set on an annulment. Needless to say, she was in a mood when she ran into Liam again back at the stadium. After another round of bickering, she went to stare at her engagement ring and he joined Rayna on stage. Rayna had the crowd going wild, especially when they played the new music they'd been working on together. Juliette also got the crowd screaming during her set. She decided to play "Love Like Mine" after all, dedicating it to someone she "used to know."
Want more TV? Like us on Facebook and follow us on Twitter.
The next day in family court, Juliette took responsibility, for once. She admitted to fraud and making "false representation about the nature of their marriage." She even apologized to Sean, explaining that she'd walked away because she knew she'd never be the wife he needed. He reminded her that she'd warned him he wouldn't like her if he got to know her: Then told her she'd been right!
Gunnar was heading to Austin, so Scarlett hitched a ride. She was going to see Deacon and The Revel Kings perform, but couldn't talk him into joining her. The writing partners banged out three songs on the 15-hour drive and then Gunnar dropped her off, anxious to get to his mysterious family obligations.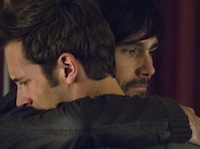 It turned out Gunnar was picking up his big brother, who was just finishing off an eight-year prison stint. As soon as they got to the motel, Jason started strumming Gunnar's guitar. The boys bonded over a duet, but the reunion turned sour when Jason sold Gunnar's guitar to buy a gun. They argued about the night that landed Jason behind bars. Gunnar felt guilty for not standing by his brother when the cops came, even though he'd been only 16 and it was Jason who'd held up a clerk at gunpoint. He didn't get how the brother who raised him had turned out so screwed up. Jason was just glad Gunnar wasn't screwed up, too. He left Gunnar with a teary hug and when Gunnar picked up Scarlett later, he told her about Jason.
On The Revel Kings' tour, Deacon and Carmen parted ways with a kiss. Lead singer Cy was jealous that Deacon had won the reporter's attention and then annoyed when Deacon laughingly called him on it. Cy got his payback when he met Scarlett. He immediately put the moves on her and wasn't taking no for an answer. Deacon busted in to save the day, but Scarlett had it covered: She kneed Cy in the groin! Then Deacon threw him across the room and quit the band. The next morning, he admitted he'd been looking for a reason to leave. "Some guys just don't know how to be humble about their talent," he said of Cy, adding that it hadn't helped matters when people had started treating Cy like a god.
Speaking of guys who think their God's gift, Avery was driving around Atlanta in Dominic's hot wheels, feeling like a player. During pillow talk, Marilyn had told him Dominic was trying to screw him with a bad contract, so he'd huffed off to talk to Dominic on his own. All it took to get Avery to sign the papers was some smooth talk and the keys to a fancy convertible as a signing bonus. Avery had gotten played, but he didn't want to hear it when Marilyn told him that.
When Rayna's girls called in for a good morning chat, Teddy reported that the polls were neck and neck. With Coleman out pounding the pavement, Lamar and Tandy wanted Teddy to play dirty, but Teddy wasn't willing to pay for votes. He'd already sacrificed enough and didn't want to go any lower. His daughters were sure he'd win. He didn't seem as confident. Or perhaps he was just concerned about his marriage. Things were still tense with Rayna, but in a surprise turn, she decided to fly home for election day. When she showed up, he smiled like he'd already won. Then the news came in: He had won! During Coleman's concession speech, he said all that mattered was having his wife to come home to. The smile disappeared from Teddy's face.
After things quieted down, Teddy had a moment alone, but it didn't last long. Peggy showed up to congratulate him. After a close conversation about her overdose, she almost kissed him, but they pulled apart. It was starting to look like those two had had an affair, after all…
Get the 411 on the music in this episode on the Nashville website.
"Nashville" airs on Wednesday at 10 p.m. ET/PT on ABC.