FEATURED POST
Team Christina and Team Adam get smaller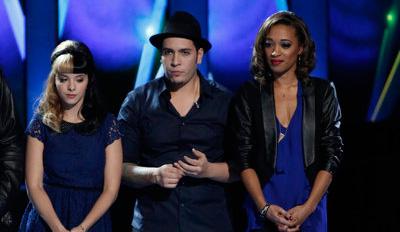 By John Kubicek
Tonight has the potential to be a very shocking evening for "The Voice." The top 10 delivered some truly amazing performances Monday night, and finding two singers who deserve to go home is nearly impossible.
Bing: 'The Voice' | Photos: See more of the action from Season 3 | LNOTV: Watch recaps
So what does "The Voice" have in store? I'm predicting Melanie Martinez and Sylvia Yacoub as the two singers going home. Although I do think there's a chance that Carson Daly might pardon the turkeys, so to speak, and keep everyone safe to celebrate the holidays. After all, since two singers are supposed to go every week and the finale is December 18, that would mean only two singers in the finale instead of four.
More: 'The Voice' on Buddy TV | Video: Watch clips and more
This is "The Voice"!

Carson Daly lets us know that Cassadee Pope and Melanie Martinez hit the iTunes Top 10, so both of their iTunes vote totals were multiplied by 10. I'm already doubting my Melanie prediction.
"Let There Be Love" by Team Xtina
Oh great, another song from Christina Aguilera's new album. By the end of the season I'm sure we'll have heard the whole damn thing. I'm so excited for Season 4 to get here already, so Xtina won't be pimping her album every episode. There is a cute bit, however, when Xtina starts singing, and then Dez Duron and Sylvia Yacoub are sitting in Xtina's red chair and push the button to turn around and join her.

To continue the massive social media marketing of "The Voice," there's a new segment in which Twitter determines which song will be performed on this night. Either Team Blake and Team Xtina will take on Pat Benatar's "Hit Me With Your Best Shot," or Team Adam and Team Cee Lo will do Cheap Trick's "I Want You to Want Me." Since I am officially rooting against Xtina in every way imaginable, I'll take the latter.
Carson chats with the coaches, and he drops a "TRL" reference. Wow, between that and the way he impersonated Nicholas David's voice last night, I'm starting to love Carson Daly like it's the '90s all over again. Xtina then goes off on a 10-minute rant about how amazing her team is. Carson thanks Blake for the fact that Cassadee's song hit No. 1 on iTunes, beating Psy's "Gangnam Style." Yeah, "Gangnam Style" is so over. So naturally, "Glee" will be covering it next week.
Results: Part 1
The first singer safe is ... Nicholas David!
The second singer safe is ... Cassadee Pope!

My nightmare of continuing to have to watch Nicholas is still a reality. But there are no surprises here. Although part of me thinks Nicholas being the first person to get saved means there's a chance both of Cee Lo Green's other singers could go home.
"Changed" by Rascal Flatts featuring Cassadee Pope and Cody Belew
I'm not really into country music, so these guests are starting to grow old for me. "The X Factor" gets One Direction and Taylor Swift, and "The Voice" gets Rascal Flatts? On the bright side, it helps Blake Shelton's quest to morph Cassadee into a country artist.
Want more TV? Like us on Facebook and follow us on Twitter.
Results: Part 2
The third singer safe is ... Dez Duron!
The fourth singer safe is ... Cody Belew!

Hooray for the hot guys! Dez was a no-brainer, but I'm stoked about Cody since his was a very out-there performance. But now what? Will Melanie's iTunes votes not matter? Is Trevin Hunte actually in real danger now? And I'm pretty sure not even God could save Sylvia at this point.
It's time for some awkward interviewing by Christina Milian! Rascal Flatts claim that they met Blake while in rehab. Nicholas David is still terrible at being interviewed.
"Crazy Little Thing Called Love" by Team Adam
Here's why these team performances are a terrible idea: Adam Levine is a rock star; Amanda Brown has a rich, soulful diva voice; Bryan Keith is a Sinatra-esque crooner; and Melanie Martinez is quirky and weird. Those four styles don't mesh well at all. Also, I'm so tired of Adam Levine always making everyone wear the same color T-shirt and pants for performances. It's annoying. Carson scores more awesomeness points by thanking Adam's "hunky tattoos."
Results: Part 3
The fifth singer safe is ... Melanie Martinez!
So I guess iTunes really does matter. Now all the coaches and singers have incentive to pick hip, cool songs that people will want to download on iTunes to crack the Top 10 and get the 10-x advantage. Next week we'll get "Gangnam Style." Now, we're gonna have some insane eliminations tonight.
"Hit Me with Your Best Shot" by Team Blake and Team Xtina
I don't like Xtina winning anything, but Cassadee and Sylvia go well together, and Dez and Terry are great for this song. It's definitely not as bad as the Team Adam performance.
Results: Part 4
The sixth singer safe is ... Terry McDermott!
That's nice, but why is Amanda Brown still in danger? She had better not be going home.
Final Results
The seventh singer safe is ... Trevin Hunte!
The eighth singer safe is ... Amanda Brown!
Sylvia Yacoub and Bryan Keith are eliminated!
Wow. I predicted Sylvia, but I'm stunned Bryan is gone. I guess his song really was just too boring, especially since it came in between Cody's amazing performance and Amanda's impeccable vocal. Also, no one cares about Hurricane Sandy anymore.

So now Xtina is basically saying "Help me, Dez Duron, you're my only hope." And Cee Lo Green is still sitting pretty with all three of his singers.
BuddyTV: See how we did with our predictions for Tuesday's eliminations
BuddyTV: Don't miss another episode! Keep up with your favorite shows, like "The Voice," using the BuddyTV Guide app!
"The Voice" airs Mondays and Tuesdays at 8 p.m. ET/PT on NBC.