FEATURED POST
Boys' club initiations produce some strong contenders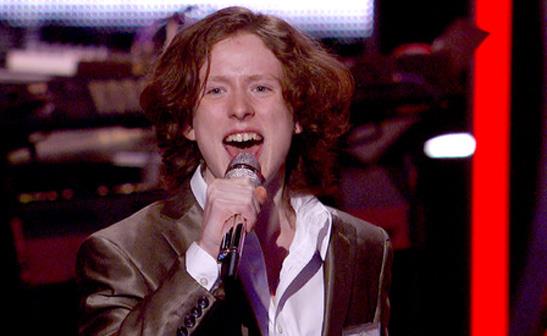 Somebody that we used to know: Charlie Askew previously was more notable for his social awkwardness than his star quality, but his heartfelt spoken intro and vocal on Gotye's big hit may have propelled him to the 'Idol' front ranks.
There's one sure-fire way I can tell a good "American Idol" episode from a bad one. The bad ones, like Wednesday's, crawl by like a morning commute – it seemed like four hours – while the good ones, like Thursday's, zip along like a NASCAR race. Of course, also like a NASCAR race, there were a lot of crashes and often everybody seemed to be going around in circles, but that goes with the "Idol" territory.
Bing: More about 'American Idol' | Video: Watch clips | Photos: See highlights
It was Solo Day for the guys, and it moved along briskly … perhaps a bit too briskly, as we were shortchanged in seeing the performances. But, with just an hour available, no way were we going to see 43 performances. We got 15 (a few partial-length, but they were all pretty short anyway, or edited that way).
Let's get the rest of the numbers out of the way: 28 of the 43 guys who survived the group ordeal also made it past this round, which consisted of a band-accompanied song from a likely-too-short list, with the option of playing an instrument (taken by two of the singers shown). After the 28 were chosen, they were rather sadistically informed that eight more would be cut next Thursday after the girls go through the same three-round Hollywood gauntlet.
Paul Jolley was first on-screen, blubbering out of sheer nervousness. He immediately changed my irritation to fandom by choosing Carrie Underwood's "Blown Away," one of 2012's two or three best country hits, singing it with power if little nuance. Nicki Minaj lectured him on professionalism, one of a number of incisive critiques that solidified my impression that she'll probably turn out to be the sharpest judge the show has ever had. (And Keith is not far behind – excellent hires, both.)
Lazaro Arbos delivered a polished "Edge of Glory" (Lady Gaga), then Curtis Finch Jr. was the first of, apparently, several to pick Christina Perri's "Bowl of Kidneys" (sorry, "Jar of Hearts"). He was even more polished, with a nimble falsetto that he overused, much to the delight of Mariah Carey (not surprisingly showing herself to be a big fan of oversinging).
Singers were evaluated in groups of eight, and there was not much doubt about Lazaro and Curtis going through. Paul also made it, dissolving into more tears, while five unshown others were rejected.
The quality of song choices continued to deteriorate with Devin Velez, who sang Louis Armstrong's prime retirement candidate, the sentimental flowerpot "What a Wonderful World." He was accomplished, but with this choice combined with the Andrea Bocelli song he sang in the previous, a cappella solo round (mercifully not shown), he has the potential to become extremely irritating.
Gurpreet Singh Sarin added some guitar strumming to an ineffectively jazzy version of overexposed standard "Georgia on My Mind," followed by Cortez Shaw unearthing Bobby Hebb's creaky "Sunny." (Where did they get this roster of songs, from an old set list recovered from the wreckage of Ruby's Supper Club & Lounge on the turnpike?) Cortez was perfectly solid.
Not so Matheus Fernandes, who sang a neatly sensitized verse of Kelly Clarkson's "Stronger" and then bellowed a disjointed, bombastic chorus. It cost him – he was the first singer shown to be rejected; Devin, Gurpreet (who's fortunate to have survived the group round) and Cortez, along with the unshown Adam Sanders, made it through.
Nicholas Mathis emoted a lot about how hard he's worked and how important this competition is for him (thus unforgettably distinguishing him from the other 80-odd contestants), then sang a pleasant but increasingly wobbly version of Bruno Mars' "Locked Out of Heaven." Jimmy Smith was next with a soulful take on Fleetwood Mac's "Landslide," while Papa Peachez chose Lady Gaga's worst song, "You and I," and sang it half-heartedly. Nicki, showing innate good taste, immediately bristled at the song choice and blasted Peachez for it and his general attitude. He and Nicholas were canned; Jimmy and five others (including Johnny Keyser and Vincent Powell) were voted through.
Two of the night's best performances followed. Nick Boddington, accompanying himself on keyboards, sang Grace Potter's "Stars" rather exquisitely, rivaling Amanda Brown's "Voice" cover. And Charlie Askew displayed the good taste to pick 2012's best pop hit, Gotye's "Somebody That I Used to Know," powering up for the chorus and displaying enough personality to overshadow a few shaky moments. They both made it, along with six unshown singers including JDA and Mathenee Treco.
A montage of two "Jar of Hearts" covers (why isn't that song the theme for "Bones" or some other medical series?), smoothly executed by Burnell Taylor and Marvin Calderon, ended in "yes" votes for both. But the judging went haywire on the final performance, Micah Johnson's version of Randy Travis' "I Told You So." He sounded better than any of the other gospel guys, because he didn't overdo the runs, instead singing the song straightforwardly and skillfully. But Mariah wanted more trills and frills, and the panel rejected him, making up for the bad decision somewhat by also eliminating (off-screen) rock bellower Gabe Brown.
Dressed for success: Charlie Askew spiffed up his wardrobe and his personality and sang his way to the forefront.
Novel due for remaindering: Gurpreet Singh Sarin seemed more like a curiosity than a contender this week.
Next week, it starts all over again for the girls of "Idol."
What did you think of Thursday's episode? Connect and sound off on Facebook and Twitter
"American Idol" airs Wednesdays and Thursdays at 8 p.m. ET/PT on FOX.