FEATURED POST
Did Fifth Harmony pull out enough stops to secure an edge in the performance finale?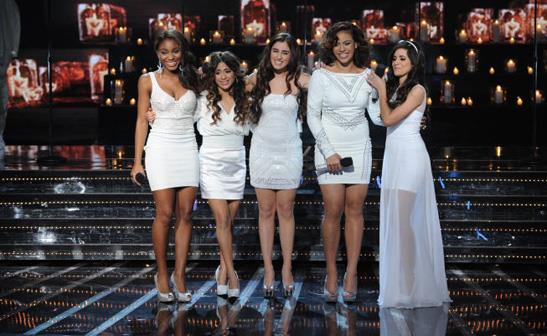 By Jilliane Johnson
The time has come! No, that fat man in the red suit won't be squeezing down your chimney until next week. I'm talking about the Season 2 finale of "The X Factor"! Yes, the top 3 perform for America's vote to win a $5 million recording contract.
Bing: 'The X Factor' | Photos: Season 2 highlights
It has been a long haul of a season watching Khloe Kardashian-Odom struggle with the teleprompter and Mario Lopez having to pick up the slack as mega-host. Keep those eyes peeled and phones in hand because, if the previous weeks are any indication, the finale rankings will prove to be quite shocking. Who am I kidding? We most likely have known the winner for weeks now!
More: 'The X Factor' on BuddyTV | Video: Watch clips
Sandy Hook Elementary tribute -- "You Are Not Alone" by Michael Jackson
Former contestants have returned in order to help take a moment to remember the lives lost in Newtown, Conn. If it wasn't already touching enough and pulling at the heart strings, the names of each of the victims are displayed on screens behind all of the artists. It's a very well put together tribute to open the show.
Whoever works on the special effects for this show should be awarded, because some of these additional spectacles that go on while acts are performing are really cool. I wish I could say the same for Khloe Kardashian-Odom's stylist. She looks like a Rockette, maybe? Or a badly manufactured doll of her sister Kim?
In any case, there are live feeds set up in the final acts' hometowns, and they show the crowds cheering. In Westchester, N.Y., they're holding up signs for Carly Rose Sonenclar. In Belton, Mo., everyone is cheering for Tate Stevens. And in Ally's hometown of San Antonio, Texas, they are rooting for Fifth Harmony.
Tonight's themes:
Each act will sing three songs. You knew they had to drag this out as much as possible, right?
Theme No. 1: Song of the season (A song previously performed this season)
Carly Rose Sonenclar -- "Feelin' Good" as performed by Michael Bublé
Should a 13-year-old be wearing leather pants while jazzing up a song such as this? My initial response would be "No way!" Yet it's great to see Carly Rose commanding the stage and showing such confidence as she is right now. Sure, her voice is as good as ever. But after being reminded of her first appearance on the "X Factor" stage (singing this same song), it's apparent just how much she's grown.
"I think it's so cool to see somebody so young be able to command the stage," says Demi. Simon goes even further to say, "You sang it better tonight than the first time." Britney takes it even further than that, announcing, "We're gonna win this!"
In Westchester, the mayor stands next to a random woman holding a pan of cupcakes. More importantly, though, Dec. 19 will forever be known as Carly Rose Sonenclar Day. Jealous of both the cupcakes and the day!
Tate Stevens -- "Anything Goes" by Randy Houser
This has to have been the best song Tate could have sung at that first audition. Personally, whenever I think of him, this particular song is what comes to mind. It just fits his vocals like a glove, and he owns it as if he wrote the lyrics. I digress, but there are two rather large Christmas trees at the back of the stage. I'm not sure when they arrived, but they are seriously out of place. Something else that's out of place: the cast of "Jersey Shore." They look just as lost while standing in the audience.
Let's quickly get back to business. Simon gives L.A. accolades, saying that it was a very unlikely pairing between him and Tate, but that it's worked in both their favors.
In Belton, Mo., there is a whole lot going on. Tate's boss is there to cheer him on, not expecting his employee to come back to work, ever. Even better than that, though, is when the mayor announces that Tate's name will be plastered over the apparently lone water tower in the city. Wow. Just wow.
Fifth Harmony -- "Anything Could Happen" by Ellie Goulding
In case you missed out or forgot how these girls made it into the finals, Simon decided to remind America. This fanciful, "Alice in Wonderland"-esque performance solidified these girls as a worthy pop girl group that could take this recording contract and run. The second time around is even better than the first!
"It's magical!" says L.A. "You were the underdog, but now you are the ones to beat," he says. Demi may not have her own act to promote, so she's jumped on the Fifth Harmony bandwagon, encouraging America to vote!
Ally's hometown has taken everybody to church! The population of San Antonio, Texas, has packed into Ally's church, and, alongside the mayor, are all rooting the group on.
Theme No. 2: With surprises (Not sure what that means just yet)
Carly Rose Sonenclar-- "How Do I Live" by LeAnn Rimes
So, I'm guessing that the surprise is that the original artist will join the finalist. Or maybe it's that Carly Rose, once again, wears leather pants. Nope, here comes LeAnn Rimes! Could we do this without LeAnn? She looks as if something might be wrong. Did someone give her some of Britney's pills? Carly Rose wins this sing-off.
"I want to wrap her up and just hold her," LeAnn says over-excitedly as she squeezes Carly Rose super-tightly. Mario gives a clever response, "Well, you're doing it!" Carly Rose says she felt comfortable onstage with LeAnn. I would beg to differ.
Tate Stevens -- "Pontoon" by Little Big Town
Tate welcomes Little Big Town out onstage to join him. Even more shocking than Carly Rose's leather pants are the shiny, gold ones that one of the members of Little Big Town is sporting. Tate sure is having fun with these ladies. He really is a lot of fun to watch perform.
L.A.'s new love of his life is country music? I highly doubt that, but it's good to see him support his artist so enthusiastically.
Fifth Harmony -- "Give Your Heart a Break" by Demi Lovato
Is anyone else excited? Demi Lovato joins Fifth Harmony onstage. She sort of looks like one of the group members, actually. The way they all blend has got to be something to make note of. It's another performance that makes the girls look like an established girl group. Thursdsay's result show is really going to be a tough one.
"You sounded like Sixth Harmony," says Mario. Simon may be pained to say it, but he calls the performance "pop perfection."
Theme No. 3: Last impressions (This is it!)
Carly Rose Sonenclar -- "Hallelujah" by Leonard Cohen
Gorgeous song, gorgeous look, gorgeous vocals. Rightfully so, this may be the best Carly Rose's vocals have sounded all season. She needed to go out with a bang, and she has done just that. There's nothing wrong with the performance, honestly.
Simon sums it up very nicely. "You've had a good night," he says. "I feel like that song alone is worth $5 million. So, get out your check book, Simon," Britney tells the boss.
Tate Stevens -- "Tomorrow" by Chris Young
What more can I say? Tate Stevens could walk off of this stage, take home a Country Music Award (and perhaps a Grammy), then maybe hold his own HBO special and who knows after that. The sky is the limit with this guy.
All of the judges are behind Tate, as usual. Simon believes that this time next year we'll be hearing about his record sales. I would have to agree.
Fifth Harmony -- "Let It Be" by the Beatles
Fifth Harmony takes us to church again, this time John Lennon-style. I know it doesn't make much sense, but they have mixed the legendary singer/songwriter with a gospel choir.
"The Beatles are great," L.A. says, "but you did that song a lot of justice."
Ally's uncle Jerry shows the girls some love and is somehow going to feed a sea of people with one lonely pizza. They're resourceful in San Antonio.
That's it, America. The rest is up to us. Each of the three "X Factor" Season 2 final acts has performed three times. I would surely hope this is more than enough ground on which to vote a new winner. Any of the top 3 acts has proven to be worthy of the title. Yet there can only be one to take home that $5 million recording contract. Who will it be?
Tune in Thursday night for the finale results. Will it be Fifth Harmony, Carly Rose Sonenclar or Tate Stevens? After two memorable performances by Pitbull and One Direction, all will finally be revealed!
BuddyTV: Get the latest 'X Factor' news roundup
BuddyTV: Don't miss another episode! Keep up with your favorite shows, like "The X Factor," using the BuddyTV Guide app!
"The X Factor" airs Wednesdays and Thursdays at 8 p.m. ET/PT on FOX.