FEATURED POST
Dallas woman rocks out before taken to hospital, another hopeful ends up in cuffs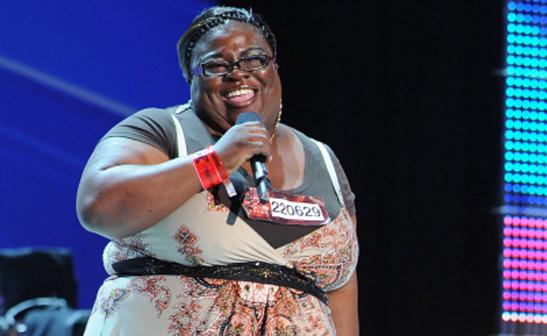 By Jilliane Johnson
The auditions continued Wednesday night with another two-hour episode of "The X Factor." Last week, Simon, L.A., Demi and Britney began their travels across the states for a brand new batch of talent.
Bing: 'The X Factor' | Photos: See the hopefuls | LNOTV: Watch recaps

We met many memorable and interesting characters. This raises the question: Is it true that shows such as this send all sorts of bad talent to the main stage for the sake of network rankings? Or is this where "The X Factor" sets itself apart from the others, giving everyone a chance? Whether predetermined or not, we're going to have fun picking apart these performances!
More: 'The X Factor' on BuddyTV | Video: Watch clips and more

A fresh start in Kansas City, Mo., kicks the week off.

In her hotel room, Britney informs L.A. and Demi that Simon isn't feeling well and that some guy named Louis will be filling in. Once L.A. leaves, Demi reveals that it's his birthday. So appropriately, they will be singing to the label legend.

When the word gets around to those auditioning, the celebration breaks out. Everyone couldn't be happier that Simon is out and Louis Walsh, the manager of U.K. super boy bands Boyzone and Westlife, has taken his place.

The mean girls have come out to play again, and this time one of them has leopard print on her forehead. "That is not a threat at all," she says to her friends after introducing herself to a young rapper. We shall see.

Rizzloe Jones, Freestyle Rap

With a name like Rizzloe, he has to be good, right? This kid asks the judges to give him a subject to incorporate into a rap that he makes up on the spot. Not only does he take the given topic, "The X Factor," and use it, but he also uses L.A., Demi and Britney as well.

"I felt like you were a young Vanilla Ice, Ice, Baby," nods Britney. I'm not sure if this is really a compliment, but she does like the 18-year-old. All four of the judges do. As soon as he gets a spot in the next round, a herd of his buddies swarm the stage. Leopard Face looks on a bit fearfully.

CeCe Frey, "Unchained Melody" by the Righteous Brothers

After she badgers everyone in her path, we find out that the leopard print on her face is paint. Thank goodness. She really believes that she's doing so well, but it sounds not so great. Demi stops the music because she was confused by her rocker look and bad song choice. Maybe a new tune will help?

"Ain't No Other Man" by Christina Aguilera

OK, she does not have the best voice, but her performance quality is attractive. I believe Britney sees herself in young Cece. Yes, I went there! She's playing to the crowd, whipping her hair back and forth, winking -- all of it. The girl knows how to put on a show.

"I think you have the X factor, sweetheart," says L.A. Cece better thank her lucky stars because not only is she going through to the next stage of the competition, but Demi has a girl crush on her. I was not expecting this girl to be good in any way whatsoever.

LA's Birthday Celebration

Britney and her manager-fiancé walk up to L.A. backstage holding a store-bought cake with candles as she sings "Happy Birthday." It's a very nice gesture, but they couldn't do any better than that?

Vino Alan, "Trouble" by Ray LaMontagne

Vino may have his entire bald head tattooed, which turns Britney far off from his look, but his voice is gritty and powerful. He doesn't have much of a performance; it's more about the audience being drawn into him and his voice. Even his story of how he wants to prove to his 15-year-old son that he can do this is worth the attention. Vino is talented.

It's an easy "yes" from all of the judges. "I'll make you proud," Vino assures the panel as he points to each of them. We'll be seeing him around.

Are the judges missing Simon? "Not that much," says L.A. Honestly, I agree. There is enough going on, like with this next artist. Honestly, I agree --maybe not at all. 

Deangelo Wallace, "With You" by Chris Brown

Not only is the very first note off-key, but Deangelo faces the right side of the stadium. He's so bad that all of the judges leave. They walk out, and Deangelo is left on stage, singing to a crowd who does not care for him. With a wave, he walks off and addresses the cameras.

"If you ask me, I think they all are devil-worshippers," says Deangelo. Along with accusing the judges of satanic pastimes, he deliberately runs out with the studio's microphone. The cops are called, and he is handcuffed while singing. I'm ashamed for even having to describe this to you all.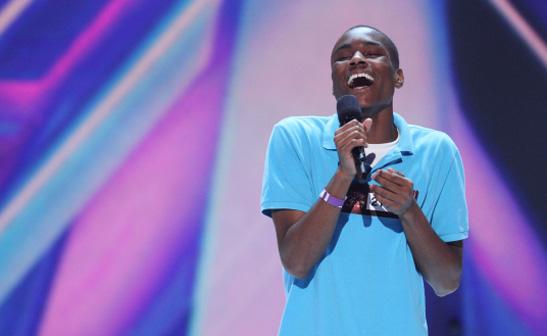 Tate Stevens, "Anything Goes" by Randy Houser

Definitely a country boy, Tate is a jokester and quickly grabs the judges' attention. Then he opens his mouth to sing, and a deep-rooted, soulful voice just eases right out. His wife and daughter are backstage in tears as the entire stadium is electrified.

"You're my favorite so far," says Britney. "And I love you!" And with that, another artist is given four yeses in Kansas City.

Kansas City is a wrap. And so is Louis, who agrees to return the next time someone is sick.

The man is back in San Francisco.

The boys of the boy band Citizen are pretty, and that's putting it simply. They spend quite the amount of time in the restroom perfecting their looks. Let's see what they can do.

Citizen, "Don't Let Go" by En Vogue

The fact that they're pretty is definitely working better for them than their voices are. These guys need some vocal work. L.A. is dancing, like always, and better than even those on stage. Demi and Britney are all smiles. I'm not sold.

"I didn't get it," says Simon. He is the only one who gives the boys a "no." Although his vote is overridden, Simon manages to toss out one more dis to Citizen before they skip off back to the mirrors.

Adrianna Lemus, "Rumor Has It" by Adele

Adrianna walks out confidently, singing Adele. As we know, not everyone can do this, and Simon reminds us of this. All four judges say "no." Could this be a warning sign for the next youngster to come?

Diamond White, "It's a Man's Man's Man's World" by James Brown

Simon told her, "Please don't sing Adele." So she isn't. She is killing these vocals, and her stage presence is very comfortable. Her excitement may be the best part about her, though. It's infectious.

"Your mother got it right. You are a diamond," comments L.A. The other judges agree. Diamond lights up on stage and one of the judges just might have the chance to work with her on the show.

Back in Austin, Texas.

Ally Brooke, "On My Knees" by Jaci Velasquez

I'll admit that I was expecting some pop performance filled with a dance routine and mediocre vocal talent, but Ally has surprised me. Everyone is pleasantly surprised by her tone and control. Yet when the music cuts out, Ally keeps singing a cappella.

Britney believes that Ally is good enough for Broadway, but this 18-year-old will be singing her way through the competition.

The oh-so-expected montage shows a few more acts who hear the cherished word "yes." Brandon Hassan, Normani and Sister C walk away with smiles. Yet, Jeremiah and Josh receive a little more. "I want you to wake me up in the morning," chimes Britney. When she says this, she means of course that they remind her of an alarm clock. Get your minds out of the gutter, people!

Panda Ross, "Bring It on Home to Me" by Sam Cooke

"Hey, Simon, I'm your baby's mama," are her first words. Her name is not the only thing worth remembering. Panda's voice is full of soul, power, character and so much more. The audience is on their feet from the beginning.

"You sound like a legend" has to be the best phrase ever to come out of Simon's mouth. All the excitement from passing this stage of the competition comes to a head as Demi meets Panda backstage and hugs her.

"I can't breathe," Panda repeats over and over as she begins to feel ill. Just the day before, she was in the hospital for pneumonia, and it looks as if the symptoms have only let up to allow her a superb audition. An ambulance arrives on the scene to pack her up and administer a breathing treatment. Let's hope we'll see Panda again in boot camp.

"Demi's Infectious!"

Simon is worried that Demi's touching Panda has infected her with pneumonia. They laugh it all off. Yet, when Demi touches him, Simon is quick to open up a bottle of hand sanitizer. Funny how they have so much fun, and there are thousands of people working through a wreck of nerves left and right.

Jessica Espinoza, "Nobody Knows" by P!nk

Jessica is working through the nerves when her music starts, but, boy, does she deliver. The shakiness of her voice gave it more character, I think. You could really feel her passion. Plus, she sounds good!

"You're not ordinary. You're very special," says L.A. He's right, and the other three agree. Simon adds that Jessica is his favorite this night, by far. We'll be seeing her in boot camp, too!

Another day of auditions is done. Who have been your favorites? Who do you believe should have just stayed home? I'll stand out on a limb and say that Panda was my favorite of the night. I really do hope we get to see her again. Let me know what you think below!

Thursday night on "The X Factor," has Britney found a long lost relative? Tune in to FOX in order to see more auditions, more drama and a blackout!
"The X Factor" airs Wednesdays and Thursdays at 8 p.m. ET/PT on FOX.