FEATURED POST
The Muppets spread some holiday cheer before Dez gets his walking papers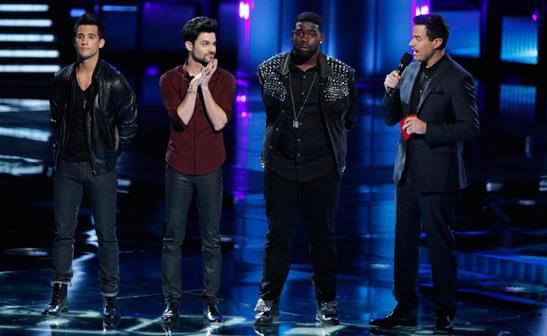 By John Kubicek
It's time to play the music.

It's time to light the lights.

It's time to meet the top 6 on "The Voice" results tonight!

That's right, I'm in a very Muppetational mood, because not only is "The Voice" eliminating two more contestants but the Muppets are here for some holiday cheer. There are few things more joyous than the Muppets, so this should be a fun hour. I'm predicting Terry and Cody are going home tonight, so let's see how inaccurate I am this time around. As long as Statler and Waldorf mock Christina Aguilera, I'll be happy.
Bing: 'The Voice' | Photos: See more of the action from Season 3 | LNOTV: Watch recaps

This is "The Voice"!

Wardrobe Watch: Cee Lo Green is in a giant yellow track suit, making me think of Big Bird, while Christina Aguilera looks like a Fly Girl. Adam Levine seems to be stepping up the sexy bad-boy look, possibly trying to compete with Dez Duron.
More: 'The Voice' on Buddy TV | Video: Watch clips and more

Carson Daly lets us know that three artists hit the top 10 on iTunes and got their iTunes votes multiplied by 10: Cassadee Pope, Melanie Martinez and Nicholas David.
Amanda Brown and Trevin Hunte ("Marry the Night" by Lady Gaga)
It's a mini-reunion, as these two memorably met in the Battle Round when Cee Lo chose Trevin and Adam stole Amanda. Adam definitely looks like the winner in that transaction, as Amanda has soared higher and higher each week. I definitely give her the edge in this duet.

Carson chats with the coaches, and Xtina actually has a nice word to say about two of her former Mickey Mouse Club co-stars by mentioning that  they didn't win a singing-competition show but she still dominated the music scene alongside Britney and Justin. It's also worth noting that Nicholas David has his hair in some weird beehive-conehead thing.
Results: Part 1
The first singer safe is ... Cassadee Pope!

No duh. The girl's probably gonna win, especially if she keeps charting on iTunes, thus proving her commercial viability.
Team Cee Lo and the Muppets
Cee Lo Green heads to Las Vegas with contestants from his "Voice" teams over all three seasons. They meet up with the Muppets to do a holiday special. I can't decide if I'm happier to see Miss Piggy or Mackenzie Bourg.

Then it's back to the stage for a duet of "Bein' Green" by Cee Lo and Kermit. It's sweet and awesome, but the best part is that all the "Voice" personalities have been replaced by Muppets.

Gonzo is Carson Daly, Janice is Christina Aguilera, Animal is Adam Levine (of course) and Fozzie Bear is Blake Shelton, even pointing at himself as Shelton does. Statler and Waldorf have taken over Christina Milian's role. Man, how much better would this show be if those two old dudes replaced her as the social media correspondents?
Results: Part 2
The second singer safe is ... Amanda Brown!

Hooray! Thank you, "The Voice," for not making me sweat it out over Amanda like last week.
Cody Belew, Melanie Martinez, Nicholas David and Terry McDermott ("Rhythm of Love" by the Plain White Ts)
Whose idea was it to put these four together? Because it should be terrible, but it's not -- like a breakfast sandwich on a cinnamon raisin bagel (trust me, it's delicious). Terry is amazing, and his voice interplays well with Melanie's. It's just a nice, pleasant performance.
Carson and the top 8 on the radio
Carson drags the top 8 to his radio show for some interview training. Dez Duron calls Carson "the best of the best" when it comes to radio personalities. Really, dude? The contestants have to sing their own names, and Terry's Scottish ditty is adorable.
Results: Part 3
The third singer safe is ... Melanie Martinez!

The iTunes x10 factor strikes again! Good news for Team Adam, as both of his artists survive the night.
Dez Duron and Cassadee Pope ("Hate That I Love You" by Rihanna and Ne-Yo)
This explains why those four other finalists were grouped together -- because "The Voice" wanted to sex things up with this super-hot pairing. They do a great job together. I wouldn't be shocked to see both of them in the top 4.
Results: Part 4
The fourth singer safe is ... Nicholas David!

See, iTunes votes matter. A lot more than wardrobe, that's for damn sure.
Final results
The fifth singer safe is ... Terry McDermott!
The sixth singer safe is ... Trevin Hunte!
Dez Duron and Cody Belew are eliminated!
Wow. So all the eye candy is gone. Clearly my predictions are terrible, since I assumed Dez was definitely safe, being so pretty. Maybe "The Voice" skews older than I thought, especially since Nicholas David is still around.

I'm sad, as I loved both Dez and Cody, but I'm also kind of amused that Christina Aguilera is out of the competition. Good riddance to her next season, because she's clearly the worst coach. Now Adam, Blake and Cee Lo each have two artists left to fight it out. Part of me hopes Xtina doesn't even show up next week. She has no one left, and she's leaving for Season 4 anyway. Just bring in Shakira a little early to prepare. Or leave Janice the Muppet in her chair. I'm sure no one will notice the difference.

I guess "The Voice" really is different from "American Idol," because usually hot guys would last longer.
BuddyTV: Check out John Kubicek's pre-show analysis and predictions
BuddyTV: Don't miss another episode! Keep up with your favorite shows, like "The Voice," using the BuddyTV Guide app!
"The Voice" airs Mondays and Tuesdays at 8 p.m. ET/PT on NBC.