FEATURED POST
A rose explosion means the jockeying for position starts early and ends drunkenly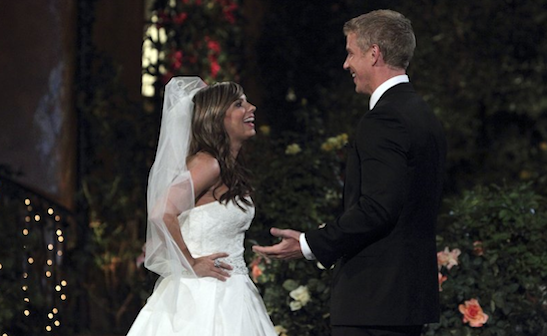 It's that time, ladies and the five gentlemen who've somehow been roped into watching. Three hundred years in the future, "The Bachelor" might be used in some sociology class as a text on mating in the 21st century, but until then, it's just our favorite Monday night disaster—this time, starring Sean, who, God willing, won't be the same blond pudding he was throughout most of last season. Then again, I had the same concerns about Emily—and that was a very entertaining session of "The Bachelorette." (Even if they're not getting back together.) I retain hope for no reason more central than the fact the Sean pulled off the show's best-ever prank: The bar is excruciatingly low—like
end-of-the-night-lim​bo-bar
low—but for a few minutes, Sean ruled last season as the bright, shining star who tricked Emily into thinking he lived in his parents' spare room, covered in cookie crumbs and stuffed animals. Please, please, let there be more of that. 
Anyway: Sean. He's 29. He is both "blessed" and "humbled." He is, if you missed him standing on the actual rock, a "rock." Speaking of, he skips rocks into the surf of the Pacific Ocean while filming this opening segment, and the camera pans over to find a newly married couple posing for portraits. Was that J.P. and Ashley? No? Back to Sean: He's everyone's favorite uncle, and he wants to settle down with his own wife and kids before that gets creepy. To do that, he's back: "I'm going to go through this crazy journey again, in hopes I can find the one for me." Fingers crossed, buddy. 
Next up, Emily Maynard's leftovers have some beers and chit-chat about their feelings. Also, Arie shows Sean how to kiss, which is all kinds of wrong if you remember Arie eating Emily's face last season. Why is Arie here? Was Chris Harrison on vacation? "He has a lot of good advice," Sean exaggerates. To each their own, though. Here's a quick visual recap of Sean and Arie's kissing techniques. 
Without too much further ado, we meet a good portion of the women who will soon be humiliating themselves and each other in the name of love and/or tabloid magazine covers. We have: wedding stylist Desiree ("I'm waiting for my missing puzzle piece"); Tierra ("Some people can live without love and be fine for their whole life but I'm the opposite"); Robyn ("I have dated an engineer before—they're usually socially awkward, a little boring"); mom-of-two Diana; born-with-one-arm Sarah; Ashley ("It's me and my cat now, because all my friends are married and boring"); D.C. consultant Lesley ("I don't like the nerds and I don't like the politicians, and this city is filled with them"); Ford model Kristy; and professional organizer "AshLee" ("Everything in my life is organized besides my love life"). Ready for all that, Sean? 

When we pick up, we're at the mansion, and Sean is ready to begin welcoming the fleets of limos. Seriously: Limo drivers must go on vacation the day this show wraps for the season. There are children of limo drivers in college right now with tuitions paid for by this show. We've seen some of these women already, but we also have: cosmetics consultant Jackie, who basically rubs his face in her lipstick; real estate developer Selma, who wipes it off ("You don't want to make all the other girls jealous"); poker dealer Leslie ("You are so much cuter in person"); commercial casting associate Daniella; cruise ship entertainer Kelly, who sings, but not in a very sexy way; and yoga instructor Katie, who knows Sean did a very bad job of mimicking her yoga pose but doesn't say anything. We absolutely have to give Ashley a special call-out here. She asks Sean if he's read any good books lately, and from his, "I have!" you get the sense he actually wants to talk about it. But then she's all, "I have—'50 Shades of Grey,'" and pulls a tie out of her boobs. "I'm guessing I know the symbolism behind this?" Sean asks. It's not really symbolism, but close enough. 
We also have health club manager Taryn; Catherine ("You're such a hunk"); Robyn, failing majestically at a couple back flips; graduate student Lacey; Jumbotron and "Bachelor Pad III" vet Paige; and finally Tierra. This is the night's weirdest exchange. Something about her makes it look like she's about to make out with him, right then and there. As Sean says, it was literally magnetic—like watching her drawn right to his mouth. Sean leaves, says something to Chris about "bending the rules," and comes back with a rose. This is not a popular decision inside the mansion. 
The girl parade continues. Back outside, we have: fit model Amanda; entrepreneur Keriann; and Sarah, who asks Sean if he imagined finding love in these circumstances. Hell to the no, he says. "This is exactly how I always envisioned it," she says. Sean isn't sure if she's kidding. (She's not.) Sarah is followed by community organizer Brooke; Kristy; Ashley H. ("Hi, Ken—I'm Barbie"); Italian-American journalist Lauren ("My dad did want me to send you a message: If you break my heart, he's going to break your legs"—because stereotypes are fun!); and Lindsay, who shows up in a bridal gown and immediately kisses Sean. "Now that we've made out, what's your name?" he says. 
That's 25 women. But there are going to be 26 in this season of "The Bachelor." Kacie B. is here! You may remember her from crying on the floor of her hotel in Ben's season, but she's awesome. "I'm speechless," says Sean, who, suspiciously, doesn't sound as excited as he should. "I have some words," she says. "I know I don't deserve a second chance." Of course, this is Sean's second chance, which she points out. "I can't wait to hear what the other girls think," Sean says. "Come save me later," Kacie says. Her inclusion isn't exactly met with universal enthusiasm: "Maybe she's just here to give us some advice," someone says, to general derision/guffaws. "She had her chance with Ben, so what makes her think something will work with Sean?" says Desiree, apparently failing to understand basically everything about how relationships work. Kacie gets one of the first mini one-on-ones with Sean, who still seems a little ambivalent. "I met her and I viewed her as a friend," he says. "Now I know that she has feelings for me, I'm interested in exploring that." We'll see. 
Kacie B. doesn't leave that conversation with a rose, but the women soon realize "there might not be any rules"—Sean is just giving out roses willy-nilly, to, among others, Selma and Robyn of the problematic gymnastics. Not everyone's getting them, though—take Ashley H., for example, who leaves her awful-looking conversation with Sean clutching at nothing but her dignity. "It's been nice talking to you," Sean tells her. "Unfortunately, I have a lot of other girls to talk to." The only more-awkward moment comes when Lindsay, who you know absolutely hates that wedding gown at this point, begs Sean to kiss her: "I swear I'm not contagious." (It's how all great relationships start.) Of course, even Lindsay can't compete with Ashley of "50 Shades of Gray." That tie is still hiding in her cleavage. "I have not forgotten about the tie," Sean says, as she again pulls it from her bra. "I also have my rape whistle." Ashley tells him a story about her mother calling him her "son-in-law," and it's pretty awful. "'50 Shades of Grey' may have become '50 shades of drunk' tonight," Sean says. 
At long, long last, it's time for the rose ceremony. This is going to be the fastest-ever opening night rose ceremony, since Sean's already given out 12 of them—with seven left. They go to: Amanda, Leslie, Kacie (yay), Kristy, Daniella, Taryn, and Lindsay, who seems to have dodged a bullet. That means, among others, "Bachelor" franchise perennial loser Paige is going home, as is Kelly and the "50 Shade of Grey" fan, Ashley. "Oh, poor Sean, [you] could have totally f***ed me." Keeping it classy, everyone. 
"The Bachelor" airs Mondays at 8 p.m. ET/PT on ABC. We'll be back next week with all the drama, tears, cocktail dresses, and inappropriate touching anyone could handle.