FEATURED POST
Tierra revels in the drama as one of the one-on-one dates goes home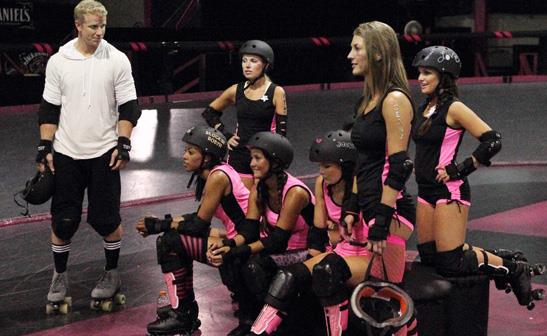 It's week four of "The Bachelor," and tonight, Chris Harrison drops off the first date card immediately: It goes to Selma, who's excited to "take it to the next level and then the next level and then have babies." She doesn't know where she's headed for a good portion of the date: We go by limo to private jet to ... desert four-by-four. We're in Joshua Tree National Park: "He took the Iraqi to the desert," Selma says, somewhat despairingly. "I feel puffy," she says. "I'm not going to say there aren't snakes," says Sean, who seems to be enjoying every minute of this. He leads Selma to a 100-foot rock climb. She doesn't seem to have much, if any, climbing experience, but—all credit to her—she laces up her climbing shoes and gets down to business, leading the way up the rock. It's an impressive performance. 
Sean thinks Selma is hoping they'll move on to a five-star hotel out in the desert, but we're betting that Selma's figured out what she's in for—and indeed, she doesn't look that surprised when they turn into a trailer park. "It's country chic," she says. Mere seconds later, she and Sean are snuggling in front of a fire. There's a lot of discussion of whether or not Sean thinks he'll be able to kiss her, but Selma—for reasons that are about to become obvious—wants to chat first. "Why are you single?" she says. Sean says that he's had one serious relationship since college, with a woman who, we seriously hope, has figured out a way to ban ABC from her TV until the end of the show. "After about a year, she starts to bring up marriage. I just didn't feel like she was the one I was supposd to marry." Honestly: Our heart goes out to Sean's ex-girlfriend. 
Selma tells Sean a bit about her background: being born in Baghdad and growing up Muslim in a socially conservative home. "We barely even date, so to kiss someone on national television—I think my mom would have a heart attack." (Here's hoping her mom never has to hear the words "fantasy suite.") "I'd like to kiss you," Sean says. "I can't kiss you," she says. Sean puts it together: "So you said your parents are pretty strict," he says. "It'll have to wait 'til i'm his only lady," Selma says. Brave move, Selma. She gets the rose. 
Our next date is considerably less peaceful: The group date, this week, will be going to the roller derby. It's hard on everyone: Robyn, who keeps falling; Amanda, who crashes into the rink and goes to the hospital; and especially Sarah, whose balance is seriously affected by having just one arm. "In a moment like this, I just want to be normal," she says. At least it gives AshLee a chance to console her, which is, in fact, really very sweet. Sean comes over and is less comforting, in fact, than AshLee: "Part of me wants to say you don't need to do this. The other part of me say I know you can do it." After all these debacles, Sean realizes that he is actually torturing the women. He cancels the roller derby and has them all "free skate instead." 
When we return to the post-roller derby cocktail party, things are much as we left them: Sarah feels weird, Tierra's being horrible, Robyn's completely over it. Of the three, Sarah gets first dibs—at least on Sean's attention. "She got in the rink and did everything that the other women did," he says. "I respect Sarah so much." Sarah's not so sure: "Today was a good day ... right? I'm just so embarrassed." After Sean reassures Sarah that she did the best she could, he moves on to Amanda, who's still nursing a bruise. Unfortunately for her, she only gets a peck on the chin. "Actually, they took out my tonsils," she says to us, sticking out her tongue for a smooch.

There's not much drama here—probably because Tierra has the lock on all of it. First, she's stomping her foot (metaphorically) and threatening to walk off the show. "I just can't do it, at all," she says to no one in particular, since she's burned through all her potential friends here. Robyn, in particular, doesn't want to hear it, and even stops addressing her. The only problem is that Tierra isn't actually walking off the show—she's walking to where Sean's about to get into the pool with Lindsay: He opens a door, and there she is, crouched down on the ground like some horrible elf. Sean immediately drops what he was doing to give Tierra 100% of his attention—teaching women everywhere that the way to a man's heart is to act like a complete lunatic. Even as she fakes like she's going to go home, Sean thinks he has her all figured out: "You like me—you want to spend more time with me," he says. "How do I know? The way you look at me." There's more on the way: "I really like this girl," he tells us. "I need her to stay." To that end, he marches back to the cocktail party to retrieve—yes—the night's rose, and he's so focused on Tierra that he barely hears the other women gasp in unison when he picks it up. "She's good at what she does," AshLee admits. "Tierra's really sneaky, and I just hope eventually that Sean will see that." 
Enough of that. The night's string of dates ends with Leslie H., whose evening starts with a delivery of some diamond earrings. "This is like 'Pretty Woman'!" Leslie says. No one seems at all bothered by the fact that Julia Roberts did, in fact, play a prostitute—an actual hooker—in that movie. From the mansion, Sean drives a buoyant Leslie to Rodeo Drive, where they set off on a "Pretty Woman"-themed shopping trip. "We're making my favorite movie come to life," says Leslie, who hopefully didn't have any plans to sit down with that movie again anytime soon. "Here we are living out that fantasy. I am a tan Julia Roberts." Leslie gets to pick out a dress ("Bedazzled," she says), handbag, and shoes, and a visit to Neil Lane ensures that her neck no longer has to go around without being covered by 120 karats in diamonds. For the record, she gets to keep the earrings—not the necklace. 
Totally decked out, Leslie sits down with Sean for dinner. As we can tell immediately from the lack of music, though, things aren't going well. "Tonight I'm hoping it will click," says Sean. Fact: no one on this show who's ever expressed a hope that things would "click" has ever seen that hope fulfilled. Things go downhill from there, as Sean asks Leslie a series of increasingly boring questions about what she's looking for in her next relationship. Poor girl: It's possible that someone could hear those questions and think: "This dude is totally into me." That's not the case, though: "Sometimes someone looks so good on paper but there's nothing there," Sean says. "She's a joy to be around, but the connection just isn't there. I want it to be there because I know Leslie is a phenomenal girl." Ah, but phenomenal isn't enough tonight. "Today was the perfect day for romance, and I wanted that romance to click," he says. That's it: Leslie's going home. At least she got some diamond earrings out of it, which is a lot more than most of the women will take home. "Some of the girls who have roses are not here for the right reasons," she says on the way out, stubbornly refusing to name names. "I want you to find your wife." So say we all, Leslie. 
With that out of the way, all we have left is the night's final cocktail party. Not many women make big moves tonight, but one of the ones who do is Robyn, who says she's been brainstorming to come up with a way get Sean's attention: "Kind of like when I fell out of the limo but less dramatic." Her chosen plan involves asking him three times if he likes chocolate and then planting one on him. It's a little too silly to be seriously sexy—Robyn's giggling doesn't help—but she remains a bright light this season, a sort of anti-Tierra force of tittering enthusiasm. Oh, speaking of: Tierra puts forth the most ridiculous, fake-sounding non-apology "apology" to Robyn, who seems so surprised by the gesture that she can't concentrate long enough to realize that Tierra isn't really apologizing at all. Thus fortified, Tierra goes back to Sean to shore up any weaknesses: "For some reason girls have a hard time accepting who I am," she says. It's the classic bad-girl "The Bachelor" defense: The girls may think I'm horrible, but it's only because girls always hate me. "I don't want any of the girls to come out and discourage you on me," she tells Sean. 
With that ridiculousness concluded, we have the rose ceremony. Selma and Tierra already have roses; with Leslie having exited, only one woman tonight won't be getting a rose. Sean reads the names: Catherine, Desiree, Lindsay, Lesley, Robyn, AshLee, Sarah, Jackie, and Daniella will be hanging around for at least one more week. It's Amanda going home. "It's going to be hard to get over Sean," Amanda says of a guy she's probably spent less than 24 hours with. We can only hope her heart heals quickly.