'Dexter': Deb breaks bad in Season 7 finale
Main character killed off, Hannah escapes prison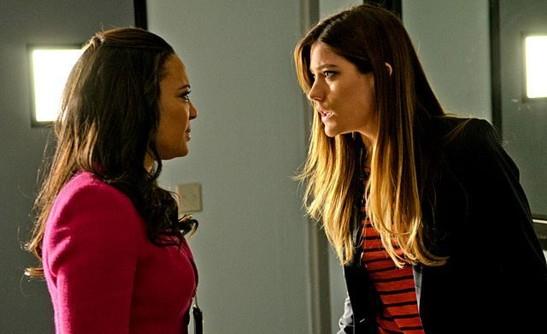 Dexter Morgan (Michael C. Hall) is no longer the most interesting character on the Showtime series bearing his name. He may have become a husband and a dad and learned some life lessons along the way, but a serial killer is what he's always been.
Deb (Jennifer Carpenter), on the other hand, began Season 7 as an honest cop and ended it last night as a cold-blooded killer. In the finale, titled "Surprise, (expletive)!" Deb murders LaGuerta (Lauren Velez) to prevent her from exposing her brother as a serial killer and Deb as his accomplice and chief of evidence-tampering.


Bing: More on "Dexter" | More on Jennifer Carpenter


Things were never supposed to get this hairy. LaGuerta's career is all Dexter is gunning for after she has him arrested for the murder of Hector Estrada (Nestor Serrano). She shows him the photos she snapped of Dexter carrying plastic bags to his boat. It was ice to keep any fish he caught cold, Dexter says, because his cooler broke. No, LaGuerta counters, it was a bag with Estrada's bloody shirt and wallet.


Yes, but the shirt and wallet were from Estrada's 1973 arrest. They're currently missing from evidence, and the wallet bears LaGuerta's partial fingerprint. Dexter has probably cost LaGuerta her badge. But her life is safe until she locates a final ace to play: surveillance video of Deb buying gas the night of the Travis Marshall killings. It shows her placing it in a can just a couple of blocks from the church just a couple of minutes before it burned.

And the news gets worse, as Dexter discovers upon breaking into LaGuerta's house. Warrants are about to be signed allowing her to track the GPS on his and Deb's cell phones the night of the Travis Marshall killing.


"This is bad, Deb," Dexter says.

"I don't want to hear you say that," she replies. "You always say that you can fix it."


The answer is lying in Dexter's trunk as they speak. It's his briefly escaped latest victim. Estrada will now become bait for the most dramatic setup in "Dexter" history. While Dexter has his mother's murderer taped to his death table, he has him phone LaGuerta and reveal his location: the same container in the same shipyard.


"No!" ghost dad (James Remar) objects. "LaGuerta's an innocent. She doesn't even begin to meet the code!"


Dexter doesn't live up to his end of his deal with Estrada, of course. After placing the call, the dude receives a knife through his heart instead of his freedom. And Dexter doesn't seem to care much about the code these days. When LaGuerta arrives, he sedates her and begins constructing a crime scene that will suggest that she and Estrada killed one another.


That's when Deb enters the storage container, gun trained on her brother. (She received a fix on LaGuerta's vehicle from Metro.)


"Dexter, you can't do this," Deb says.

"It's the only solution," he replies.

LaGuerta wakes up and begs Deb: "You have to end this… This is not who you are. You're a good cop. You're a good person. Put him down!"


Dexter, in an apparent rare moment of contrition, raises his hands and permits his sister to shoot him.


"It's true, everything she said," he  says. "You're a good person. It's OK. Do what you gotta do."


So she does.


But Season 8 will not be a happy stroll into the sunset for Dexter and Deb, and that's due to the Hannah (Yvonne Strahovski) complication.


Want more TV? Like us on Facebook and follow us on Twitter.

Dexter begins the episode with a visit to Hannah in prison, to tell her he still loves her and that, if there were any other way to keep Deb safe, he would have found it. Hannah admits to poisoning Deb (squashing a popular blogosphere theory that Deb had poisoned herself to set Hannah up) because "she was trying to prevent us from being together."


Hannah adds that they can still be together. If the pen she used to kill Sal Price somehow disappears from evidence, Miami Metro has nothing on her. But Dexter rejects the plan. He can never trust anyone who would try to kill his sister.


So what about that little secret she's keeping for Dexter? Is it still safe? Deb shows up to Hannah's arraignment. In private, Hannah tells her not to worry; she won't say anything. They wouldn't believe her if she did. But the conversation gains greater significance when Hannah calls Deb out on moral grounds -- and is right about it.


"How do you justify arresting me and not him?" she asks. "Or is the law just something that you make up as you go along, turning a blind eye whenever you feel like it or Dexter is involved?" (Deb's reply -- "You are a liar and a murderer!" --  is ironic since Deb becomes one, too.)


Dexter's secret indeed won't be revealed at Hannah's trial, and that's because Hannah won't be there. She thinks quickly and has Arlene Schram (Nicole LaLiberte) pass her some poison during a post-arraignment hug. Hannah develops seizures in the police wagon. In the hospital, she regains consciousness while handcuffed to a bed and escapes.


Dexter punctuates most of the episode with pronouncements of his continued love for the only woman who has ever truly understood him.


One thing is certain: Both Deb and Hannah will not be alive by the end of next year's series finale.


Season 8 of "Dexter" will premiere sometime in 2013 on Showtime.