'The Americans': Civil plights
Gripping 'Gregory' explores race, domestic betrayal and guilty consciences amid the Cold War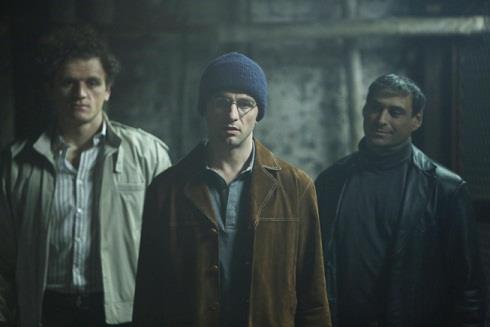 Last week
, Philip and Elizabeth worked as a team to infiltrate the U.S. government via delightfully analog technology, Bond-ian terrorist tactics and some good old-fashioned thuggery. And this being a show set in America but very much focused on our and the Soviet Union's mutually mercenary spy games, we got a glimpse at kindly
neighbor/cloak-and-d​agger
FBI agent Stan's ruthless means for haranguing intel. In other words, it was pretty sweet.
Tonight's episode served as another reminder that in 1981, as the country embraced new-wave cultural trends, it was also a mere decade or so removed from the height of our civil rights movement. That, and we discovered that Elizabeth's been engaged in a lengthy interracial affair that comes to light and drives a potential wedge between she and hubby. Plus, Margo Martindale's here!
So without further, "When hiring thugs to help protect our illegally procured anti-nuclear technology information, it's a requirement that they fashion an
'Eraserhead'
-like hairstyle," here are the five bits of insight we very much legally picked up while fixing our gazes on 'Gregory.'
Racquetball = Global Conflict
The opening scene featured Noah Emmerich's Stan taking in a little racquetball with Philip as a chance to corner him with metaphorical rhetoric about how the game's pace and pressure mirror life's little (and, wink wink, massive) challenges. We'll admit that the premise of Stan and Philip as neighbors is absurdly convenient and requires a huge leap of faith that it will pay off with high-wire tension. So it follows that setting the table with thinly veiled exchanges between them about struggle and dominance over a particularly elitist American game at which Stan has the obvious upper hand could come across as less than subtle. But, sure enough, Philip will get Stan on his turf soon enough, literal or otherwise, and we'll continue to better understand how both sides of this War choose to play the game.
The Racism Is On
If there's one comforting quality about our government's contemporary intelligence agencies, it's their relative fluency in the cultural anthropology and language of other nations (even if they don't always use that knowledge considerately). But if "The Americans" is any gauge, G-Men circa 1981 couldn't even distinguish between Western-Latino populations. While evaluating whether slain Directorate S operative Robert's Puerto Rican wife, Joyce Ramirez, could be KGB, one privileged FBI insider sincerely asks, "Ramirez, what is that Mexican?" Oy. Elsewhere, the climate of uneasy racial coexistence bears down on Elizabeth's recruit (and, as we quickly learn, her longtime lover, much to Philip's dismay), Gregory, who peers nervously around at white cops while on a reconnaissance mission. Gregory, who met Elizabeth at a Southern Christian Leadership Conference meeting in support of Martin Luther King Jr. 15 years prior, is all too aware of how he'll be regarded by the courts if caught. He may not have a family like Philip and Elizabeth, but he has plenty to lose.
Dangerous Margo
As was discussed over
at our sister blog
, TV Buzz, the other day, Margo Martindale is a badass. And her character of high-level KGB operative "Grannie" (a hilariously default, derisive nickname suggested by Philip) might give
"Justified"
crime boss Mags Bennett a run for her apple-pie moonshine. Grannie is in D.C. to replace Gabriel, who provided information and instructions to Elizabeth. But she's a tad more hands-on than her predecessor, stalking Philip and his family to make sure he's following orders, threatening him with violence if he transgresses and eagerly taking poor Joyce to her inevitable death. It's a good thing for audiences that "Justified" helped elevate Margo to must-have status, because she musters up a whole new kind of menace.
Also, Matthew Rhys is Awesome
We've proselytized about how unexpectedly great Keri Russell's been and now given our three cheers for the Divine Ms. Martindale, but how about some love for the fellas? 
Derek Luke
 is a magnetic 
counterpart/adversar​y/ally
 to Matthew Rhys' Philip, delivering a Mos Def-like harmony of poise and substance. And then there's Rhys himself, who in some ways plays the straight man to Russell's emotional volatility, but also slips into Philip's many guises with a naturalness that's essential for the era's low-tech mechanisms and captures a simmering brutality and exhaustion with clipped turns of phrase. While analyzing how a coded message arrived from late comrade Robert via a classified ad, Elizabeth sarcastically wonders whether it was sent from the grave. Philip, ever-tired of his nation's increasingly shadowy methods, dryly quips, "We've yet to perfect that technology far as I know." And when a cocky Gregory confronts him about the depth of his affection for Elizabeth, imploring him to set her free from their arranged union, Philip coolly shoots him down with a rhetorical, "You don't have a family, do you Gregory?" Oh, and he also threatens to kill him moments later. Gregory knows Philip means it, even if he rightly detects Mr. Jennings' vulnerability. We get all that from Rhys. 
Music Makes the Bookends Come Together
OK, 
David Bowie
's "Young Americans" was slightly on the nose for a show called "The Americans" that takes place just a few years after his album of the same name commandeered the charts. Not to mention while Philip is literally at a diner with his young, American daughter. But the quivering sounds of Bryan Ferry and Roxy Music's aptly titled "Sunset" during the closing minutes, as Stan descended on Joyce's force-overdosed corpse inside an abandoned sedan, were pitch-perfect. Thus far, "The Americans" has chosen slightly neurotic songs that narrowly pre-date its period, reflecting how this show's 1980s are more hangover from mid-century jitters than onset of mindless self-indulgence. And after last week's fairly muted affair, the rejuvenated jukebox provided a welcome atmosphere.
"The Americans" airs Wednesdays at 10 p.m. ET/PT on FX. And don't forget to check back here every Wednesday after each episode for the five things we learned that week, and feel free to share your thoughts and reactions in the comments below.