'The Amazing Race' leg 7: To Russia with love
Assorted disasters befall three of the teams en route to and in the city of Moscow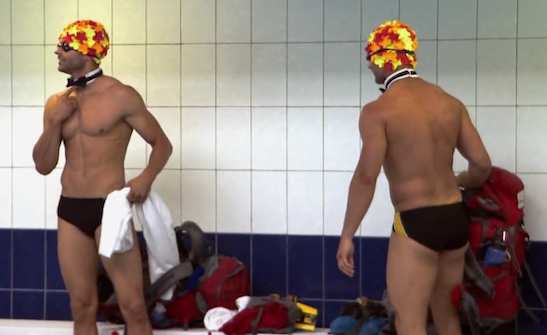 Previously: The monster truckers made one bad decision in Istanbul—taking the subway instead of a taxi—and got kicked out of the game for their trouble. 

Tonight: Our time in Istanbul was much too short—and we're already off and on our way to Moscow. Trey and Lexie are out first, and for some reason—perhaps the wedding-themed challenge later on—this is the episode where we get to hear Lexie try to pressure her boyfriend into marrying her. This is seconds after they talk about how even though they've been going out for nearly three years, they haven't spent that much time together and are using the race to get to the "next step" of their relationship. Fact: If you're using a reality show to get to the next step of your relationship, there are many, many steps between where you are and marriage. Nonetheless: "Probably there'll be a ring on my finger pretty soon," Lexie says. "Easy," Trey says. 
They're the first team to the airport, where they confront what is an unusually wide array of options for getting to Moscow and which is complicated by Lexie going to the Alitalia desk instead of Aeroflot (a situation remedied by a trip to the airport's Popeye's.). These boil down to: a KLM flight connecting in Amsterdam that arrives at 2 a.m., a Turkish Airlines flight connecting to Aeroflot in Frankfurt arriving at 3:40 a.m., and then another Turkish Airlines flight, which connects in Munich and arrives at 4 a.m. The goat farmers find yet another option, connecting in Athens, that arrives at 5 a.m.—and it comes down to a coin-flip: They'll take the Frankfurt flight, which has just an hour-long connection, along with Abbie and Ryan. 
This quickly becomes the two teams' nightmare scenario, as their flight is stuck on the ground in Istanbul and arrives an hour late—the sum total of their layover. As they deboard, they have three minutes to make their next flight—which we know they won't as soon as Ryan announces that they're looking for gate D5. (It just sounds far.) They don't make it—and since it's the middle of the night, they'll have to wait until morning to fly out. It's easy to say now, but
clearly—clearly—they​
should have taken the later flight. A million times over, we've seen (as we will tonight) teams camping out in front of an attraction that doesn't open until morning. So getting in at 2 a.m. rather than 3 a.m. (or even 5 a.m.) might not have made enough of a difference to warrant a coin flip. Stuck in Frankfurt, the two teams find out that they won't be arriving in Moscow until 3:10 p.m.—about 12 hours behind everyone else. Since the sculpture park where they'll find their next clue doesn't open until 9:30 a.m., they're around six hours behind the pack. 
Speaking of: The four leading teams are in Russia, waiting for the sculpture park to open—and it's in front of some Russian busts that they find the next clue, leading them to Mostvoretsky Most. James and Abba arrive first, to review the Detour: Alphabetize (which involves finding Russian books in a 24-million-volume library using their Cyrillic names) or Synchronize (a synchronized swimming task that involves the same sort of dance-fever precision that nearly did in Mark and Bopper in Bombay last season). The rockers head for the Russian State Library, along with the Texans, while the Chippendales go for the swimming. The library teams are helped out by the fact that they don't need a taxi, but the twins, opting for Synchronize, do—and the drivers don't want to pick them up. "It's because we're brown," Natalie says. Judging that they've lost an hour, they discuss the wisdom of using the Express Pass. 
At the pool, the Chippendales emerge in flowered bathing caps and the bow-ties from Vegas, while the gold-medal-winning Russian synchronized swimmers laugh at them. "There's a whole pattern you're supposed to be in, and we weren't even close," Jaymes says. There's a lot of red text pointing out "flips out of sync." The twins arrive and are further baffled by their instructor's lack of familiarity with English. They get a lot of buzzers and thumb-down from the judge, who acts like the diving version of a Russian ref from "Rocky IV." They're ready to bail and just use the Express Pass, until Jaymes talks them out of it, reminding them that the Abbie and Ryan and Josh and Brent might not even be in Russia at this point. Meanwhile, at the library, we have two very different reactions to the task: James and Abba seem to take one look at the giant card catalogue and the unfamiliar alphabet and take off, while Lexie and Trey stick it out, eventually getting the hang of the letters. They're the first team to head to the next task, at Luzkhov Most.
A billion hours behind, in Warsaw, Josh and Ryan shake hands: They decide the two teams will face their tasks together. "At this point there's really no point in even racing these guys," Ryan says. 
While the Texans and the Chippendales arrive at Luzkhov Most to tackle the Roadblock, where they have to unlock 10 keys strung along a ribbon—it seems pretty straightforward and just involves "unlocking things," as Natalie puts it—the rockers make their way into the pool. ("I'm already afraid," the judge says.) Seemingly as they do so, Trey and Lexie check in at the Pitstop, the Bolshoi. "How in love are you on a scale of 1 to 10?" Phil asks them, which is definitely the most diabolical question in the history of Pitstop questions. The Chippendales are second, while the twins are third. 
At long last, the two trailing teams arrive in Moscow and then at the Sculpture Garden. At 
Mostvoretsky Most, they confront the same choice as the other teams—but right as they choose the library, they realize they can't do it, since it closes at four. They head for the pool, where James and Abba are, after "10 or 20 times," finally finishing up. Abbie (a professional dance instructor) and Ryan seems supremely well suited to the the swimming task. Not so Josh and Brent, who have long (and with good reason) feared the pool. Josh basically has to teach Brent to float, so you know they're going to have some problems here. "He's not even swimming," the judge says incredulously. "He's like a buoy." Abbie and Ryan, who have
uncharacteristically​
decided to pair up with another team, stick by their pact—and sit and take a seat to watch even after they've finished the challenge. 
Unbelievably, Josh and Brent might be better off than James and Abba. Having safely arrived at Luzkhov Most for the keys challenge, they go back to retrieve their bags from their cab. Unfortunately, their cab's gone. And with the cab, their bags. And Abba's passport, which is the real problem. They look around for the missing cabbie to no avail, then return to finish the key challenge and on to the Bolshoi, in a new cab. "Where's he going?" Abba asks. "A back alley to slit our throats and kill us?" They show up at the Pitstop—only to learn that Phil can't check them in without both their passports. 
And so: With James and Abba severely hobbled, the goat farmers struggling in the pool, and Abbie and Ryan six hours behind the other teams...we're to-be-continued.