'The Vampire Diaries': Wild things!
On the hunt for the cure, Elena and the gang take a walk on the wild side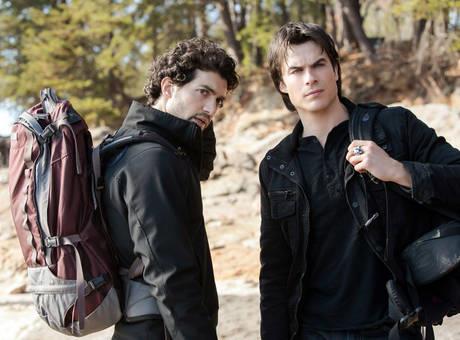 Last week on "The Vampire Diaries," Elena put into action her plan to have her kid brother-turned-vampi​re-hunter Jeremy kill the Original Kol, therefore eliminating Kol's entire bloodline and insta-mapping Jeremy's body, which would then lead them straight to the grave of one long-buried Silas – and the cure.

Two catches: the plan's success meant that Elena and her merry crew had just brought down upon themselves the wrath of a really, really mad Klaus, who'd had his own plans for his now-really-dead little brother. And the tentative alliance that was struck between Stefan and Rebekah (and, let's face it, built on sex) could come crumbling down in the wake of the fact that he'd gone forth with the plan without telling his new sidekick. Oh well.
Bing: More on "The Vampire Diaries"
This week began with an unknown figure on the run through some rugged terrain until he came to a cave. A dread-headed man seemed to be chasing him, but the guy lost him as he jumped into the depths of darkness. He shone his flashlight onto some markings in the cave – in English. And then we realized he wasn't alone.
Cut to Shane not in the cave, but rather on the shore – and Elena, the Brothers Salvatore and all the others close behind. "Couldn't they have hidden this cure in Hawaii?" Damon asked.
Nope. They were 200 miles of the Nova Scotia mainland – on what was apparently the most desolate island on Earth. Hope it's a big island, because things between Elena and Stefan's new gal pal were uber-tense. When Elena attacked with the white oak stake, Rebekah bit back: "Go ahead, try and kill me, but then you'd have to face your real problems," Rebekah said. "Like the fact that Stefan invited me here himself. I guess he likes me again."
Damon reminded Elena that Stefan was just using Rebekah to mess with their heads. They had to focus on the end game: the cure. Elena asked him if he would take it.
Bonnie, meanwhile, was having a grand old time tracing the map that marked Jeremy's hot bod, looking for the hidden spell. She couldn't keep her hands off him! And who could blame her. Oh, but she was also saying something about the whole Silas story. What was it again? Some smitten witch named Katsia whom Silas had asked to make an immortality spell. She did it, then found out Silas planned to use it on another woman. So she buried him alive for eternity instead. A really long time ago.
So what did all that have to do with Jeremy? An impatient Shane explained: Katsia had buried the cure with Silas, hoping he'd take it and die. But he never did. So she'd created the Hunters to find Silas, cure him, and kill him.
The ragtag crew started off on their hike, Shane leading the way. Lucky they were mostly supernatural, it was an intensive hike and they were all getting cranky. Shane entertained them with legends about a magic well in the caves, one that would let the miners see their lost loved ones. He told them his wife and his child had died within months of each other – and that sent him looking for magic himself.
Flashback to that first shot in the cave again: Shane slicing open his hand, dribbling blood down into the depths of the cave. And the female voice, calling his name, beckoning him down. On his climbing ropes, he descended, nearly killing himself on the way down. But there, he said, "I saw my wife. My blood let me see her again."
Back in Mystic Falls, Klaus was stuck in the Gilbert house – still trapped in Bonnie's little force field. And he was pissed. He promised Tyler he'd kill him – and all of them, really – as soon as he was free. But Tyler told him his pals would be back with the cure by then. Tyler couldn't wait to shove the cure right down Klaus's throat. His theory: as soon as Klaus was cured, his sire line would cease to exist. And he'd be free. "I could kill your ass and no one else has to die," Klaus said. "Although I am still debating just how to do it."

Klaus told him he should try drowning. "But let me tell you," he taunted, "your mother was a fighter!"

Back on the trek, Jeremy was tired. "A magic well, seriously?" he said to Elena. "I don't know. "We've all lost someone. I'd take the chance to see them again." Just then, he was nearly shot by the native's arrow. But instead, someone got the guy with a knife. Maybe the dread-headed man?
Then Shane led them to an abandoned cabin – where apparently a group of college campers had all been found dead, completely drained of blood. "Tragic for them, brilliant for us," Rebekah said. Damon suggested they press on, especially given the random man with a hatchet, but Shane said it was unsafe to keep hiking through the night. Besides, didn't Damon have the most to lose if they didn't find the cure, Shane said pointedly.
Want more "Vampire Diaries"? Check out our episode guide. 
Elena, of course, overheard. "Do your really think I'm going to take this cure, break the sire bond and fall out of love with you?" she asked a mopey Damon. But Damon said they couldn't be sure. "This cure is going to change so many things: Jeremy's not going to want to kill me anymore," Elena said. "We'll finally be rid of Klaus. Bonnie's mom isn't going to be a vampire, and anyone who wants to take the cure is going to have that option: Caroline. Stefan. You. If you want it." Yep, Damon agreed, "all unicorns and rainbows."

But Elena said it wouldn't change everything: "Not my feelings for you." 
Caroline showed up at the Gilbert house, annoyed with Tyler for mocking Klaus. "Don't stoop to his level." So she said if Tyler was going to stay, he'd help her clean up. Starting with Kol's corpse.
Klaus tried negotiating. Said they were even. "How delusional are you? I will never, ever help you," Caroline said. "You are not even worth the calories I burn talking to you."

So, irritated, Klaus grabbed Caroline and took a bite. "Now that was definitely worth the calories." Ouch. Caroline was bleeding, afraid to die. "The only thing that can heel me is his blood," she told Jeremy. So Tyler tried negotiating. "Beg me to save her life," Klaus said. "Fine," Tyler said, "you win. I'm nothing. Please save her life." But Klaus wasn't letting it go that easy. "I'll be your slave again," Tyler said. "I'll do whatever you want. Just help her." But Klaus refused. So Caroline asked Tyler to take her away.

Stefan and Rebekah sat cozy around the fire, with her jumping every time they heard a noise. "You do realize you're an Original vampire, right?" he said. "Which is precisely why you should stop teasing me," she responded. "I'm very powerful." Then she asked him what he'd do when they found the cure. Go running back to Elena? He turned the question back on her. "Isn't it obvious?" she said. "It's all an act, Stefan. I'd give anything to be human, normal." Stefan said that if he took it, it wouldn't be for Elena. Not anymore.
Plus: Reunited! It could feel so good! 
Bonnie told Shane she couldn't figure out the spell. Shane said he would help her through it – the expression. Then he said that his wife had gone a bit crazy with it once their son died. Wait, Bonnie said. "You taught me the same magic that killed your wife?" Damon was beyond annoyed. "You've turned her into a bomb that only you can dismantle." But Shane pointed out that Bonnie had to keep him alive, so he could keep her alive.
Jeremy awoke from his slumber, roused by a shadow. The dread-headed man. When morning came, the others realized that he was MIA. Damon walked in to see Shane on the phone – the one that had apparently cut out. Shane told him more about his wife and the cave – and Silas. "If you set him free, you'll help those who have helped him," his wife had said. "She explained everything I had to do." And he mentioned that the kin of Katsia had to do the spell. To which Damon replied: "Bonnie Bennett's related to this crazy ass witch?" And given the fact that Bonnie was pretty much setting the whole woods on fire, I'd say yeah. The fire was cutting a path through the forest – leading her straight to the cave.
The troubled trio of Elena, Stefan and Rebekah were hunting for Jeremy – and bickering. But when Elena nearly got impaled by the branches of a tree that seemed to attack out of nowhere, it was Rebekah who saved her. 
Damon continued to interrogate Shane. And Shane revealed more and more of the story – about all the sacrifices of 12, that they'd die and be resurrected. He had told his wife he couldn't do that, but she'd made him believe. She told him he just had to convince others – and they'd do it for him. That's when Damon realized: "You brought all of us out here to complete massacre number three." Instead, Shane turned things on Damon again – by broaching the whole Elena scenario. "Have a modicum of self-respect. Don't stay here and watch Elena walk away from you." Damon knew Shane was playing him. So he reminded Shane of one thing: "I don't give a crap about Bonnie Bennett." But before he could kill Shane, Elena to the rescue.
Elena ran back out after Elena, and he told her didn't want her to be cured. "Say you become human and you still love me, then what?" he said. But Elena said she wouldn't let him push her away. "Take the cure with me. That's how much I know this is real. That's how certain I am that I'm going to love you even after this is over. Be human with me. We can grow old together and this doesn't have to be hard anymore." But Damon said: "That's not me, Elena, that's Stefan. I used to miss being human. But now I can't think of anything more miserable on Earth."
Caroline was suffering, the bite getting worse. Tyler asked if she trusted him. Then he brought her back to the Gilbert house. "You want to be in control, Klaus," he said, laying her down in front of the man, "then you get to be in control. You watch her die." Then he stormed out. To Caroline, Klaus said, "If I cure you, that means victory for him. Don't worry. It won't be long now. You'll die. And Tyler will have learned his lesson the hard way." When Caroline asked why, he said, "I'm 1000-years-old, call it boredom. Or maybe I'm pure evil." But Caroline had a theory: "You're hurt. Which means there's a part of you that's human. I've seen it. Because I've caught myself wishing I could forget all the horrible things you've done. I know that you're in love with me. And anybody capable of love, is capable of being saved." But she said she'd never know. And as she took her last breaths, Klaus fed her his blood, and healed her again. 
Stefan and Rebekah marched on, and he saved her from another tree. They nearly kissed, and she confronted him about Elena. "Why do you all assume I hate Elena so much? You all seem to forget that Elena's death was the only way for me to save my family. I did the same thing that any one of you would have done to save the people you love. And before you cast me as the bad guy, maybe you should remember that Elena's helped to kill not one but two of my brothers. Maybe we're not as different as everyone's making us out to be."

When Rebekah and Stefan got back, Elena was on the hunt for Bonnie, who was long gone. So was Shane. And the tombstone. Rebekah turned on Elena, blaming her, thinking it was all a ploy again – that Stefan was in on. But he told her he wouldn't do that. He'd spent the last 150 years lamenting his life as a vampire. "This cure ends that. It ends the guilt. It ends the suffering. You think I would jeopardize that." Elena offered her the White Oak Stake – a peace offering. "Us three, right here, this is all we've got," Elena said. "So we're either in this together, or it's over. For all of us."
Dread-head had Jeremy, and led him to Shane. Then Bonnie appeared, confused about how she'd gotten here. "So," Shane said. "The gang's all here. Silas awaits."
Damon, alone in the woods, was attacked by a blond man – one with marking not unlike Jeremy's. "You're one of the five," Damon managed to say, just before the dude broke his neck.
"The Vampire Diaries" airs Thursdays at 8 p.m. ET/PT on the CW.