'Downton Abbey:' Clean sweep
Tom and Edith accept new jobs, Thomas has a near miss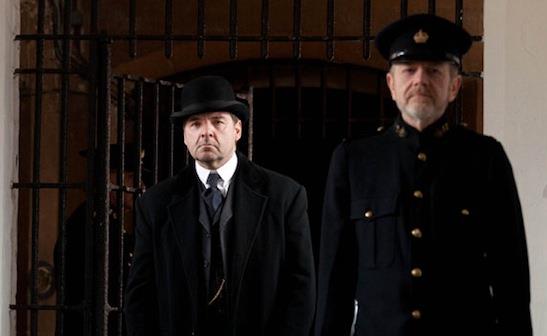 The episode opened with Bates' release from prison at dawn. He and Anna had a tearful, romantic reunion outside the prison gates before they drove back to the abbey. Everyone was overjoyed to see him at Downton – except for Thomas, a.k.a. Mr. Barrow, Lord Grantham's current valet.
Bing: 'Downton Abbey' | More on Brendan Coyle
Robert and Matthew met with Mr. Jarvis, the estate agent at Downton. Matthew put his foot down and insisted that the estate become self-supporting. He decided to invite Mr. Murray, the family lawyer who helped free Bates from prison, to consult with the three of them. However, Jarvis resigned in highly melodramatic fashion as the meeting began: "I am the old broom, Mr. Crawley, and you are the new," he said to Matthew. And to Robert, "I wish you luck with your sweeping, my lord."
Lady Violet went to see Isobel Crawley to persuade her to send Ethel away. The dowager countess – rather sensibly – suggested that Ethel might be better off living somewhere else than where she worked as a prostitute, and that she shouldn't be used as a tool for Isobel's crusade against the old ways of the village. Isobel started to see Lady Violet's point after Ethel reported that a village shopwoman refused to serve her. Unfortunately, Lady Violet took it upon herself to place an ad for employment on Ethel's behalf, which angered Isobel. She was persuaded to see it Lady Violet's way by Edith and Mrs. Hughes, who agreed that a fresh start somewhere else would be the best thing for Ethel.
Edith decided to pay a visit to the London editor who had offered her a column. Matthew was supportive, whereas Edith's father was firmly set against the idea. When the issue came up again at dinner Isobel championed the idea – and so did Lady Violet. Unfortunately she made it clear that she thought that Edith might as well have a career since she was an old spinster.
Edith met with the editor, Michael Gregson, at his offices in London. He asked only that she make up her own mind about the column, not follow her father's advice, and invited her to lunch for the following day to hear her answer to his offer. He was a slightly awkward older dude, totally the Sir Anthony type. Lunch quickly got flirty, though Edith might not have wanted to lead with the fact that she had just been jilted at the altar.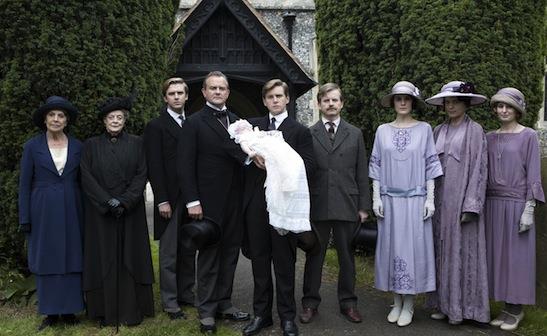 Tom arranged for his daughter to be baptized at a Catholic church near Downton, and asked Mary if she would be Sybil's godmother. Mary agreed, and insisted that Tom's brother Kieran, who would be Sybil's godfather, stay at the abbey rather than in the village. Kieran immediately made it clear that he was more comfortable belowstairs than with the gentry. Tom, however, insisted that he join the formal dinner upstairs. Kieran's rough manners and revolutionary spirit did not impress the family, but Tom's heartfelt plea for them to all attend the christening did. By the time of the christening Cora and Lady Violet had convinced Robert to make Tom Downton's new estate agent to keep him and Sybbie at Downton.
Life was looking up for the Bateses and the Crawleys, but there was quite a bit of drama for some of the servants. Poor Alfred spilled what looked like lobster tails onto Lady Violet's lap at dinner, ruining his chance to impress the family. Later that night, he and Ivy went to a Lillian Gish movie along with some other servants from the village. Alfred got flirtatious with Ivy, who pulled back. Unfortunately his next move was to tell her that James wasn't interested in her. Ivy wasn't having it – "I'd have to hear it from his lips."
O'Brien took her plot against Thomas to the next level by pulling him aside and suggesting that Jimmy was into him. "You make a cozy couple, I must say," said the crafty broad. "Alfred says he's always going on about you, silly, sloppy stuff." Her smile after Thomas walked away was chilling.
Later that night Jimmy came into the kitchen and chatted with Thomas. After he went to his room O'Brien once again tried to convince Thomas that Jimmy was hot for him. A plan that evil has to work – Thomas sneaked into Jimmy's room, where he was asleep. Just as he bent down to kiss him Alfred came home, and the scene turned farcical, with all three men yelling. Jimmy threw Thomas out of the room, but not before Mr. Carson arrived on the scene.
Tensions were running high at the staff breakfast the next morning, and by dinnertime O'Brien had convinced Alfred that he needed to tell Carson what had happened. Carson, to his credit, told Alfred that what he had seen was no big deal and that he needed to grow up a bit. Thomas apologized for his mistake, and insisted to Carson that Jimmy had nothing to do with what happened. Of course, Carson still had to fire Thomas, both because he had caused a bit of a scandal and because Bates was ready to resume his duties as valet.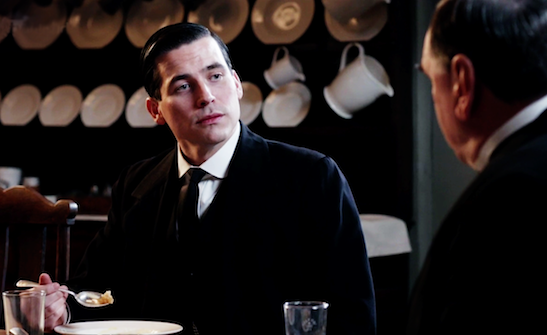 Thomas took the quietly, though he did explain to Carson that his homosexuality was not "foul." Not content with getting Thomas fired, O'Brien suggested to Jimmy that he go to the police about Thomas' overture. He tried Carson first, asking to read Thomas' letter of reference. Carson refused, but realized he would have to bend to James' will if he wanted to keep the police out of things. Carson warned Thomas of Jimmy's intentions, and agreed to let him stay on at the abbey for a few days until he could figure out what to do next.
Thomas found an unlikely ally in Mrs. Hughes, who was in no way disgusted by his homosexuality. She went to Mr. Carson and suggested that Jimmy's behavior wasn't the greatest and that Thomas shouldn't be held responsible for what happened.
Anna and Bates finally got a cottage of their own. It will need fixing up, but for the first time since their marriage they will be able to live together. A pale, tearful Thomas came to see Bates at the cottage, talking about how he envied him because he was home and everyone was so pleased for him. Bates suggested that Thomas try being nicer, and Thomas wryly observed that it was being nice that got him into trouble. When Bates pushes him to explain further he leaves. Bates may not like Thomas, but he sure likes justice. While he and Anna were painting their new cottage Bates pressed her for information on the whole affair. Anna wasn't as helpful as Mrs. Hughes, who spilled everything.
Bates spoke to Lord Grantham about the matter, even telling his boss that O'Brien was behind the whole thing. He also spoke to Thomas again – trying to get him to stand up for himself – but Thomas didn't rally. Bates never gives up. He invited O'Brien to tea at the cottage with him and Anna and insisted that she tell James to back down. He whispered something in her ear – we didn't hear what – and O'Brien caved. She told James to back down and he reluctantly agreed. Thomas will remain "Mr. Barrow," since he stayed on at Downton as an under-butler.
The Crawleys were gearing up for the house vs. village cricket match. Tom confessed to Robert that he didn't know how to play, while Mr. Mosley talked up his cricket skills to the staff. Lady Violet's great-niece Rose came to the village for the match and quickly revealed herself to be a troublemaker.
Rose tagged along to London with Edith, who was meeting her editor to go over her column. Edith's piece on unemployed soldiers impressed Michael Gregson. He asked her out to dinner, but she declined, since she had already promised to have dinner with Lady Rosamund. By the time Edith got back to Rosamund's it was clear that Rose had run off. A cab driver was able to tell the family that Rose went first to Warwick Square to pick up a friend – for two hours! – and then on to a jazz club. Matthew, Edith, and Rosamund went to the club, which Matthew compared to "the outer circle of Dante's inferno." They come upon Rose making out with her date, who is clearly a married man. Matthew pulled Rose onto the dance floor and offerd to intervene on Rose's behalf with Rosalind if she gave up on the guy.
Mary went to London overnight to see a doctor, making Ethel promise to keep Matthew in town until after her return. Of course, Matthew does what he wants and ended up at a fertility specialist, where he promptly ran into Mary. Mary told him that their fertility issues had originated with her, and that she'd had "a small operation." She had gone to London to see that all was well, and it was. It was clearly a relief for Mary to come clean to Matthew.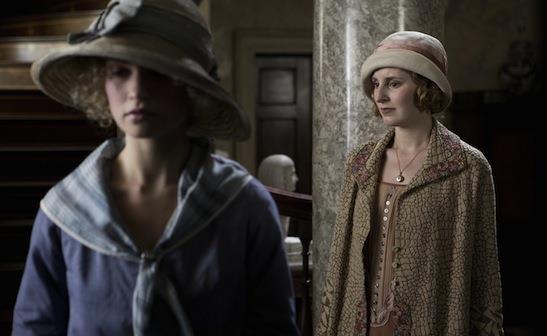 Upon everyone's return to Downton, Edith told Rose that she "had obviously read too many novels about young women admired for their feistiness." Unfortunately, Lady Violet overheard the two of them talking. She called Rose's mother and convinced her to send the girl to Scotland. Lecture to Rose aside, Edith must have been feeling a bit rebellious after hitting that jazz club. She called up a London exchange to inquire about the personal life of Michael Gregson!
Edith then went back to London to address the issue head on. She asked Michael if he had been flirting with her, and then told him she knew he was married. Michael told Edith that his wife was in an asylum and that he was unable to divorce her due to her mental instability. (Isn't this supposed to be 1920, not 1820?)
Isobel Crawley spoke to Ethel about leaving the village to take a new position. Unfortunately, none of the answers to Lady Violet's advertisement suited Ethel – there was one that sounded nice, but it was too near the village where her son was living – and so she decided to stay after all. Lady Violet was sympathetic when she heard from Isobel that none of the positions were quite right. She invited Ethel and Mrs. Hughes to tea, and Mrs. Bryant, Charlie's grandmother, was also a guest. Mrs. Bryant told Ethel that she would be happy to have her nearby, that she had never felt right about separating a mother from her son.
Matthew and Tom continued to try to pull Lord Grantham into the twentieth century. Matthew wants Downton to be self-sufficient, whereas Robert would just as soon keep investing the capital of the estate and hope it pays off. Things got heated, though the fact that Robert mentioned Charles Ponzi as a brilliant American investor did not help his case. Matthew lost his temper and accused Robert of ruining the family through his investments. Tom then pointed out that his and Matthew's plan was in the best interest of the farmers. Cora ended up settling the matter: she told Robert that Matthew was right, that the estate needed to make a profit on its own. Robert took it hard, saying that even his wife clearly thought it was time for him to take a back seat at Downton.
Tom tried to play peacemaker between Robert and Matthew, suggesting that Robert's part to play was in sharing what he knows about the tenants on the estate. Robert agreed to think about it on the condition that Tom take part in the cricket match. Matthew taught Tom how to bat, and Mosley turned out to be terrible at cricket. Unfortunately, the police arrived at the cricket match just as it was getting good. It turns out that Alfred had tipped them off about Thomas. Robert talked to him, pointing out that homosexuality wasn't Thomas' choice, and convinced Alfred to tell the police that what he saw was rough-housing.
Tom came to realize how much the Crawleys love his daughter and told Cora he'd like to stay at Downton until Sybbie is older. As Robert and Matthew walked onto the cricket field, Robert finally agreed to support Tom and Matthew's plan for a leaner, more modern Downton.
Downton Abbey airs Sundays at 9 p.m. ET/PT on local PBS affiliates.