'Downton Abbey:' Bonfire night
Tom Branson's political zeal puts him and Sybil at risk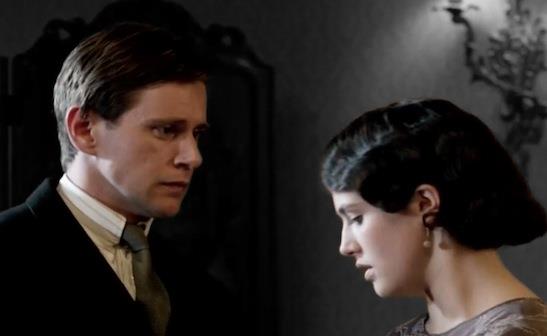 Fire, infamy, a couple of new servants, and a toaster that was less-than-user-frien​dly for Mrs. Hughes added up to quite a bit of drama for the Crawley household. Tom and Sybil's marriage was tested as he went on the run from the law.
The episode opened with all of the servants having tea in the kitchen while Mr. Carson distributed the mail. Anna was clearly distressed not to have heard from Bates, who seemed similarly distressed not to have heard from his wife.
Bing: 'Downton Abbey' | More on Allen Leach
Bates' prison buddy (whose motives are still completely unknown to us) told Bates that his cellmate had reported him as a dangerous prisoner, meaning his mail and visiting privileges were suspended. Bates seemed incredibly relieved that Anna wasn't moving on with her life, and by the end of the episode was able to turn things around such that Anna received a whole pile of his letters just as he received a whole pile of hers.
You'd think Bates being locked up with a threatening cellmate would be all the danger this show would need, but you'd be wrong. At the beginning of the episode Edith received a breathless call from Sybil in Ireland, who didn't say much more to her sister than that she had "gotten out and no one stopped her" before hanging up.
While the family was at dinner with some Church of England muckety muck a very wet Tom Branson arrived at Downton. He told the family that a castle outside Dublin was burned to the ground by a group of rebels, and that the authorities think he was involved. 
"You seem to know an awful lot about it for someone who wasn't involved," Mary observed tartly. Tom's story was that he was at the scene of the fire, but not one of the instigators. Guilty or not, he fled to Downton ahead of Sybil to avoid being detained in Ireland.
This is really the first time the show directly addressed the Irish War of Independence, which had been raging for over a year. The episode was set in June, 1920, just a few months after the tide turned for the Irish Republican Army when they burned most of the British barracks and tax collection offices in Ireland. The reprisals from England were stiff, and Ireland was in out and out turmoil. Of course hotheaded, idealistic Tom was in the thick of things, pregnant wife or not. It was only a matter of time before he burned down a castle (or, if you believed him, stood around feeling sad for the rich while other his buddies burned down a castle).
Although Lord Grantham was furious at Tom for abandoning Sybil to travel back to England alone he agreed to help Tom by reaching out to his contacts in the Home Office. As long as Tom and Sybil remain in England the authorities will not seek them out, but if Tom were to set foot in Ireland he would be arrested. Although Sybil was perfectly happy to stay at Downton, at least until after her baby is born, Tom wanted to take his chances back in his native land. It wasn't clear at the end of the episode whether Tom had decided to stay for Sybil and his unborn child or not. This is clearly a storyline that's just getting started.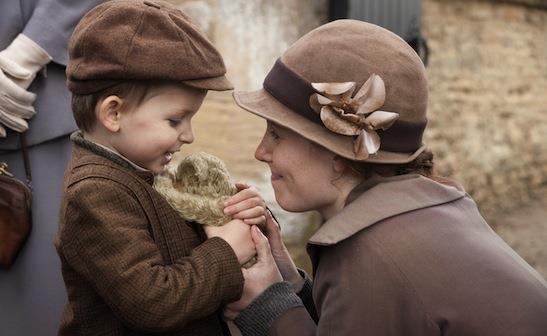 We did see one loose end tied up in this episode. Ethel – in case you've forgotten, she's the former Downton housemaid who got pregnant by an officer stationed at Downton during the war, who has since died – sent Mrs. Hughes a letter through Isobel Crawley asking to meet. The heart-to-heart took place at the cottage, and Ethel told Mrs. Hughes that she'd like to send her illegitimate son Charlie to live with his grandparents. Isobel tried to convince Ethel that her love would be better for Charlie than going to a famous university, but she was unmoved. Rather than accept Charlie's grandparents' offer of money, she sent her son away with them.
Robert and Matthew have already begun to clash over the running of the abbey. It's clear that Matthew wants to modernize and streamline the running of the household whereas Robert wants to keep things much the same. Matthew went to Lady Violet to ask her advice on how to improve the management of the estate without "putting people's noses out of joint." That good lady made it clear that it would be impossible to make changes without offending anyone, but seemed to approve of his spirit of reform. If that wasn't enough bad news for Matthew, Mary made it clear to him that she wanted to wait to start a family.
Edith cheered up a bit and decided to dedicate herself to the suffragette movement. We've only seen her write a letter to the newspaper, but I'm still hoping she decides to pay her grandmother a visit in the States. Cowboys, votes for women, no one who jilted her hanging around the village, what more incentive does she need?
No episode would be complete without at least one of Lady Violet's soul-crushing one-liners. Her best, most biting remark came just after Mary remarked on the handsomeness of Downton's new footman. "He looks like a footman in a musical revue," she snarked. James, a.k.a. Jimmy, was not the only new addition belowstairs. The household also took on Ivy, a new kitchenmaid, who caught first footman Alfred's eye right away.
Downton Abbey airs Sundays at 9 p.m. ET/PT on local PBS affiliates.