'Dancing With the Stars: All Stars': Trios of partners, double the 30s
Melissa Rycroft and Tony Dovolani hold onto the top spot with two sets of perfect scores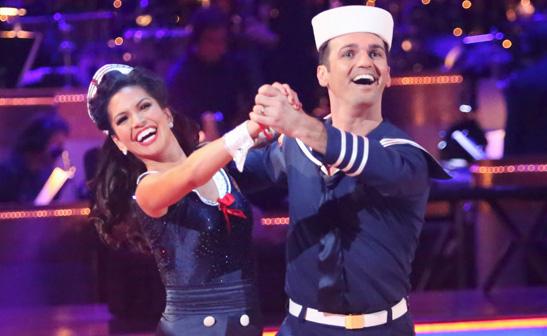 This week saw the combination of military-themed routines in honor of Veterans Day and a "trio" round where the stars and their usual partners added a third player to the mix. (Funny enough, none of these routines were military-themed). It was a round with some high highs and low lows, and since this is a double elimination week, the pressure was on. Scores carried over from last week, which meant we were scoring out of
100 points
. I think poor Brooke Burke-Charvet had to conduct long interviews with the stars who had just danced because there was some frantic math going on offstage.
Bing:
More about 'Dancing With the Stars: All-Stars'
|
Videos:
Watch clips and more
Melissa earned two perfect scores, and Emmitt got straight 10s in the trio round. Kirstie, on the other hand, had a rough night. She started out strong with a Viennese waltz that Len called her best dance to date, but her trio paso with Maks and Tristan MacManus was a total flop.
Photos:
See season highlights
Here's how each of our stars did this week:
Shawn Johnson
Shawn and Derek danced an emotional Viennese waltz that was romantic but came awfully close to being schmaltzy. Shawn was incredibly graceful in hold and pulled off a stunning spin at the end of the routine. Len called the dance a quiet, gentle "whisper" that really delivered, and Bruno praised Shawn's shapes. Carrie Ann said she felt chills.
Shawn's samba channeled Broadway's "Lion King," which was a good way of dealing with the inherent weirdness of a dance trio. The music was barely there, which made Shawn's rhythm that much more impressive. This was a risky, risky routine. Len looked grim as he lectured the trio about the lack of samba content in the routine. Bruno thought the routine was wonderful as a piece of art, but agreed with Len that it wasn't a samba. Carrie Ann stood up for the routine and the risk that Shawn, Derek and Mark took. Shawn ended up with a 26 for the routine – Carrie Ann gave out a 10, Len a 7, and Bruno a 9. Adding in Shawn's perfect tango/paso doble routine with Marc last week left her close to the top of the leaderboard, but you never know who will go home in a double elimination.
Tango/paso doble: 30/30
Swing: 8/10
Viennese waltz: 29.5/30
Samba: 26/30
Score: 93.5/100
Apolo Anton Ohno
Apolo's intense tango was impressive! He was so focused, he was a bit frightening to watch. Bruno called it a "daredevil of a tango" and then made an odd comparison between Apolo and Tom Cruise. Carrie Ann said it was fantastic, praising Apolo's lines. Len also loved the routine.
Apolo's "Grease"-themed jive was full of energy. He did a great job staying in sync with Sasha Farber. Bruno praised this effort – it's not easy to mirror a pro, he pointed out. Carrie Ann saw an error in the kick sequence at the beginning of the dance, but Len wasn't too bothered by it. He used the word "together" to describe Apolo's jive.
Looking back to last week, Apolo and Karina's spicy cha-cha/paso doble routine was a tough dance that never let up for a minute. Combined with their swing round score, it landed them square in the middle of the leaderboard last week, which is also where they stand at present. Apolo and Karina will need the votes to come in if they want to keep dancing.
Cha-cha/paso doble: 27/30
Swing: 6/10
Tango: 29.5/30
Jive: 29/30
Score: 91.5/100
Kirstie Alley
Kirstie's moving Viennese waltz had the crowd on its feet. The slow song really suited her style, and she and Maks were gorgeous in hold. Len said it was Kirstie's best dance! Carrie Ann praised her lines and musical interpretation. She did point out that the routine could have been a bit more difficult. Bruno called the routine "stylish, nice and well done" – oddly flat praise from the flamboyant judge.
Kirstie's "trio" paso doble with Maks and Tristan MacManus was a bit odd. The paso is a duel, which is hard to do with three, but there could have been a bit more balance to the routine. Carrie Ann praised Kirstie's choice of partner and costume but didn't have anything nice to say about the dance itself. Len agreed, saying the dance lacked finesse. Bruno compared it to "Valley of the Dolls." Ouch. Kirstie and Maks' combo quickstep and samba last week wasn't their best dance, and they placed last in the swing dance marathon. Of course, coming in last on the leaderboard has never actually led to Kirstie's elimination.
Quickstep/samba: 24/30
Swing: 4/10
Viennese waltz: 27/30
Paso doble: 24/30
Score: 79/100
Kelly Monaco
Kelly's Viennese waltz was simply gorgeous. The choreography was intricate, and the pace was quick, but Kelly held her own. She was good both in and out of hold. Len found her movements sharp, but thought the choreography flowed smoothly. Bruno praised Kelly's beautiful shapes and the soulful quality of her performance. Carrie Ann singled Kelly out for challenging herself and praised her emotional commitment to the waltz.
Kelly's punchy jive showed off her amazing legs and impeccable timing. Val and Louis Van Amstel danced shirtless, which could possibly give Kelly an edge as the votes are tallied. She wasn't taking any chances, because she also ended the routine by leaping onto the judges table. Len called the dance "fun, fast, and flamboyant" and Bruno agreed, praising the sequencing and Kelly's ability to lead. Carrie Ann was also a fan, pointing out Kelly's fabulous transitions.
Last week, Kelly and Val's foxtrot/cha-cha was incredibly intricate, earning a 27 from the judges, and she and Val placed second in the swing marathon. They're currently tied with Emmitt and Cheryl for third on the judges' leaderboard.
Foxtrot/cha-cha: 27/30
Swing: 9/10
Viennese waltz: 28/30
Jive: 28.5/30
Score: 92.5/100
Gilles Marini
Gilles and Peta's quickstep was lightning-fast and had a playful quality that set it apart from the other military-themed dances this week. Bruno praised Gilles' speed and precision. Carrie Ann called the routine "so close" but thought Gilles feet wobbled at a few points. Len called the Gilles' quickstep "thunder and lightning" – and cheers erupted in the ballroom.
Gilles' salsa trio was electric and had him playing a cheesy Don Juan character, which he excelled at. Bruno quipped that ménage à trois seemed to come naturally to him. He also zeroed in on a few timing errors, unfortunately. Carrie Ann agreed that Gilles' musicality was a bit off but praised Gilles for owning the floor. Len liked Gilles' boldness throughout the routine and barked out a rare "Well done."

Gilles and Peta's disco-bright Argentine tango/samba last week earned them quite a bit of praise from the judges, but they were tapped out early in the swing routine and finished third from the bottom of the leaderboard. Now they're in fourth place, which doesn't exactly scream "safe." Let's hope Gilles fan base turns out for him.
Argentine tango/samba: 28.5/30
Swing: 5/10
Quickstep: 29.5/30
Salsa: 29/30
Score: 92/40
Emmitt Smith
Emmitt's Viennese waltz had a sexy edge that was a refreshing change from the usual. He and Cheryl channeled a 1940s nightclub as they twirled across the stage. As always, Emmitt made the dance his own. His frame was excellent and his movements were smooth. Carrie Ann pointed out a small slip of his feet and asked him to take the difficulty up a notch next time. Len, on the other hand, liked the balance of the routine and its smoothness, though he thought Emmitt's arms could be more fluid. Bruno called the routine "classic" but wasn't too bothered by Emmitt's slight stumble.
Emmitt and Cheryl's salsa with Kym Johnson was also sexy, but more in an '80s music video way. Carrie Ann praised his hip action and ability to "handle his women," and Len was a fan of the choreography as well as Emmitt's musicality and rhythm. Bruno liked the natural style of the routine.
Emmitt rocked the rumba/samba last week and he and Cheryl came in fourth in the swing round, and are now tied for third with Kelly and Val.
Rumba/samba: 27.5/30
Swing: 7/10
Viennese waltz: 28/30
Salsa: 30/30
Score: 92.5/100
Melissa Rycroft
Melissa's quickstep was fun even if it was a bit cookie cutter. She and Tony moved well together – she more than kept up with him – and looked like they were having a ball. Len called it "the bee's knees," and Bruno encouraged Melissa to join the Navy. Carrie Ann was also a fan: She had nothing to say on a night when she was feeling especially critical.
Melissa and Tony's paso doble with Henry Byalikov was downright vampire-esque, and ended up being strange in a good way. Len said that Melissa impressed him the most out of all the cast, and Bruno called her a "whip-cracking queen bee." He also loved the routine's transition. Last week Melissa was at her best with a sexy tango/cha-cha routine. She and Tony came in first in the swing dance marathon, which swung them to the top of the leaderboard, and that's where they've stayed!
Tango/cha-cha: 29/30
Swing: 10/10
Quickstep: 30/30
Paso doble: 30/30
Score: 99/100
Who won over the judges: Melissa
Who won over the crowd: Emmitt
Who needs to step it up: Kirstie
"Dancing With the Stars" airs Mondays and Tuesdays at 8 p.m. ET/PT on ABC.
Want more TV? Like us on Facebook and follow us on Twitter.

DWTS really  should invest in three new judges. As for me,  I take these three in extremely small doses. Carrie Ann and Bruno,  I get embarrassed for them the way they display themselves. Len, he is wrapped  way way  too tight.
Mark/Shawn/Derek did a wonderfully awesome three way dance. I thought it was incredible and so entertaining. And yet, yet. Len throws an undeserving insult to them by giving them a 7 !!!!!!!!
If there was anything that p***ed me off, was to see their dance to not be given the credit repectfully as they should have.
Derekk and Mark are the professionals who have the amazing ability to present wonderful choreography. Shawn is an acceptional dancer and is in sync with every step.  Then, here comes hurricane Len, who comes down on them like a ton of  bricks.  The 7 was totally unacceptable and disprespectful in every aspect. I'd like to see him out there dancing.  Shawn would show him up in a heartbeat and there would be no way that he would be able to hold a candle to Mark and Derek.
Are you sure you want to delete this comment?