'The Amazing Race': Full blast in Bora Bora
One of the teams didn't learn to swim before going on the race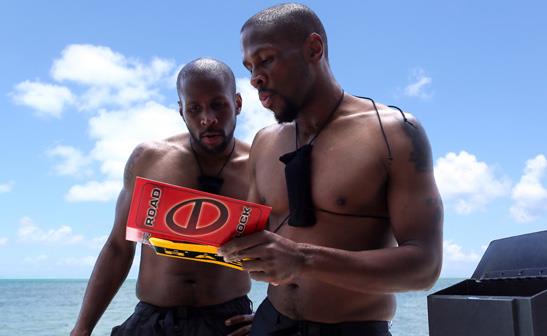 Previously: Three teams opt to take a penalty and go for broke -- a strategy that leaves the firefighters out of the game and the remaining two quitters a solid four hours behind the pack. 
Sunday night: We're still in French Polynesia -- and the Bora Bora PR team is still getting their money's worth: All we're seeing is palm-fringed atolls, white sand beaches, and various signifiers of tropical paradise. We open with last week's leg-winners, Jessica and John, who open the first clue of this leg -- and are directed to take a water taxi to Motu Toopua Nui, where they'll find a wedding chapel and receive a blessing from a priest. Only problem? The water taxi won't leave until 7:30 -- giving them four and a half hours to go over their strategy and figure out ways they can squirm out of their deal with Dave and Connor. "First rule of the alliance is that it doesn't exist," John says. By the terms of last week's agreement, the father-and-son duo should be on the receiving end of Jessica and John's spare Express Pass -- but it looks like the couple will do whatever they want in terms of renegotiating that particular deal. "We want to stay true to our word," John says. "But." But why? "We want to get the joy of other teams sucking up to us," John says. "Essentially our word is our bond but we didn't necessarily give you our word." Noble of them. 
Seven-thirty comes, and everyone scrambles off to their water taxis -- except for the country singers and the honeymooners, who, unbeknownst to the leading teams, are sitting through a four-hour penalty for quitting the sandcastle challenge. On the way to the motu with the main pack, two things mentioned on last week's episode are emphasized again: Idries and Jamil don't like water, and the hockey players are missing a significant number of teeth (paraphrase: "Rope is my dental loss.") One of these will be significant later on. 
There's no real drama in finding the chapel, and once there, teams grab the Detour clue: "Pick a Pearl" (diving for peals in open water) or "Take a Trunk," in which teams will wear diving gear and set up a little picnic table under the sea. Either option means taking some gear on the way down to the water -- something Dave and Connor neglect to do, forcing them to go from first to last place. Still, they're not in as much trouble as Idries and Jamil, who are set up with the oyster diving task but are no fans of the water; they begin the challenge by arguing about whether or not to take a six-hour penalty. It's just as bad a water freak-out as Brent's Russian swimming pool debacle from last season. "I'm telling you it's not going to be comfortable but we can do it," Idries tells Jamil. They're stuck in binary mode -- do it or take the penalty -- without, sadly, seeming to consider the other option. Since that one comes with air, this is a major problem. 
Back at the Pitstop, we all figure out that due to the morning's delay waiting for the water taxis to power up, the two trailing teams -- who both took penalties -- had their deficits cut to just short of two hours. That, seriously, does not seem fair to the teams that gutted it out on the sand. When they're finally given the chance to move ahead, they both opt for the table-setting challenge: "I think they're pretty crafty," Max says. "And we just want to do them in." 
The pearl diving teams begin to find their pearls, and they zoom off -- on jetskis -- to the Roadblock, which involves kicking a ball across a small game court, while up on the stilts. It's tricky, but not so much so that there's much shuffling. Given that there's no real challenge maneuvering from there to the Pitstop, things move quickly, with the hockey players coming in first. Trying to sprint their way into second, Dave and Connor suffer what might end up being a series-ending loss -- we'll see next week -- as Dave reports that he's ruptured his Achilles tendon. Whatever happened, it's not good news. For now, they're second, and Jessica and John are third, with Meghan and Joey fourth. 
All this is happening while the twins are basically trying to teach themselves to swim in open water, but they're not the only ones having trouble: Pam and Winnie have become lost on their jetski, which they blame on moving too fast without a plan. They tell us that as Asian-Americans, they've grown up in a competitive home environment, where the parents are less about telling them how awesome they are and more like, "What's wrong with your hair? Stop getting pimples!" Family is also weighing heavily on Idries and Jamal, who talk about how their mom, head of a single-parent household, never gave up, so neither can they. Still -- you know she's watching this, screaming at her TV for them to take the other Detour. Eventually they do, and they quickly enough power through it -- but all this time, Max and Katie and the country singers have steadily moved up, and ahead. 
Back at the Pitstop, Chuck and Wynona are fifth, and Mona and Beth are sixth. Max and Katie brag about bumping themselves out of last place -- ahead of the twins and Pam and Winnie -- even as they are pounded by Caroline in the stilt-walking challenge. The country singers capitalize on her stilt-walking skills and head for the Pitstop with a solid lead on the honeymooners -- and an even more solid lead on Pam and Winnie, who have finally figured out how to navigate to the island. Pam, it turns out, isn't a natural with the stilts, and we're briefly led to wonder if the twins might be able to catch up....
But they can't. Pam and Winnie figure it out, and the doctors roll into the Pitstop in last. Will this be a non-elimination leg? It won't -- which means the twins are headed back to their day jobs.