'American Idol' semifinals: Guys top 10
No relief from ballad epidemic with more dismal song choices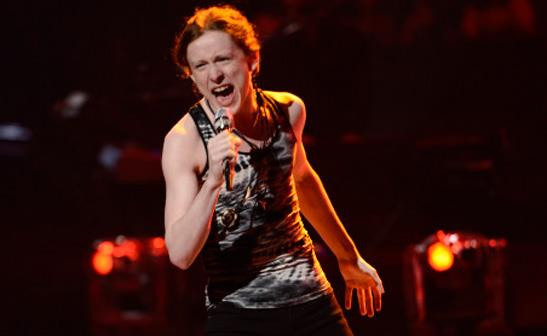 Something's Askew: 'Idol' contestant Charlie Askew, usually a welcome breath of eccentricity, seemed upset Wednesday during his Genesis cover, and may pay the price for it with voters.
This season is shaping up to be a disaster. The talent's just fine, although the guys are distinctly inferior to their feminine counterparts. The taste in songs displayed by contestants of both genders has never been worse.
Bing: More about 'American Idol' | Video: Watch clips | Photos: See highlights
Strong words, but a second night of virtually nothing but ballads provokes extreme reactions. Here are the gory details.
Elijah Liu kicked Wednesday's episode off with, of course, a ballad, boosting the two-night streak into double figures, but at least it was a fine one, Rihanna's lovely "Stay." (There are good ballads, no matter how rare they might be on the "Idol" stage.) Elijah, one of the competition's weaker singers, sounded especially ragged on the choruses, undermining the impact of a decent song choice. Keith liked Elijah's control. Nicki thought he picked a great song, then rambled on about his "marketability." Randy continued in that vein, then said he loved the song but felt it "never left first gear." Mariah, whose sentences were a little vague structurally all night, said in essence that he didn't reach the impact he hoped for.
The tempo then suddenly lurched all the way up to the middle of the dial, thanks to Cortez Shaw's cover of Bruno Mars' (homage to Sting), "Locked Out of Heaven." Unfortunately, it wasn't very impressive. You have to be smooth and slick to do Bruno, and Cortez was just adequate. Keith was skeptical about the song choice. Nicki felt he had his "mojo back," liked his confidence and charisma, but thought he was straining. Randy seconded that point, but thought the "dancing was dope." Mariah likes him on ballads better (just what a Season 12 contestant needs to hear), but acknowledged that the audience seemed "happy to hear an up-tempo song." Really? After 10 straight ballads? Where would you get that impression?
And it was back to ballads, albeit a strange one: Genesis' 30-year-old "Mama," which Charlie Askew performed with great intensity and melodrama but little impact, so that it ended up sounding like an overblown "In the Air Tonight" clone. Keith wondered what people at home were saying, citing the "varied" expressions of the live audience. Nicki hammered Charlie, insisting he cover his arms, lose his pony tail and mustache ("I did!" responded a crushed-looking Charlie to that last instruction), and saying, "I feel like someone stole my kid." Randy didn't exactly soften the blow by saying, "The first part was terrible," and adding, "I'm a little worried for you." Mariah acknowledged that "you've gotten a nice earful from everyone," but the only consolation she could come up with was, "You add some diversity and variety." Charlie seemed barely able to hold it together and dashed offstage early.
Nick Boddington turned the Goo Goo Dolls' "Iris," which is normally a waltz but not quite a ballad, into a no-doubter ballad by slowing it down, accompanied by his own mournful piano. It was a more personal, intimate version, which helped a bit, but the presence of another ballad more than compensated for those small gains. Keith thought it was a perfect song choice and appreciated his "vulnerability" of tone, but cited "issues with nervousness." Nicki, a huge fan of the song, missed the original melody and clearly wasn't crazy about it. Randy felt it wasn't one of Nick's best performances, though it was "solid" and he "got the whole Ryan Tedder thing" Nick was apparently trying to pull off. Mariah thought it "really kicked in at the end," implying that it was lousy at the beginning.
Burnell Taylor reprised his much-lauded audition number, Fantasia's "Color Purple" ballad "I'm Here." Evidently there was a sudden shortage of other singable songs, because it seemed awfully soon for anyone to fall back on a Hail Mary move of that sort. The appeal of his vocal tone continues to escape me, not aided by the vehicle being another ballad and a déjà vu performance to boot. Keith loved it again, Nicki said the struggle and pain in his voice is "undeniable," Randy liked the way Burnell grabbed our attention with the "urgency" in his voice, and Mariah thought he matched his audition and provided another "tearful moment." Burnell explained that after his a cappella version was chopped up by the producers, he wanted to present his entire version of the song (which, by the way, was still shortened, though not edited).
Semi-country singer Paul Jolley covered longtime Grand Ole Opry staple Christina Aguilera's "Just a Fool" (yes, I realize his scope encompasses pop as well), a particularly tedious ballad that he sang with passion and way too much drama, the same tendency he was upbraided for last week. Keith, who had done most of the upbraiding, didn't like this one, again advising Paul to "ease it in, lay it back" and trust his voice. Nicki spent most of her time talking about how she loved listening to Keith's critiques on country types, finding them "really educational." Randy preferred the softer side of Paul and heard issues with pitch at the end. Mariah mentioned that the crowd enjoyed it. (This is not unheard of at "Idol" telecasts.)
Speaking of crowd favorites, Lazaro Arbos began the utterly overexposed "Feeling Good" (seemingly done at least 15 times between "X Factor" and "The Voice" last fall) as a ballad but mercifully upped the tempo for most of the performance. He was smooth and powerful, but there's little more that can be done with the song at this point. Keith loved the way Lazaro connected. Nicki appreciated that he "put some attitude on it." Randy dispensed his first (and, thankfully, last) "in it to win it" of the night, and more usefully added, "When you hit the modulation, you could feel your whole heart light up." Mariah was impressed by "how you throw yourself into any song you do," but said this song was "a bit too low for you."
As if one thoroughly worn-out song wasn't enough, Curtis Finch Jr. reached into the Do-Not-Sing-Under-Pa​in-of-Eternal-Scorn vault for R. Kelly's inspirational platitude-fest "I Believe I Can Fly." I'm not sure that any song deserves instant retirement more. Its sole function is to serve as an excuse for a singer to blow it out and ham it up to extremes, which Curtis accomplished with a sackful of gospel clichés. This of course dazzled the judges. Keith called it a "sermon in Vegas," adding that "you ooze everything good and godly and whole" (a less-than-appealing word picture). Nicki raised her arm and said, "Bar, every single time." She called Curtis "bigger than 'American Idol'" and told him, "You have a calling," demanding a gospel album right away. Randy declared that "the competition started right here," much to the pleasure of the previous seven singers, I assume. He gave "mad props to the great R. Kelly," a sentiment echoed by Mariah, who called "I Believe I Can Fly" one of R. Kelly's best songs, presumably right up there with "Trapped in a Closet" and "Ignition."
Following that lovefest was a tall order for Devin Velez, but he shrewdly fell back on his bilingual approach, singing with the same consummate grace and power of previous performances. Sadly, it all was squandered on the unworthy vehicle of "It's Impossible," a deathly ballad covered by the likes of Andrea Bocelli, Perry Como and Julio Iglesias. Keith thought it was shaky at the beginning but that Devin found his zone and scored a great "run in the middle," breaking through tacklers on the way to his zone. (Or maybe my mind was wandering after the night's seventh ballad.) Nicki thought he resembled a "Spanish Ken doll" and disgorged some halting Spanish words of praise. Randy really liked Devin's tone and vibrato, and Mariah thought the performance was incredible.
And, given the catbird seat, the final slot, to make an impact, Vincent Powell sang …another ballad, Boyz II Men's "End of the Road." He gospelized it up, but in the wake of Curtis' vocal hurricane, it seemed like merely a stiff breeze until a freakish falsetto squall past the halfway point. The judges were not impressed. Keith felt that "nerves got on top of" Vincent's "deep well of talent." Nicki thought he wasn't "sittin' on it tonight," that it "didn't come alive." Randy thought he "overshot it a little bit." Mariah insisted that there were "undeniable moments of brilliance, whether you want to nitpick."
But nitpicking won't get it done. After hearing 17 ballads over two nights (maybe more if your definition differs from mine), viewers may be ready to desert the show in droves. It's hard to blame them.
In great shape: No signs of the Curtis Finch Jr. love train slowing down just yet.
In big trouble: Charlie Askew will have to depend on a sympathy vote, unlikely after that strangely overwrought performance. His loss would deprive the show of another badly needed streak of unpredictability.
Results coming Thursday, but you'll pardon me if I mute the musical recaps.
What did you think of Wednesday's episode? Connect and sound off on Facebook and Twitter
"American Idol" airs Wednesdays and Thursdays (from now on) at 8 p.m. ET/PT on FOX.