'Glee': Oops, They Did It Again
The creators of 'Glee' bring us another Britney Spears tribute episode in 'Britney 2.0'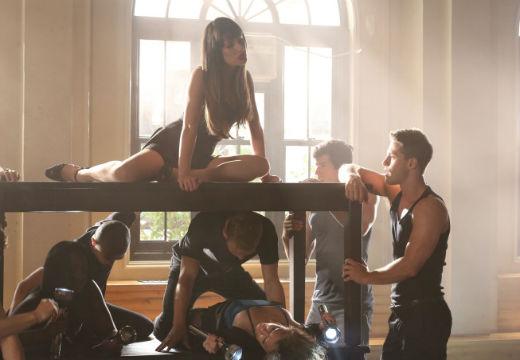 During last week's episode of "Glee," the senior glee club members were competing to be the next "Rachel Berry," while the actual Rachel Berry is struggling to excel in her dance class at NYADA. This week, 'Glee' creators did another tribute episode to pop princess Britney Spears.
Bing: More on 'Glee' | More on Britney Spears
The episode opens with Brittany's monologue as she walks down the hall. Since returning from the summer, she's class president of McKinley High and head Cheerio. In celebration, she leads the cheerleaders and color guard members on the field for a song and dance routine to Britney Spears' "Hold It Against Me." Sue Sylvester arrives with a megaphone and tells them it's "garbage." In her office, she tells Brittany that due to her poor grades, Brittany has lowered the squad's GPA and is off the Cheerios.
What did you think about the tribute to Britney Spears on 'Glee'?  Tell us at MSN TV on Facebook and Twitter.
Back at NYADA, Rachel's dance teacher Cassie July has everyone paired up for a tango exercise. Nobody wants to dance with Rachel, so Cassie sidelines her due to her lack of "sex appeal."
Brittany goes to the guidance counselor's office in an atrocious oversized t-shirt (reading "World's Best Grandma") that she found in the lost and found, clearly dejected. Mr. Shuster advises Brittany to see Emma everyday due to her depression. To cheer her up, Emma encourages Will to "bring Britney back."
Mr. Shuster announces to the glee club that they are performing at a pep rally, and to use this as an opportunity to impress the high school again. He assigns everyone to do a Britney Spears song. Artie and Blaine perform a mash-up of Britney Spears' "Boys" and Justin Bieber's "Boyfriend." After the song, Brittany announces that she is "once again inspired by the awesomeness of Britney."
Rachel and Kurt are bicycling around a loft apartment and decide to be roommates there.  Because of his fashion sense, Kurt aspires now to work for Vogue. When Rachel complains about her dance teacher, Kurt tells her how Cassie is the "biggest train wreck in Broadway history." Cassie was caught on camera lashing out at an audience member during a live performance. Kurt says if Cassie wants sexy, Rachel needs to "give her sexy."
New girls Marley and Wade (in drag as "Unique") talk about Jake, Noah Puckerman's half-brother, but Wade warns Marley that Jake is a womanizer. Cue Britney Spears' "Womanizer" as we see a montage of Jake flirting with different girls around school.  It ends in the gym with Jake telling Marley, "We should hang out sometime."  She nods and says, "sure," much to Wade's disdain.
Rachel comes across her hot classmate Brody doing crunches in the park. He tells Rachel she is "crazy sexy" but when she asks him to dance with her in class, he says that Cassie won't allow it.
The glee club does an acoustic rendition of Britney Spears' "Three." The song abruptly ends when the glee club members see Britney plugging an electric razor in the wall. She threatens to shave her head because she can't wear a "high pony" (tail) anymore. As reporter Ben Israel tries to interview Brittany, she starts beating him up with an umbrella and a mini paparazzi melee ensues. Artie guesses that Brittany misses being in the spotlight
Mr. Shuster runs into Jake in the hall and chastises him for not going to class.  Jake walks out with a guitar and meets Marley on the bleachers. The duo perform an acoustic mash-up of Britney Spears' "You Drive Me Crazy" with Aerosmith's "Crazy." They lean in to kiss, but Marley shivers and Jake gives her his jacket.
The glee club is worried about Brittany and tells her she has to sing at the pep rally. Britney insists she will lip sync so she won't run out of breath dancing.
Rachel comes to Cassie's dance studio with Brody insisting she can be sexy and does a sultry version of "Oops I Did It Again."  (Meaning, there are a lot of bodies writhing on tables.) At the end of the routine, Cassie says that Rachel's level of sex appeal is on par with Shrek's (harsh!).  In retaliation, Rachel claims that Cassie is jealous of her youth and accuses Cassie of being a "YouTube joke." Cassie says, "You're done, get out of my class!  Out!"
In the cafeteria, students make fun of the overweight lunch lady. When Marley tells them she's her mom and stands up for her, the students continue to be insulting, but Jake steps in to defend her and starts a fight with them. Mr. Shuster intervenes and drags him to meet Noah Puckerman. They share the same father and the same bad attitude about school, and Puck attempts to give Jake a pep talk. Puck leaves to go back to LA for a date with "the third runner-up the 'Bachelor'" and tells Jake, "Whether you join glee club or not, you're my brother."
At the pep rally: Principal Figgins welcomes the school and introduces the glee club.  Brittany leads them off with "It's Brittany, bitch."  While eating cheese puffs, she is obviously lip syncing to "Gimme More" and is boo'd by the crowd. Blaine closes the curtain on stage as Brittany collapses in a pool of cheese puffs.
Will goes on a tirade at the students for lip syncing, and warns them they could be disbanded by the glee club authorities if they got caught. When asked what she has to say for herself, Brittany resigns from the club.
Rachel returns to Cassie's studio to apologize. Cassie gives Rachel a warning and allows her back in the class, but on probation. 
Sam and Brittany meet in the auditorium for an "intervention" and Brittany says she will make a comeback like the real Britney. She agrees to return to the glee club and says that rejoining the Cheerios is part of her comeback.
Brittany meets with Sue in her office and because she never graduated from high school, she's technically still president. As president, she drafts an executive order (in crayon) stating that Sue has to let her back on the Cheerios. Sue says if Brittany wants back on the squad, she has to raise her grades and graduate this year. Brittany has been taking tutoring sessions with Will, shows Sue a passing grade on her history exam and is reinstated back on the cheerleading squad.
Rachel is sad that Finn hasn't called her, just as Brody shows up at her door with orchids and Kurt excuses himself. Brody had to travel 45 minutes by train to see Rachel, tells her she's sexy and leans in for a kiss. Rachel pushes him away and Brody guesses that Rachel's still in love with Finn.  Brody says that whenever he's with her, he'll be thinking about kissing her.
Jake tells Marley he wants to join the glee club to help him contain his volatile emotions.  Marley realizes she's still wearing Jake's jacket. Kitty, the new cheerleader, steps in and says she and Jake are dating. Marley tells them they make a great couple and takes off the jacket. 
At the end of the episode, Jake walks into the glee club room and is half-heartedly welcomed.  Marley does one more Britney Spears song, an emotional rendition of "Every Time." In the closing montage, we see Rachel and a male classmate rehearsing in the dance studio while Brody watches in the door frame. Brittany waits by her computer at home, but Santana is unavailable. Finally back at Rachel and Kurt's loft, Rachel looks at a brick wall where she painted a heart around Finn's name and paints over it.
'Glee' airs Thursdays at 9 p.m. ET/PT on FOX.